Happy Tuesday, y'all. I'm a whole week late with this bumpdate, which was supposed to be published on Friday. It turned out to just not be a great day and it never got finished. So, I'm here today, but all the info is from last week.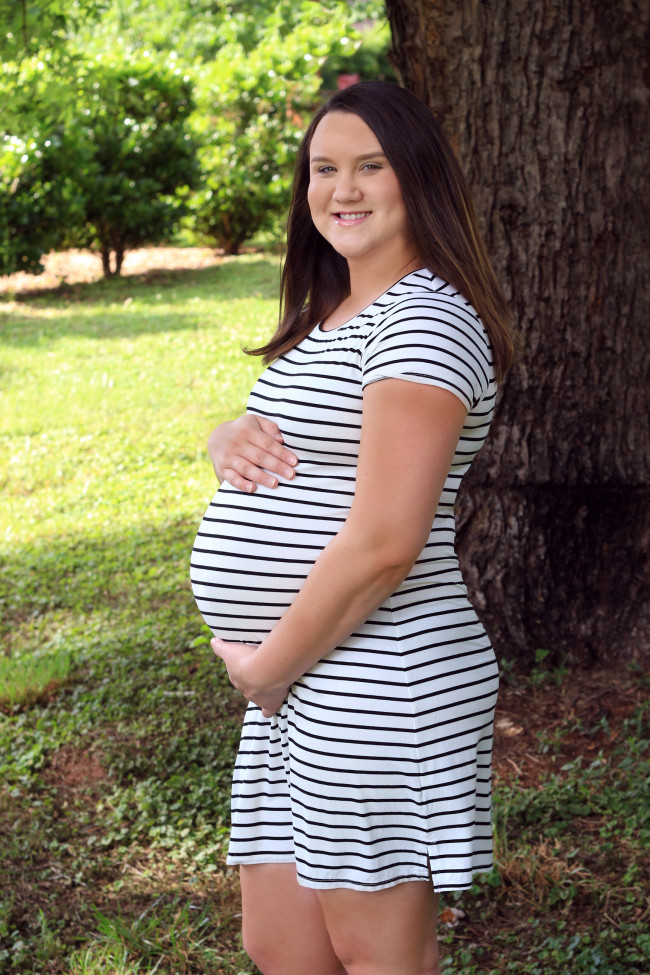 How Far Along: 32 weeks, 6 days.
Size of Baby: She's the size of a squash. 16.6 inches long and 3.75 pounds, according to my app.
Gender: It's a sweet girl! Read all about our gender reveal party here!
Movement: I can tell she is running out of room because the movements are starting to hurt, sometimes.
Sleep: Oh, sleep. I think this is the first official week that my sleep has started to diminish. It's just so hard to get comfortable. I lay on one side and my arm goes to sleep. So I roll heave myself to the other side and my hip starts to hurt. Any tips to get a restful night sleep?
Workouts: We spent the majority of Saturday in Greenville, getting a few last minute things before I get too miserable to get around. It was so hot though. By the end of the day, my shirt was soaking wet!
Maternity Clothes: Can I just not wear pants the rest of this pregnancy? Dresses are where it's at!
Weight Gain: 43 lbs but I'm holding on to the fact that I am retaining so much water. My feet just don't even go down anymore.
Symptoms: Swelling, heartburn, the usual. Thankfully, no new symptoms lately.
Cravings/Aversions: Ice, slushies, anything cold! Since it's already almost 100 degrees here in SC every day, I haven't had much of an appetite for anything heavy.
Missing Most: Just being comfortable, for the most part. My hips are really starting to bother me and I'm just really sore most days. Carrying around all this extra weight is really taking a toll on how I feel, physically.
Nursery: Part of the my list to accomplish last weekend was getting the finishing touches for her gallery wall. Everything has been purchased, it just needs to be hung now. And organizing! We still have lot of organizing and putting away baby shower stuff.
Labor Signs: No! Thank you, Jesus.
Belly Button In or Out? Out.
Wedding Rings On or Off? My rings are safely tucked away in my jewelry box for the remainder of my pregnancy, I assume.
Hubby: He's been great, as usual. He has taken over the calling around and scheduling tours for us to check out different daycares and that has been a huge help! Plus, he's been really understanding of my emotions and all my symptoms. Nightly foot rubs are the best!
Best Part of the Week: Marking things off my to-do list! We are running out of time!
Can't Wait For: Her car seat came in and I can't wait to get it installed! One less thing to worry about when the time comes.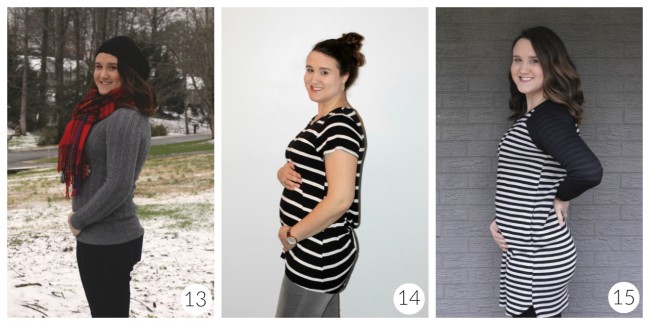 Our Announcement | Week 13 | Week 14 | Week 15