Oh hey, bumpdate! 16 weeks pregnant and I think yesterday was the first day I actually felt pregnant. Maybe it was the tank top I was wearing or my stomach feeling really tight and bloated but I felt like the bump made a big appearance!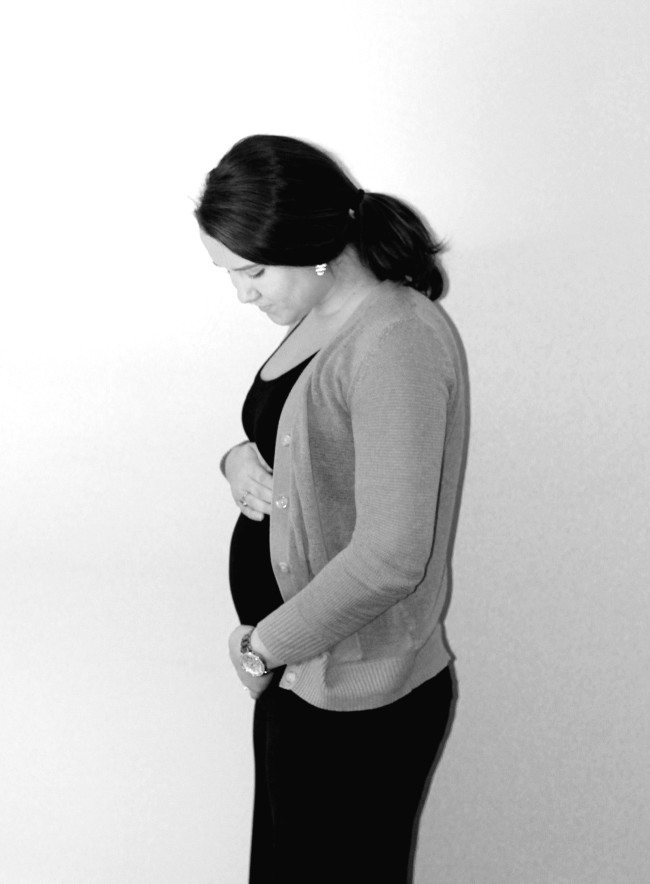 And for the first time in my life, I have a booty!
How Far Along: 16 weeks, 4 days
Size of Baby: An avocado and 4.6 inches long!
Gender: So, after I thought more and more about our appointment last week, I worried myself to death thinking we would reveal the wrong gender. Just to be on the 100% safe side, I called and scheduled us an appointment this past Saturday to have a gender determination done at a 3D/4D ultrasound facility. Turns out Morgan, the original ultrasound tech at my doctors' office, was right but I felt better about it knowing we got the "money shot". Plus, we were able to see Hot Pie in 3D which was a really neat experience. We've had people guessing all week whether it would be a boy or a girl and it's pretty divided right now. Cory still wants a girl and I go back and forth between a boy and girl.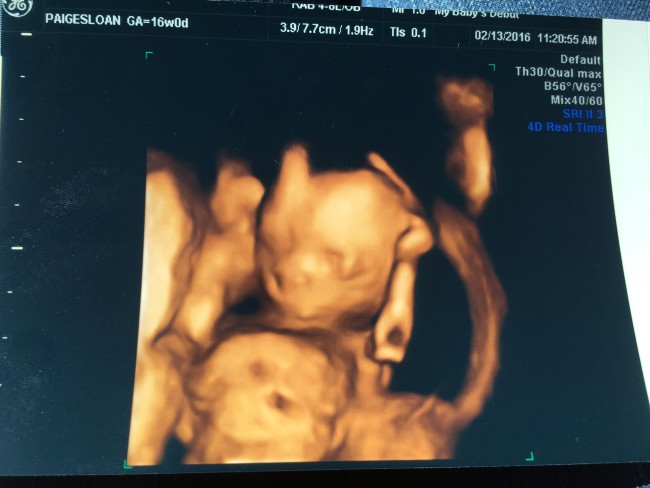 Movement: No movement yet. Everyone says I'll know it when it happens so I'm depending on that!
Sleep: I've slept really good and really hard the past couple of nights. I wore myself out this weekend and crashed by 9:30 most nights.
Workouts: We spent the majority of the weekend in Greenville, checking out baby cribs, looking for maternity pants (with no luck!), and walking around the mall waiting on my phone to be fixed at the Apple Store so I felt like I got a few good miles in!
Maternity Clothes: I finally picked up some of the maternity tank tops from Target and yes, they are great! My main goal this weekend was to find at least one pair of maternity dress pants that I can wear to work but I didn't have any luck. Old Navy had a few pairs but they were mostly cropped and it's still too cold for those.
Weight Gain: I just thought I was back at my pre-pregnancy weight last week but I'm still down about 2lbs (and every pound counts!).
Symptoms: Symptoms have been so much better this week! I've felt much more like myself in the mornings and even made it to church on Sunday. I'm still having some slight nausea throughout the day and taking one Zofran a day but no longer getting sick. Keeping my fingers crossed this keeps up.
So, let talk about emotions. I'm a crier. Always have been and I thought when I got pregnant, it would make me all that much worse but I found myself not being able to control my laughter. For example, while waiting at the Apple Store on Monday, I was watching this little girl (maybe a year and half) run from her mother when she ran right into the class walls in the front of the store. I snorted, out loud, then proceeded to laugh until I was literally crying. While I would have normally laughed, I wouldn't have laughed that hard. Cory was looking at me like I was straight up crazy.
Cravings/Aversions: I had coffee yesterday morning and oh my gosh, it was so good! It was the first time I've been able to drink a hot coffee in months and it sure did make my day so much better!
Missing Most: Not really missing anything at this point.
Nursery: We checked out cribs at Buy, Buy, Baby and decided on one we really liked but I'm thinking I can find it a little cheaper online. I found a rocker I liked too but it was $600!
Labor Signs: No! Thank you, Jesus!
Belly Button In or Out? In but starting to flatten out. I guess I should start using some kind of cream on my stomach.
Wedding Rings On or Off? On
Hubby: He felt really bad that we both kind of just overlooked Valentine's Day this year. He kept talking about how he was the worst husband ever (seriously?!) because he didn't even have me a card or flowers but what I appreciate more than that was him giving up his entire weekend to help me look for maternity pants or wait at the Apple Store for almost four hours to get my phone fixed. He got up early Saturday morning and wrote me the sweetest note, though, and really made my weekend when he told me how much he has enjoyed each new thing we are getting to experience with this pregnancy :) Seriously, the sweetest!
Best Part of the Week: Getting to see Hot Pie in 3D and feeling assured the gender of our baby will be properly revealed!
Can't Wait For: Finally learning the gender on Sunday! I've still got a lot of party prep to get done but I can't wait to learn what Hot Pie will be!
So…What do you think? Boy or girl?