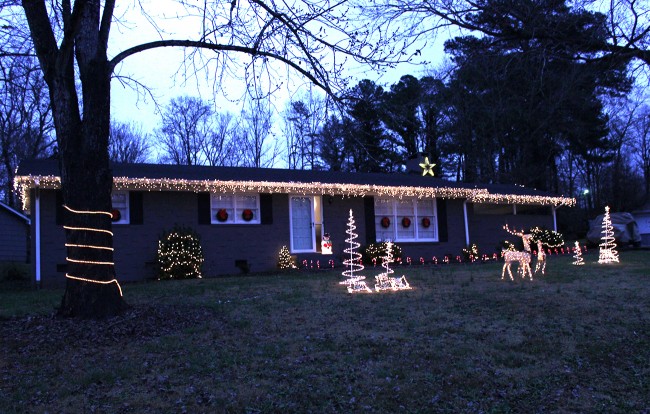 Something that I've never shared here on the blog before is my outdoor Christmas home. I'm really not sure why I've never gotten around to it but every year, Cory and I semi-Griswold the outside of our home. As much as I love having the inside of my home decorated for Christmas, I really, really love having lights up on the outside. Maybe it's because as a kid, we lived on a farm with no neighbors so my parents never decorated the outside of our house, or maybe it's because seeing a house lit up really does remind me of the magic of Christmas.
I love driving around this time of year and looking at festive homes and since our home is partially visible from the road, I hope people enjoy seeing our home as well. Fun fact, we would love to achieve full on Griswold status at some point, but we don't like for it to look too tacky. I believe there is a fine line there, but could totally picture us as that couple that decorates their home for the community to come and enjoy. Maybe one day we'll get there!
You'll notice that some of the pictures have snow in them because they were actually taken right before we took them down last year, but we updated a few things this year so I had to get new pictures as well. Christmas lights are hard to photograph and Cory did such a good job capturing the house last year, so I couldn't leave those out. It's pretty obvious which ones he took and which ones I did. HA!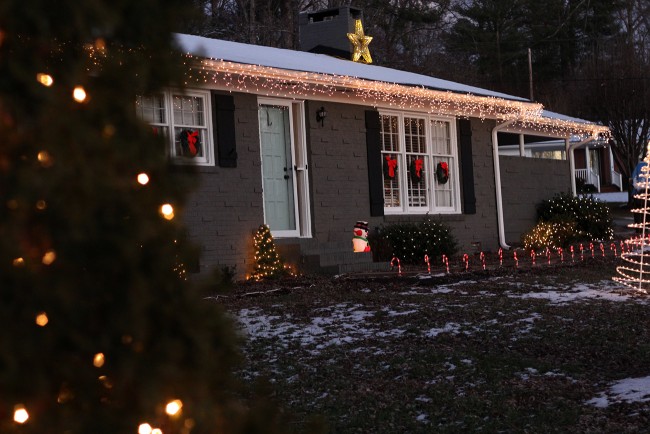 So this will be the 8th Christmas in our house (how is that even possible?!) and our first Christmas we had nothing. Not a single Christmas decoration.  Cory's grandparents had a ton of old stuff they didn't use anymore like a few of the trees, Frosty, and enough working icicles to go across the front of the house. That same year, Cory's mom surprised us and put a couple deer in our yard while we were at work one day.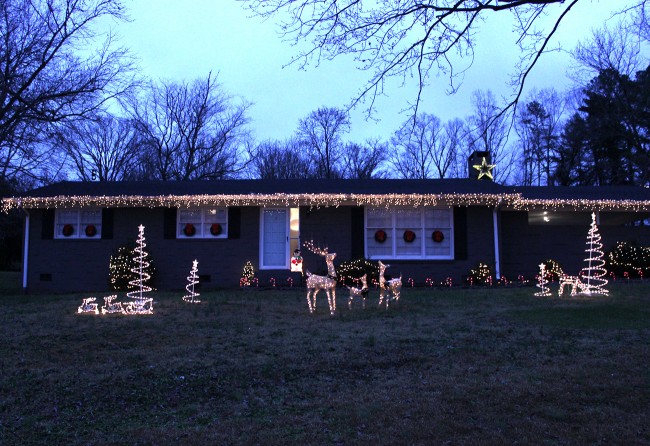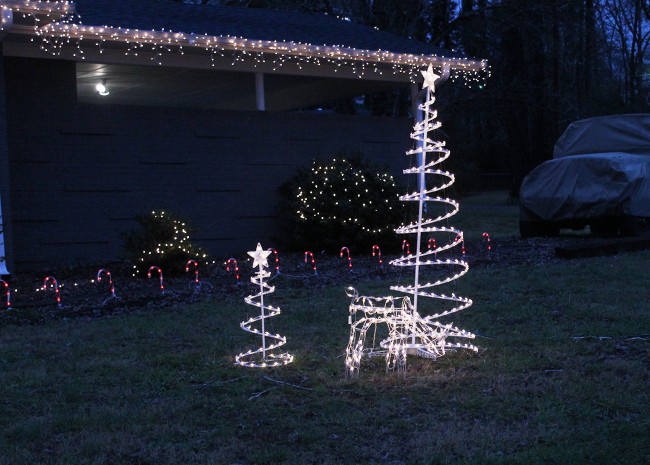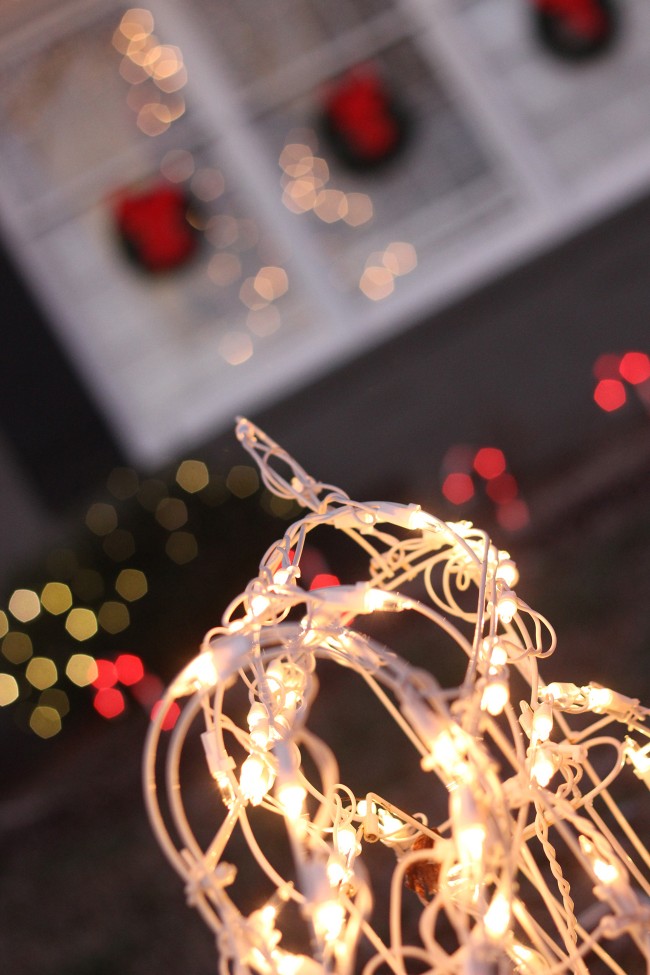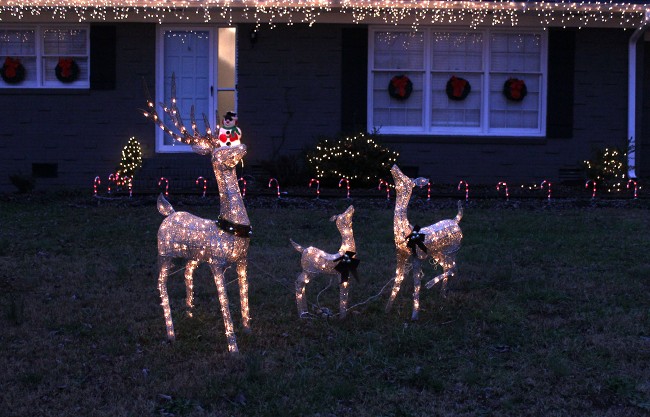 My grandmother gave us the wreaths for the windows when she moved out of her house and if I remember correctly, we bought the peppermint candy canes back in 2010, our first married Christmas.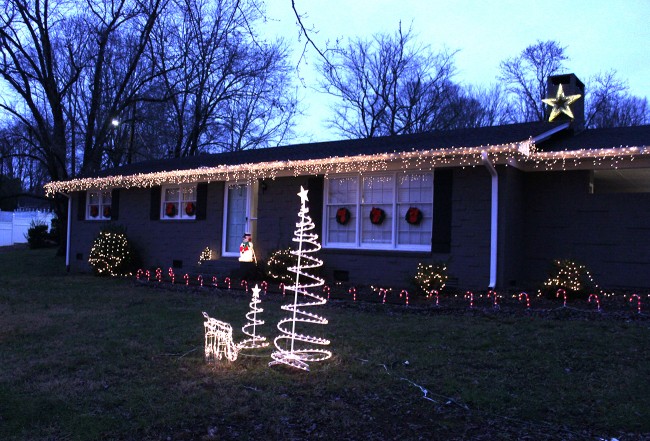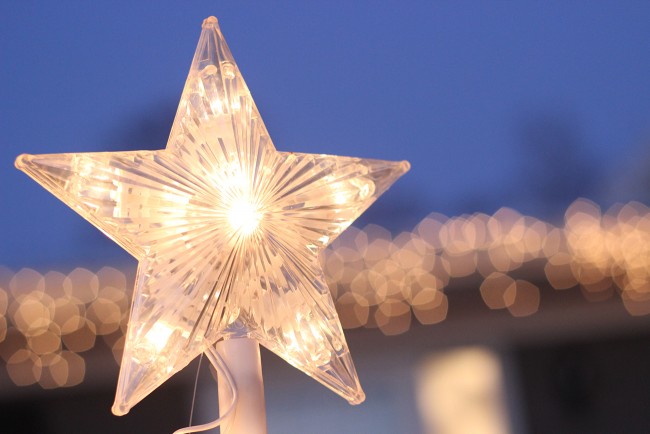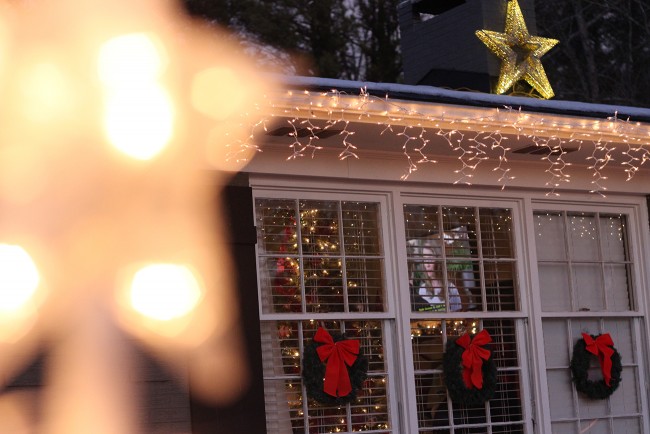 And for the most part, we use those same decorations each year. We added more icicles to go around the sides of our house (and to replace ones that quit working every.single.year.) and some odds and ends that we found on sale like a few bush nets, rope lights around the big trees, and random extra strands that we place wherever needs some lights.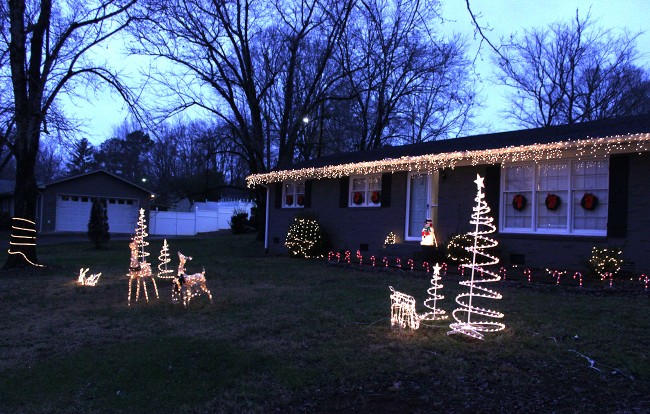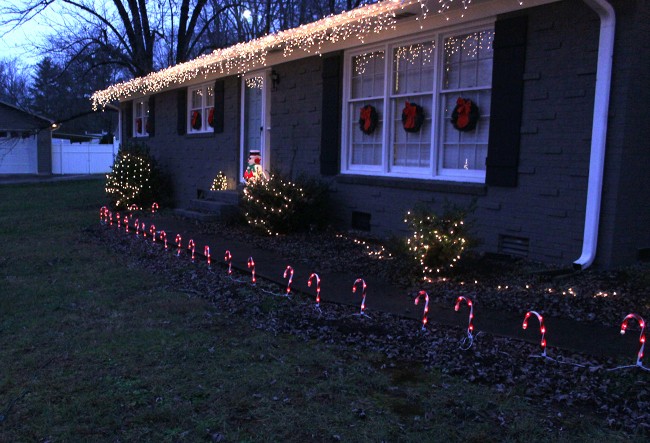 We have tried to purchase one new thing a year but for a few years it always seemed like we were buying icicles to replace the ancient ones given to us. One year, we found a set of three trees at Goodwill, but inside the box we found it only had enough working parts to make one big tree.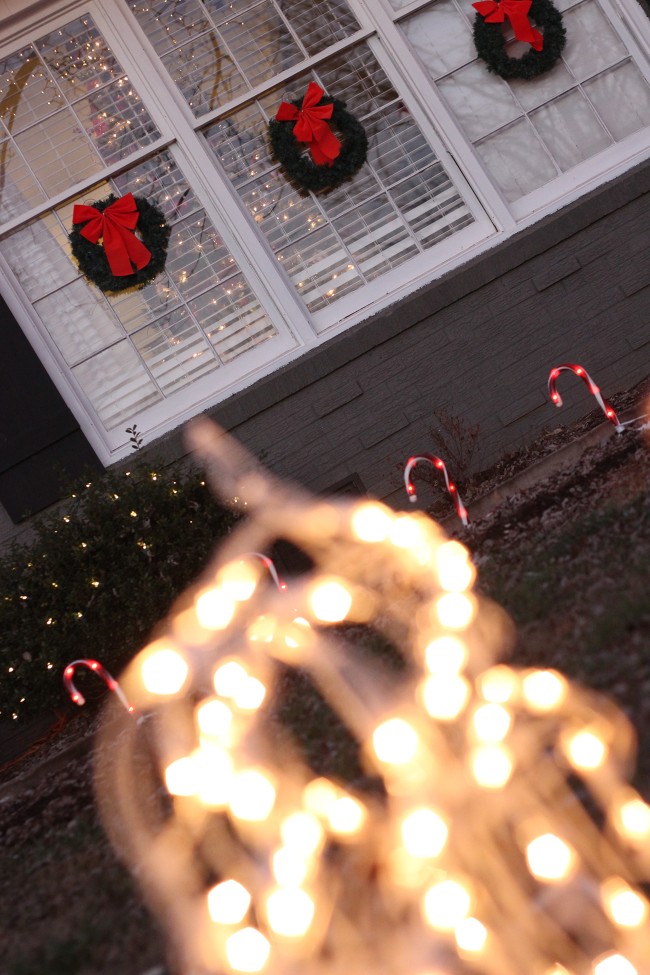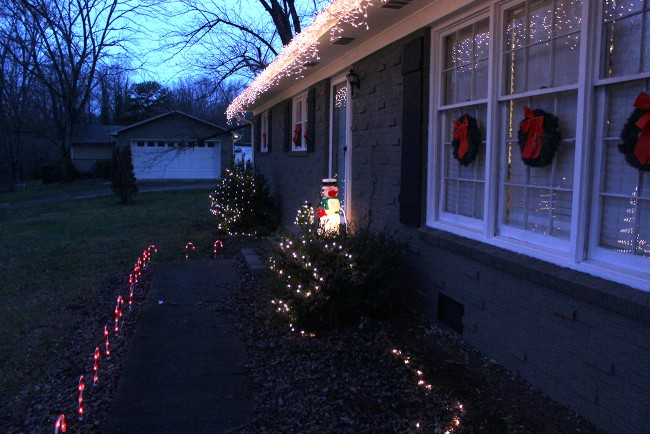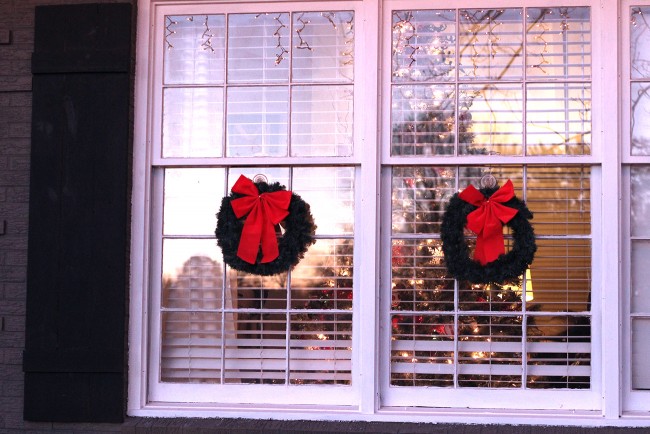 Last year, we discovered that Big Lots has a really great selection of outdoor decorations, so we added the star to our chimney; this year we returned for new deer after we realized our two bigger ones Cory's mom gave us years ago had no working lights left on them. Ugh.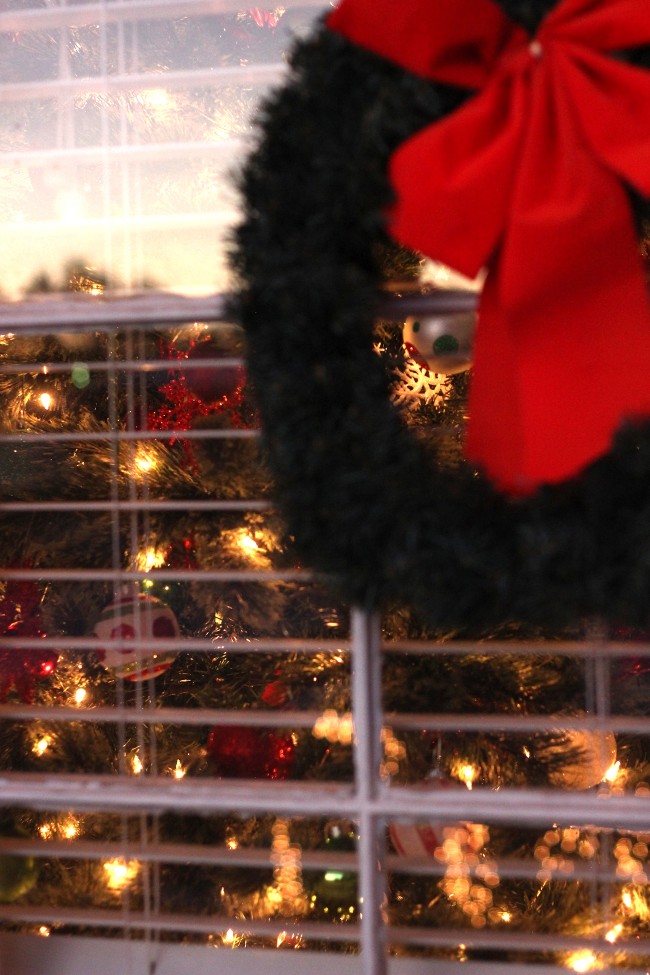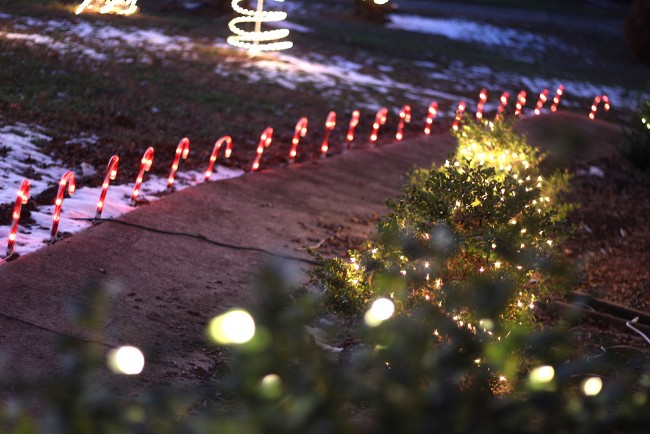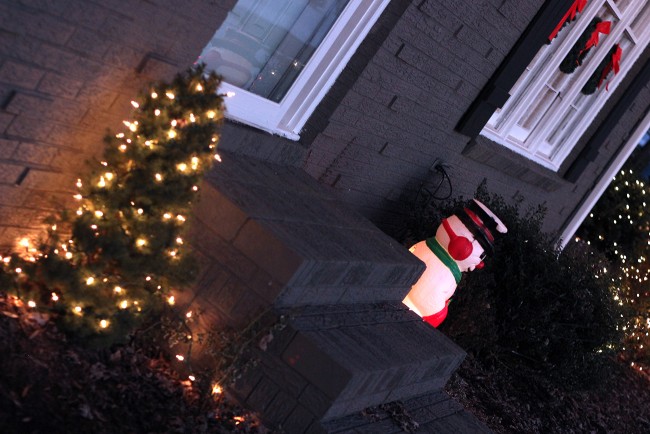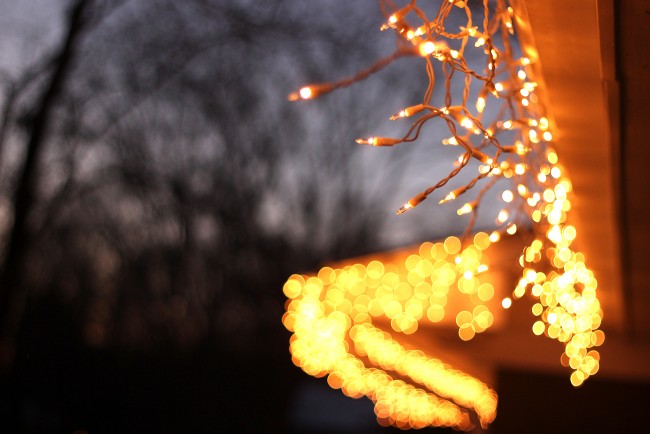 We are missing a few key pieces that I have looked to replace like our inflatable penguin. I know inflatables can get tacky really easily but I collect penguins. One  year, Cory's mom found one at a yard sale and we kept it at the end of our drive way. Cheesy as it sounds, its hand was up like it was waving and every day, it really brightened my day to have the cheery penguin waving at me when I got home from work.
Once it died in an unfortunate windstorm, we replaced it with another one that didn't even last a full season and I haven't been able to find another since.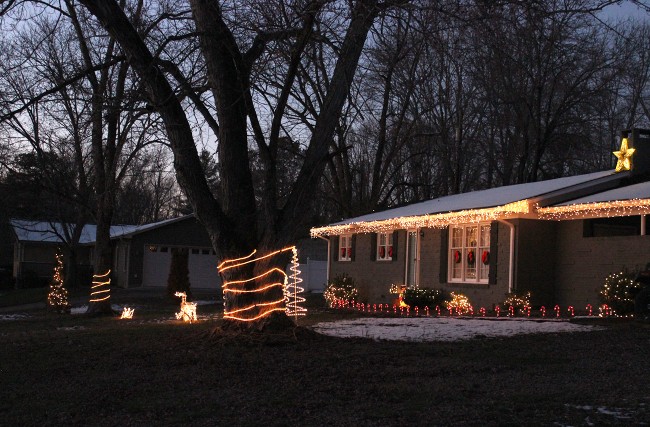 I hope you enjoyed a little glimpse of our outdoor Christmas home! Although I feel like pictures don't ever do Christmas lights justice, I'm glad to be sharing a little piece of Christmas that brings my family so much joy.