Hello, friends! It has been forever since I've blogged and I have truly missed you guys. Life has been busy though and we are trying to adjust to me being a full time, working mommy.
Now that we are officially out of the newborn stage (all the tears, y'all. I loved this stage!) I wanted to share a few of our newborn favorites that we used the most during Baker's first few months. Babies require a lot of different things and the lists you find on Pinterest can be so overwhelming. We definitely used way more than these few items but I thought I would share my top recommendations for newborn must haves!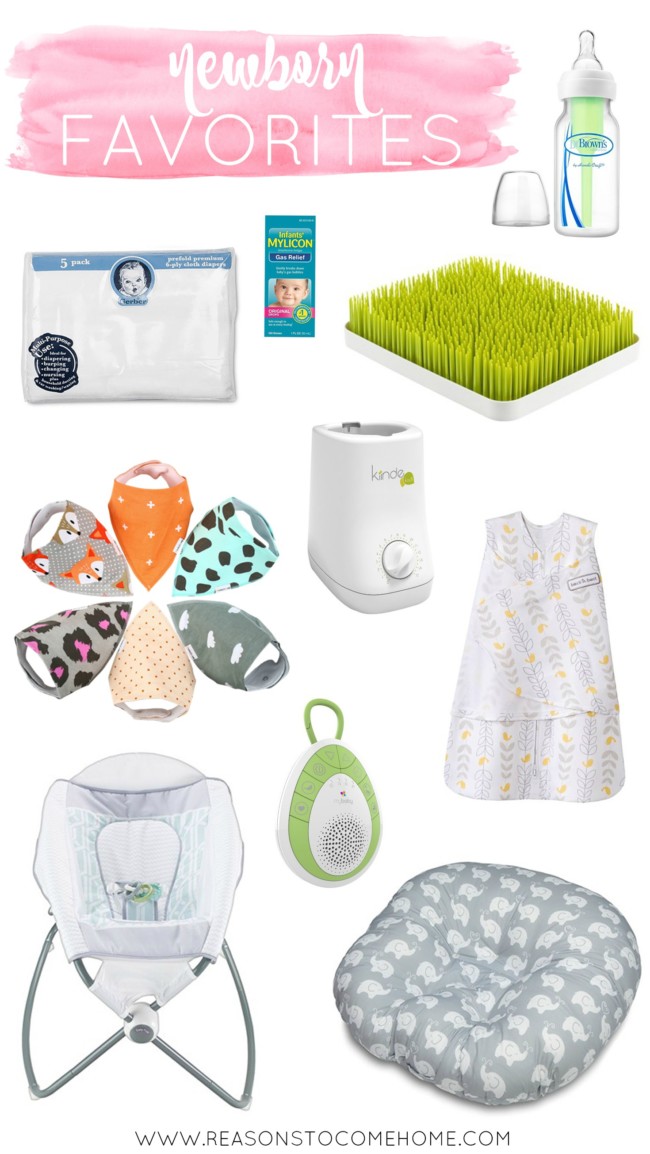 Disclaimer- I did receive the Bandana Bibs for free but all opinions are 100% mine! 
Dr. Brown's Bottles– I honestly believe that these help with gas because Baker hasn't struggled with much of it at all. I should note that I exclusively pump and we bottle feed Baker breast milk. We attempted nursing the first two weeks but after latching issues, gave up and started exclusively using bottles. She has never had any issues with these bottles but be warned, they are a pain in the butt to clean. However, I'm assuming a gassy baby is far worse.
Gerber Burp Clothes– We use these cloth diapers as burp clothes and they are without a doubt, the best. I have a friend that embroiders them for me and they turn out adorable. Go ahead and forget any other burp clothes and just use these!
Gas Drops– Occasionally, Baker does suffer from gas. Like the time I ate broccoli quiche and we learned the hard way that broccoli upsets her stomach.  And by hard way, I mean she screamed bloody murder for about 30 minutes straight. As new parents, we were tired and frazzled and had no idea what was wrong with her. My mom suggested gas drops and viola…our happy, calm baby was back. I would also recommend Gripe Water. While it never really helped with Baker's tummy, it stopped her hiccups (you know, the ones they get about 15 times a day) immediately.
Boon Grass Drying Rack– When you spend the majority of your day washing bottles and pump parts, these drying racks are awesome and hold so much stuff!
Cheeky Tummy Bandana Bibs– Like I said, I was sent these bibs to try and we love them! Cory hates bibs that you have to pull over Baker's head and loves that these snap on. Plus, they lay great under double chin. They are super absorbent and wash very well!
Kiinde Bottle Warmer– When you have a screaming, hungry baby you want to warm that bottle as fast as possible. Right now, it takes us 6 minutes to warm up 4 oz of milk and it's the perfect temperature. Every. Single. Time.
Halo Sleep Sack– From the very beginning, Baker hated having her arms swaddled. We used these swaddles at first and just left her arms out but I never felt like Baker was warm enough plus it didn't sit right around her neck. When I found out the Halo Sleep Sack had the option to swaddle with the arms out, we picked a few up and she loves them! And I don't have to worry about her being warm enough.
Rock 'n Play– Every night for the first month, Baker slept in her Rock 'n Play. Research will show you that these are not designed to sleep in but we did what worked for us and Baker slept like a rock in it. She still loves her Rock 'n Play and sleeps in it at the sitter.
On-the-Go Sound Machine– We never got the bigger sound machine we registered for but this little one works perfectly. We now clip it to the side of her crib and she sleeps with it every night. Also, it's super portable while traveling and the batteries last foreverrr in it!
Boppy Lounger– Words can't express how much we love our lounger. Baker (still) uses it daily. We've fed her in it, she's slept in it, we've carried her around the house in it. We also have a regular boppy but like this one better. Seriously, it's worth every penny!
Like I said, this list is no where near all the items we used during Baker's first few months but it is the items we couldn't live without!
What items where your newborn favorites?