Growing up, my grandparents and great-grandparents lived in the mountains of NC and every Christmas my family would make the trek up there to spend some time with them. After my great-grandparents passed away, my grandparents moved to SC to be closer to family and the trips, obviously, stopped.
So this year, my dad decided that he wanted to start the tradition afresh and take a few days to head back to the mountains, to end our year with some quality family time and start the new year off rejuvenated.
Even though we weren't back at my grandparents', we rented a lake house on Lake Lure and headed up on Christmas day with most of my siblings, my parents, and my grandparents. We had such a great time and look forward to going back next year!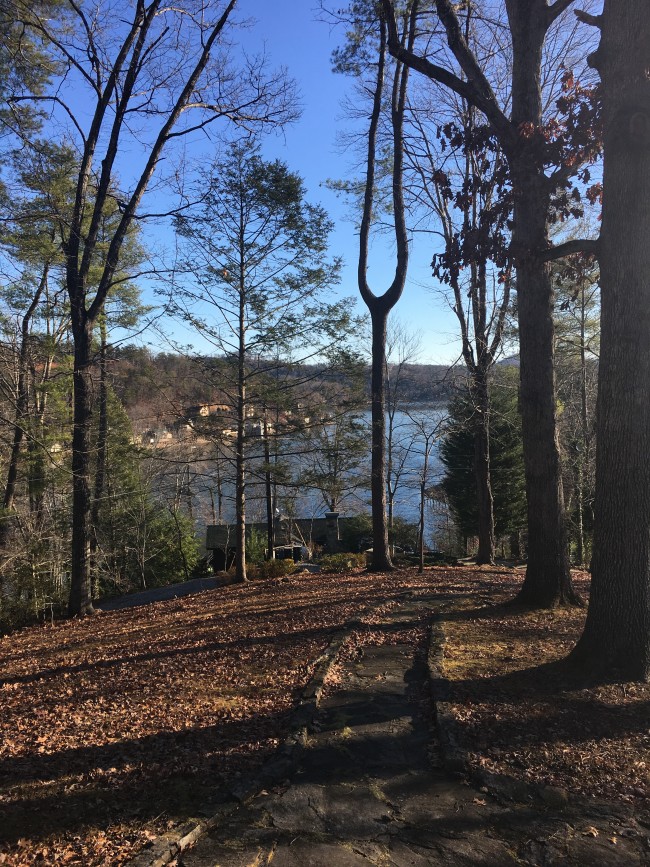 Lake Lure is a small town only about an hour and half from home so it was an ideal place to visit. We were all pretty tired when we arrived after all of our Christmas activities, so we relaxed the first evening and enjoyed dinner together.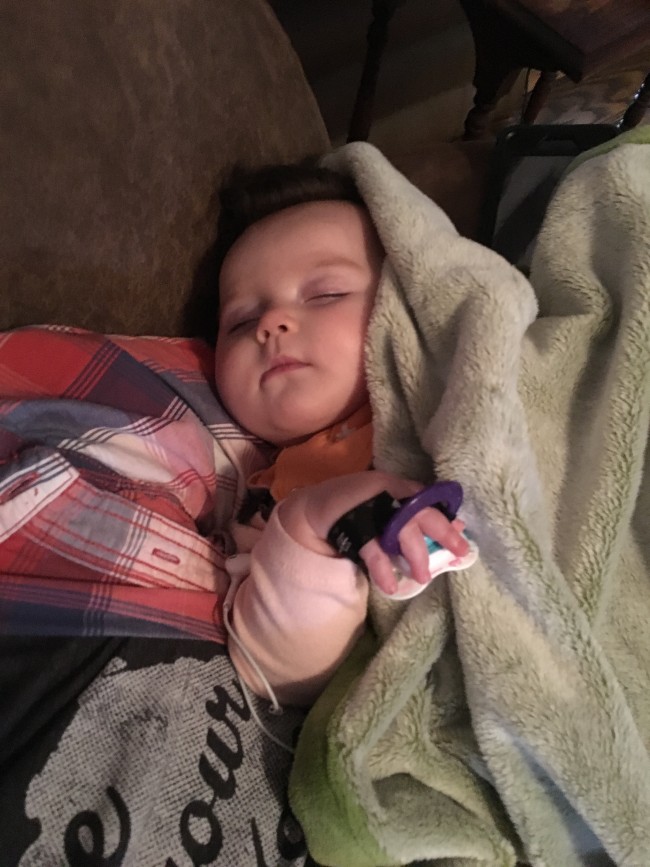 Monday afternoon we headed out to explore the quaint little town and do a little shopping and ice cream eating!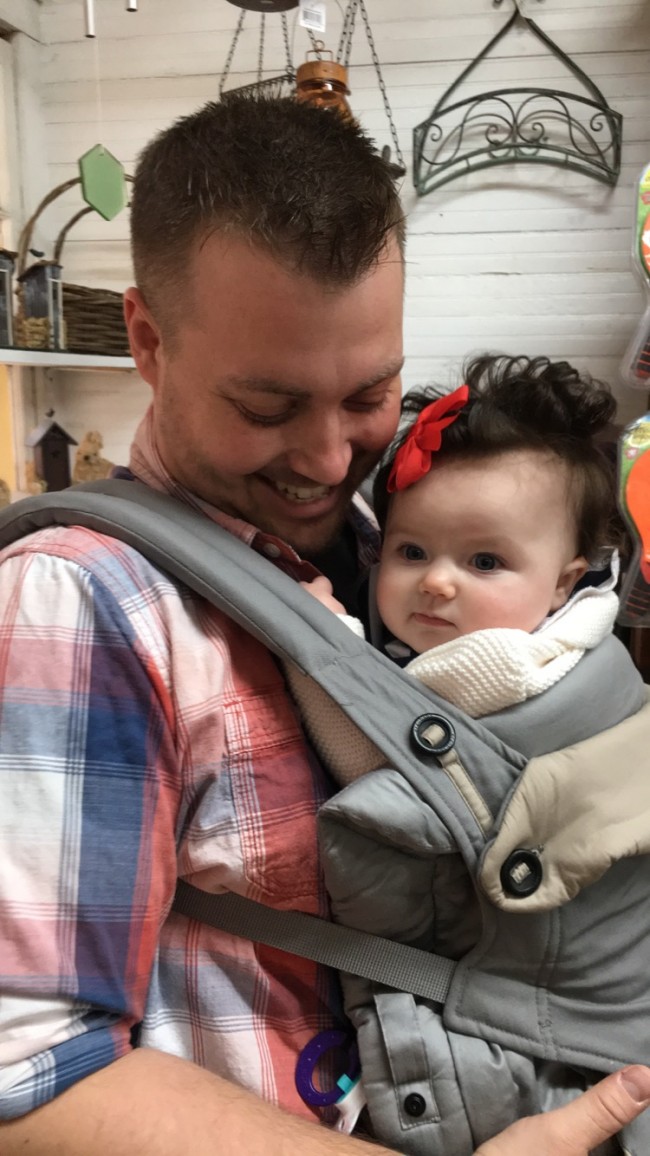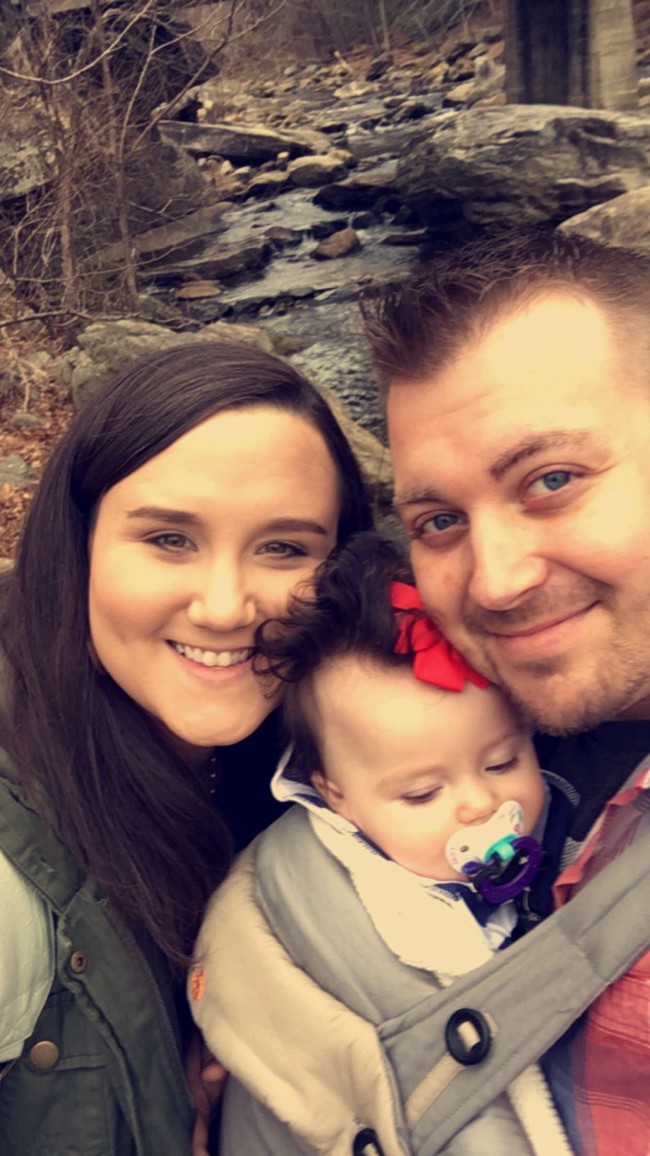 The shops ran along this little river and there was a nice river walk you could go down to.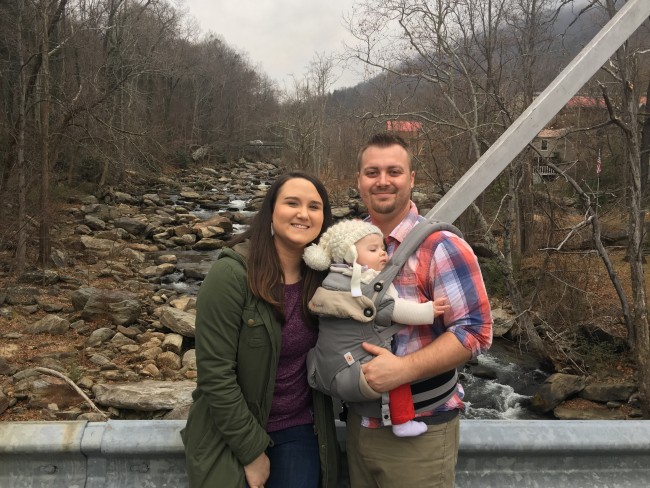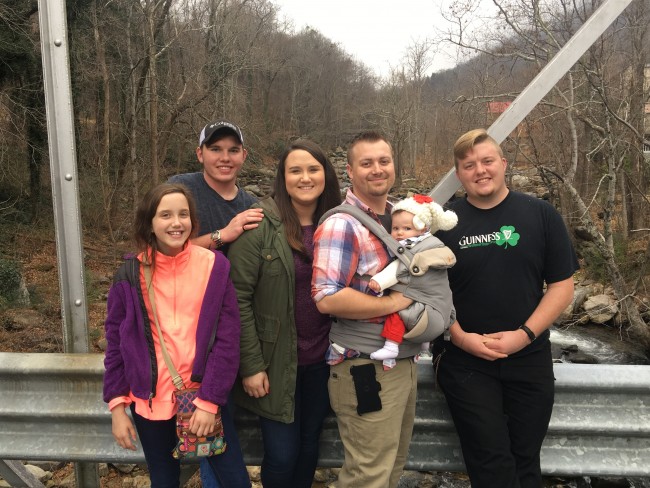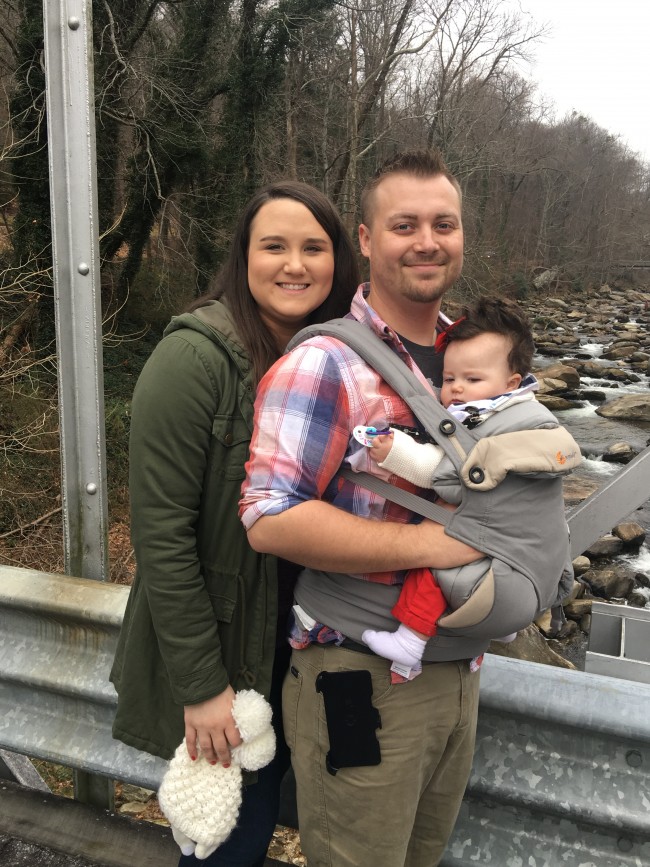 I just love my little family.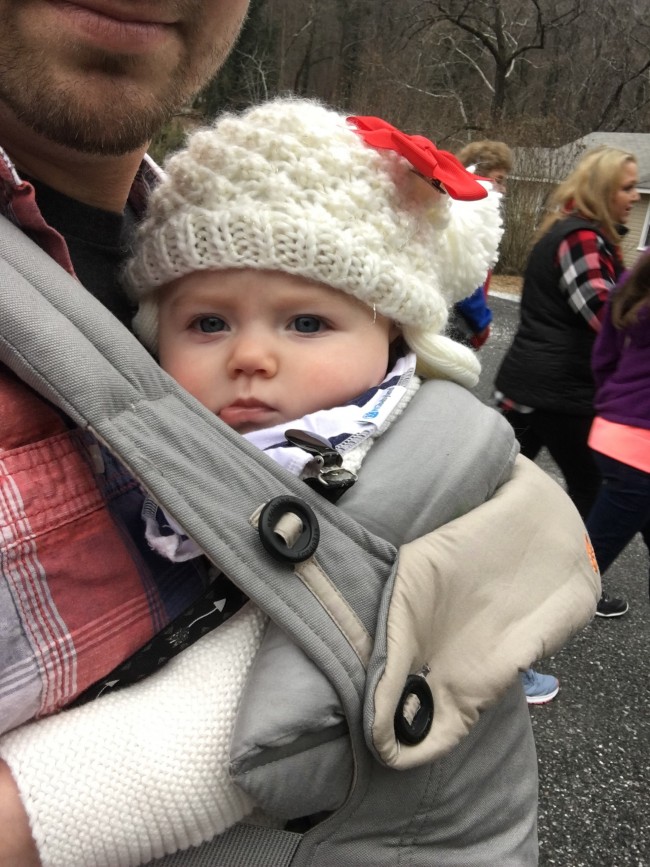 This sweet girl, despite fighting sleep, was such a champ and did so well while we walked up and down the streets.
My family, y'all. Staring at my grandparents in the store.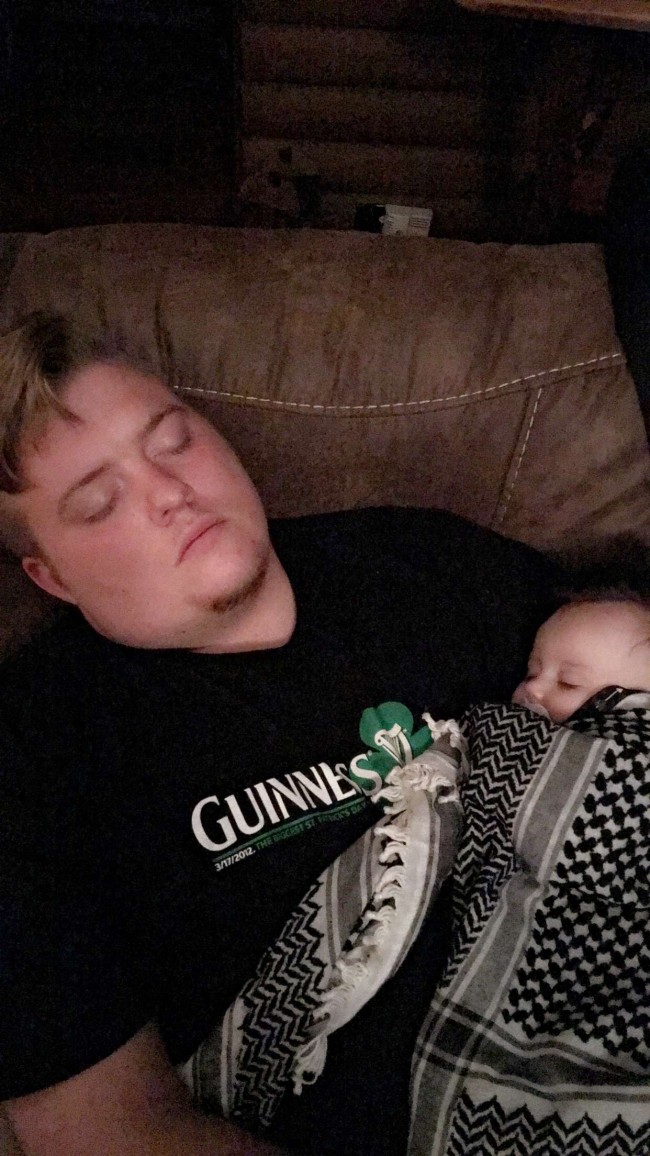 Naps with Uncle Jordan!
Gracie got the game Speak Out for Christmas and we had an absolute ball playing it. I've probably got five more videos just like this!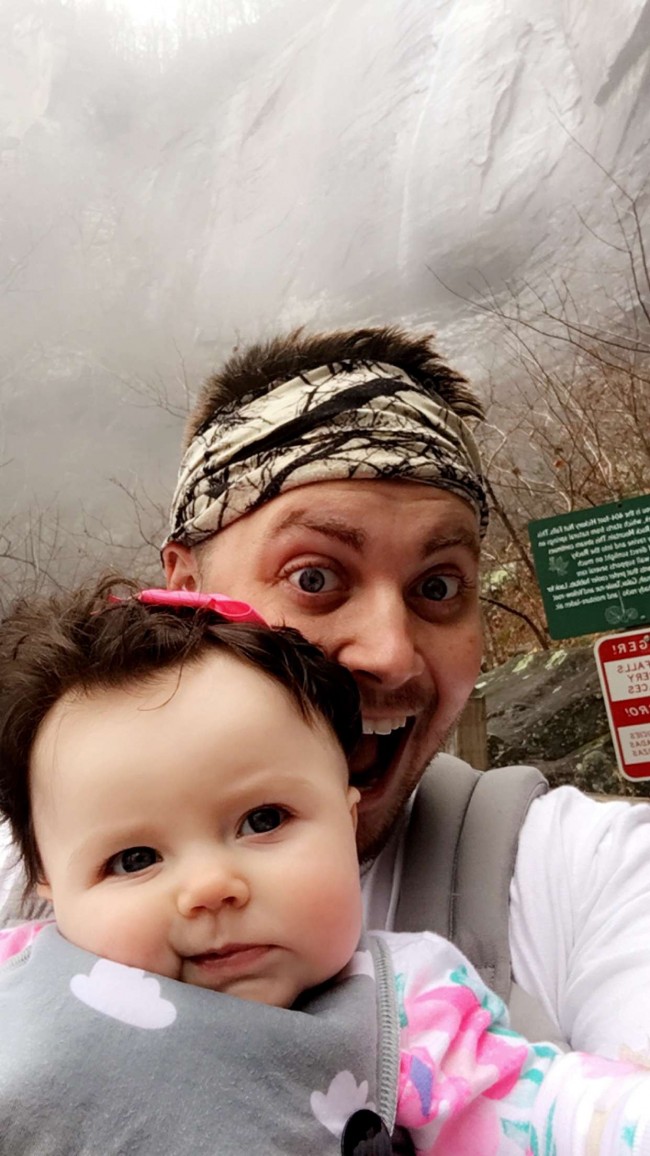 On Tuesday, we set out to hike Chimney Rock. We were a little worried about the fog but it cleared up pretty quickly.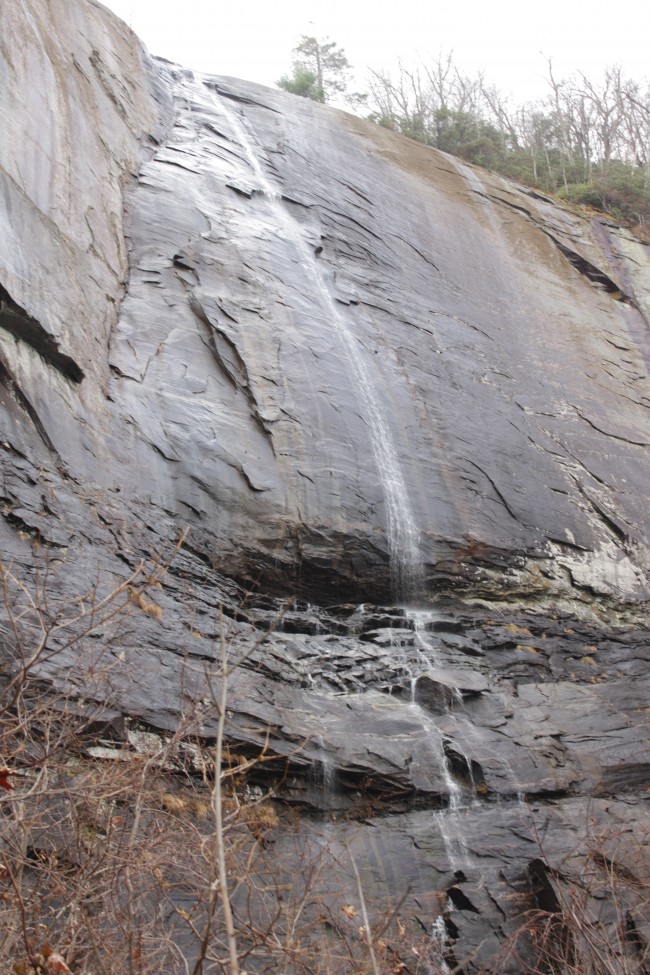 The first part of the hike, Hickory Nut Falls Trail, was about a 1.5 mile round trip down to the waterfall. You are supposed to be able to walk under the falls but that portion was closed due to ice.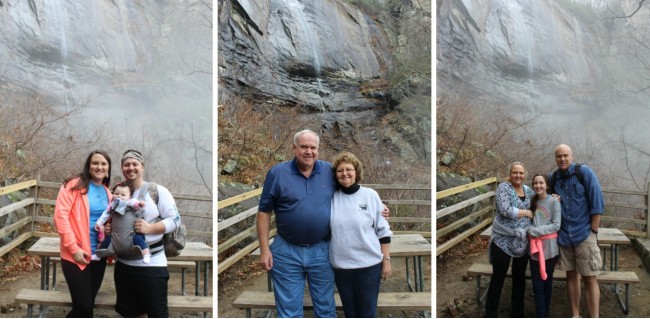 Once we got to the waterfall, we stopped for a picnic lunch before heading back.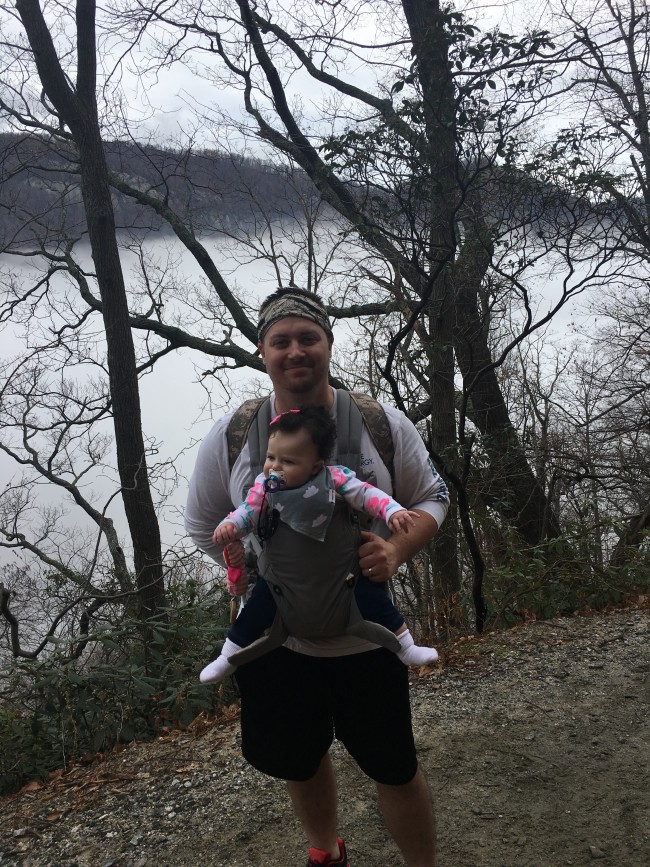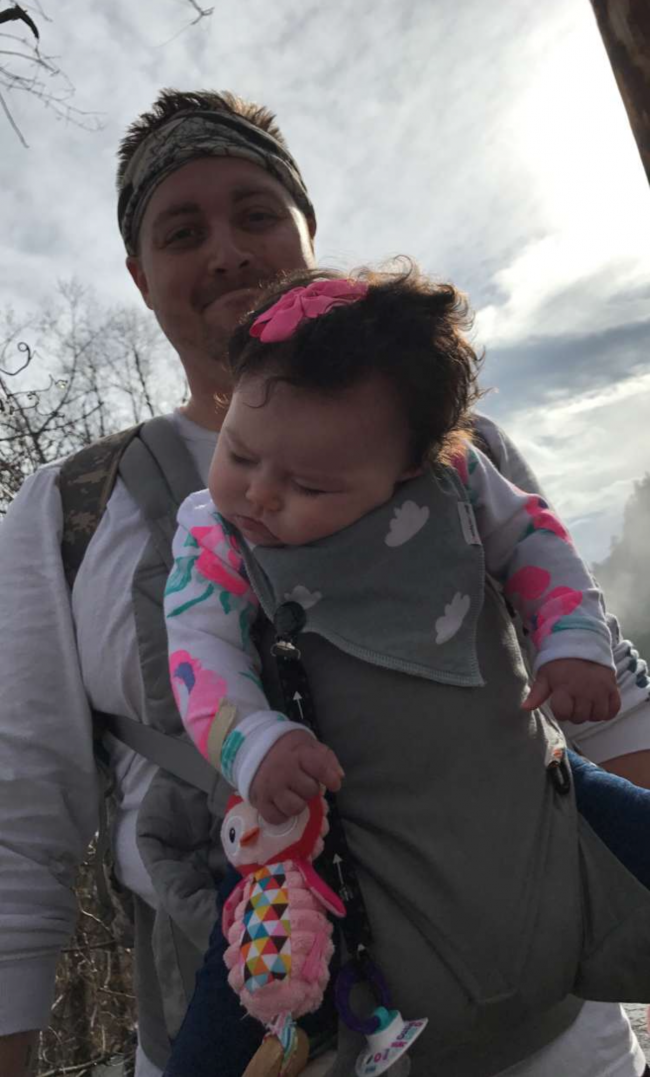 Poor girl just couldn't hang the whole trip. I mean, yeah, technically she was hanging, but you know what I mean.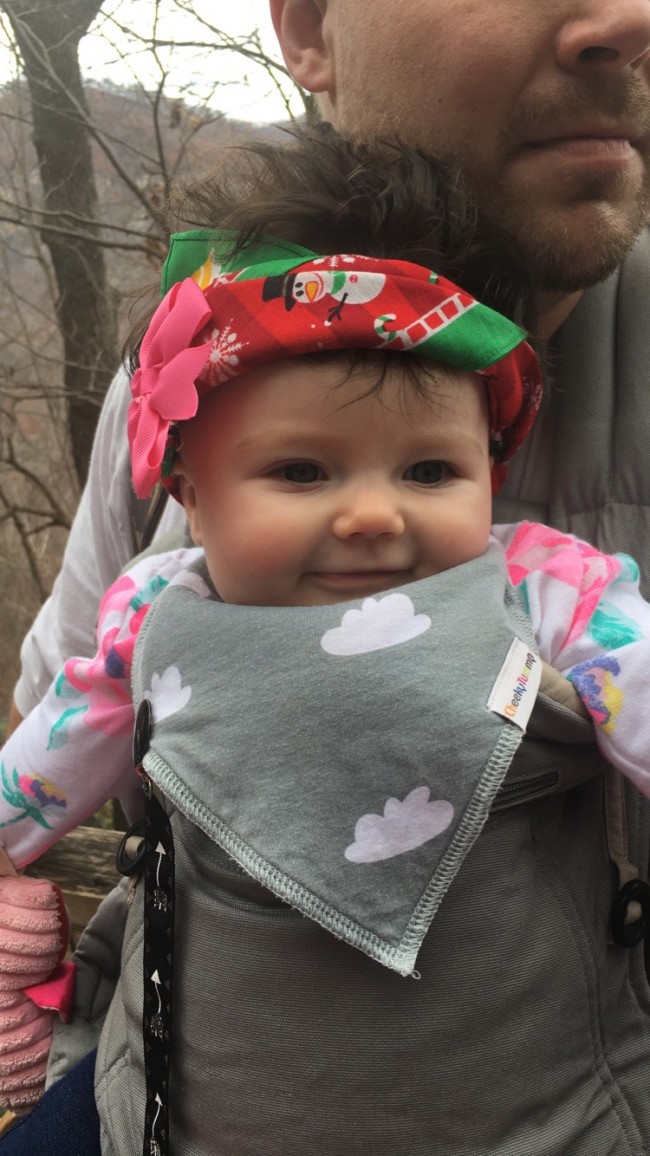 That bandana, y'all. Someone had to be twinning with daddy.
The second trail we went on was the Outcroppings Trail and it was 499 stairs to the top. And I'm not gonna lie…it was rough! My legs were on fire. They had an elevator and I am not ashamed to admit that I wanted to use it. But it was out of order.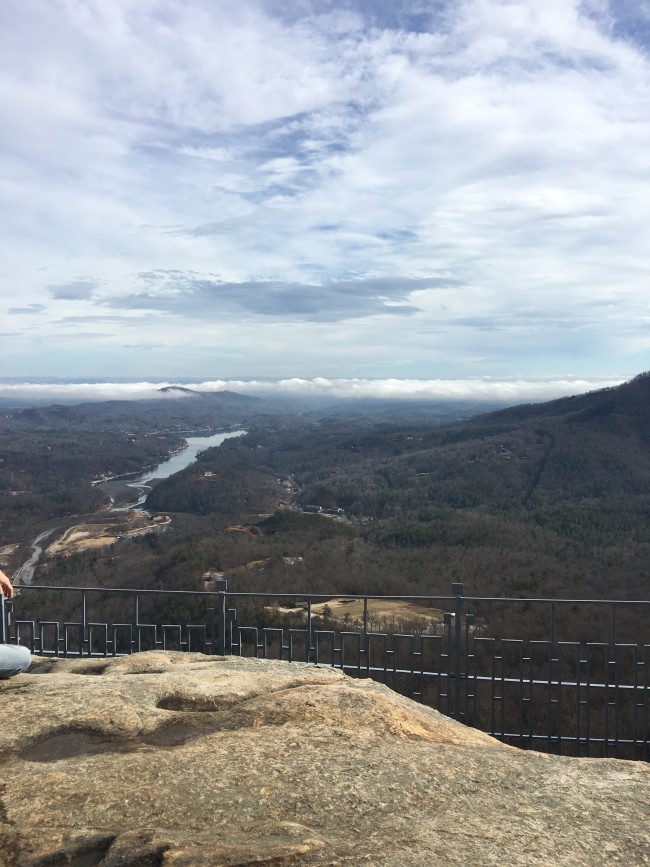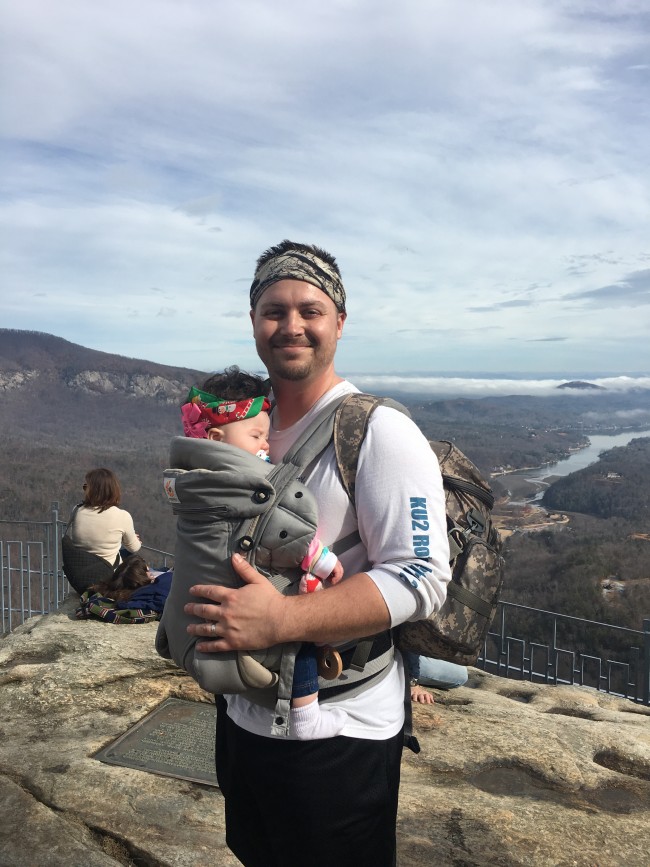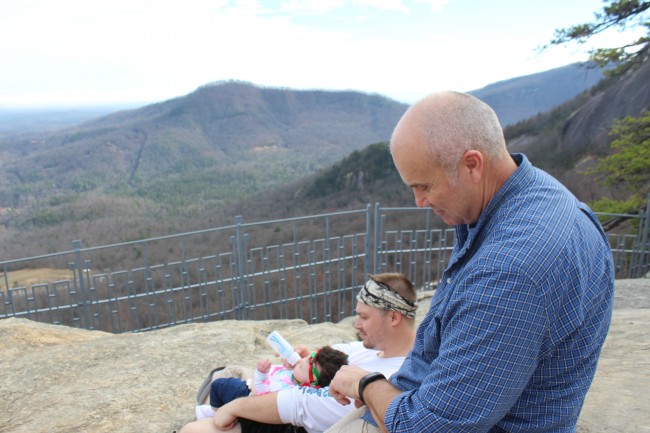 My dad wasn't even fazed by it though, so he and my brothers continued on to the Exclamation Point Trail, while we headed back down.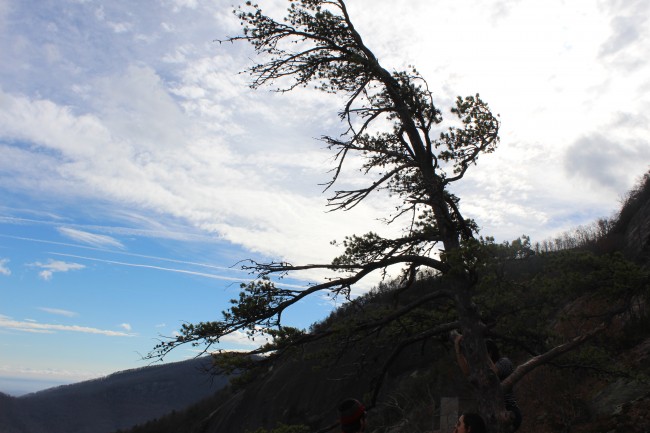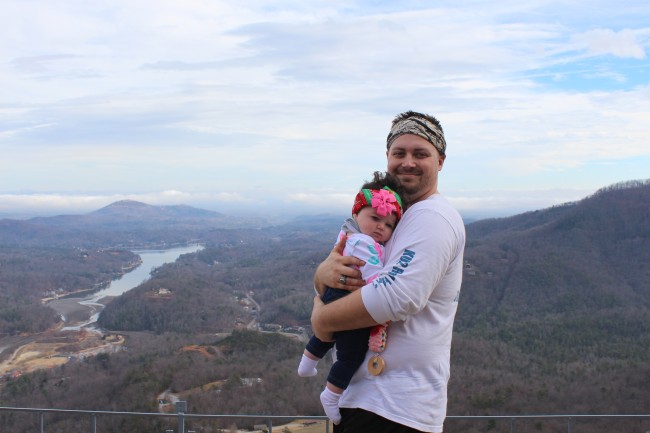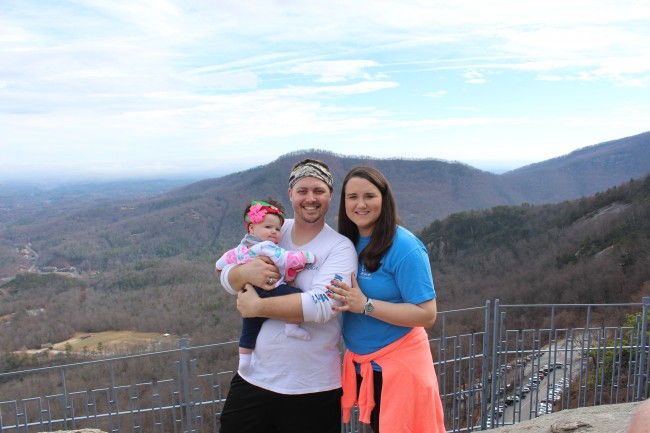 Cory said I looked scared to death in this picture and that's because I was! I used to be such a thrill seeker but it I was so anxious the entire time Cory was walking around with Baker on that rock. Hello, motherhood.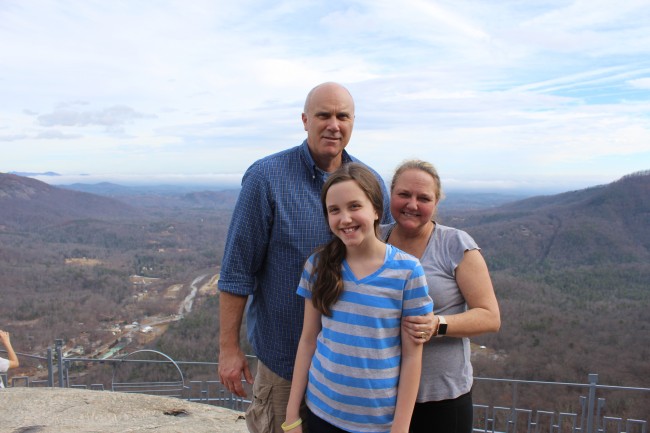 I promise my brothers were there too, but they were too busy jumping around being boys to take pictures.

The views were gorgeous and it was definitely worth the trek up there!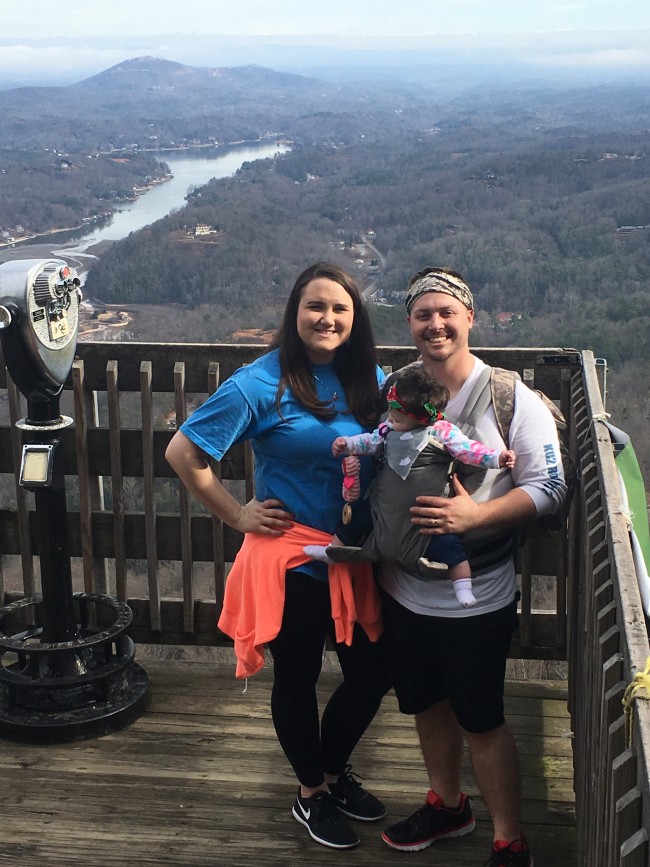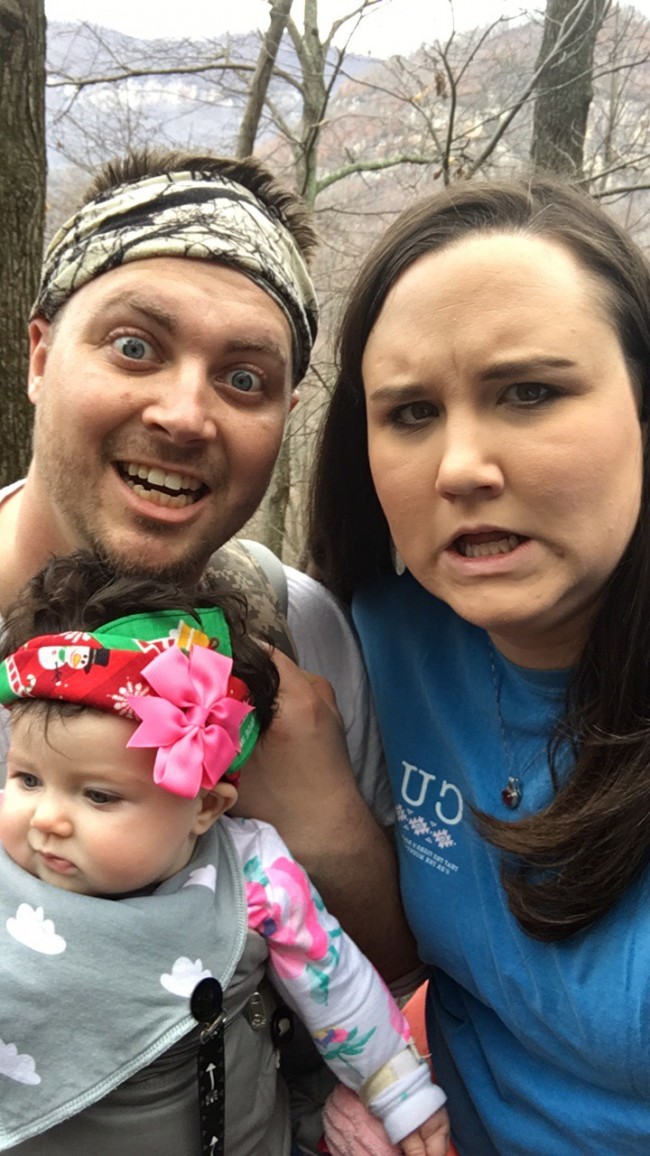 But by the end, I was thinking it might have been better to stay down with my grandparents! Ha. We were a little worried how Baker would do on her first adventure but she shocked us all and did amazingly! She loves being outside and didn't even mind being in her Ergo carrier for the better part of the day.
After a full afternoon at the Chimney Rock state park, we headed back to the house for naps before dinner and finished the evening with our tradition of watching "It's a Wonderful Life" with my grandparents.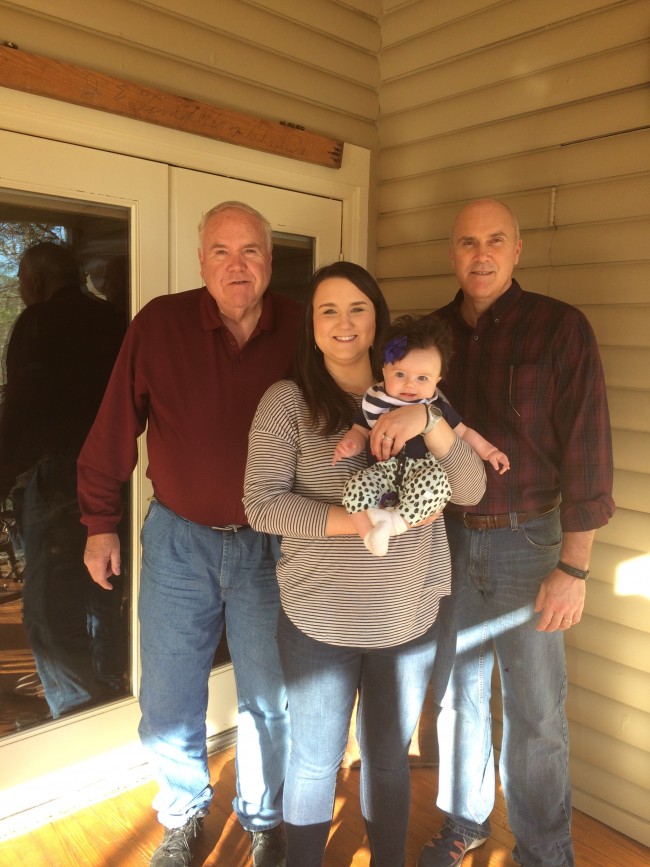 Four generation! Don't we have some syringe genes?!
Wednesday morning, we packed up and got ready to head home. Before we left, we sat down and prayed for the new year and discussed our trip and what we all got out of it. We all had a great time, just being with family, and we walked away with new memories of Baker with her grandparents and great-grandparents. We can't wait for the years to come and Baker forming some similar memories that I have as a child spending time in the mountains.