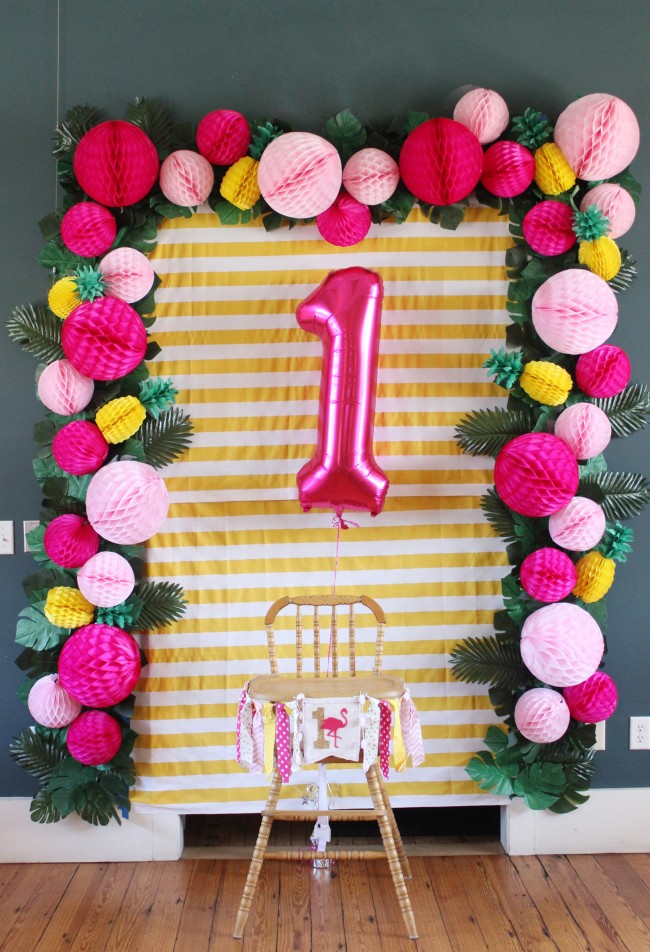 Our sweet Baker Bea turned one on July 8th ( I don't even know how it's possible for me to by typing those words!) and we celebrated in style with a flamingo and pineapple first birthday party. It took me forever to decide on a theme for her party and I felt like I got a really late start to planning, but it all turned out so completely perfect. This party was a labor of love, y'all, but I loved the bright, vibrant colors that represent our girl so truly.
Poor planning on our part: we were gone on vacation the week before Baker's birthday so I had to make sure that at least all the big stuff was taken care of before we left for Panama City. In true party planning mode, I worked on her party decorations for a solid month before her party. And I loved every second of it!
A huge thanks to my two best friends, Jessica and Amber, for taking such great pictures of Girl's big day!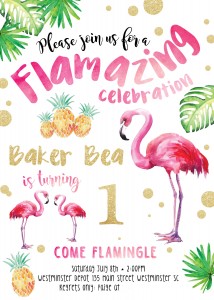 Invites- Paper Sparkle Designs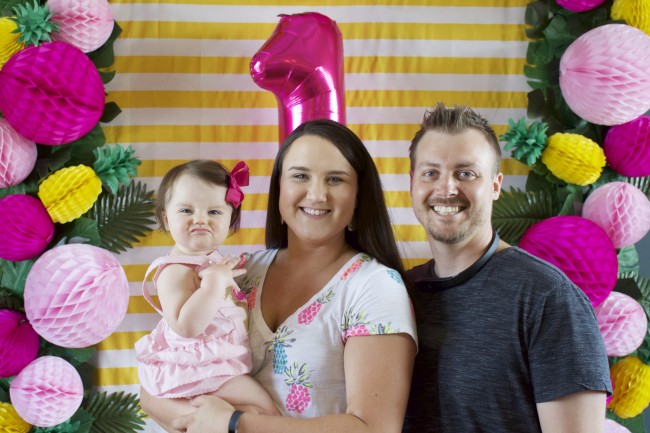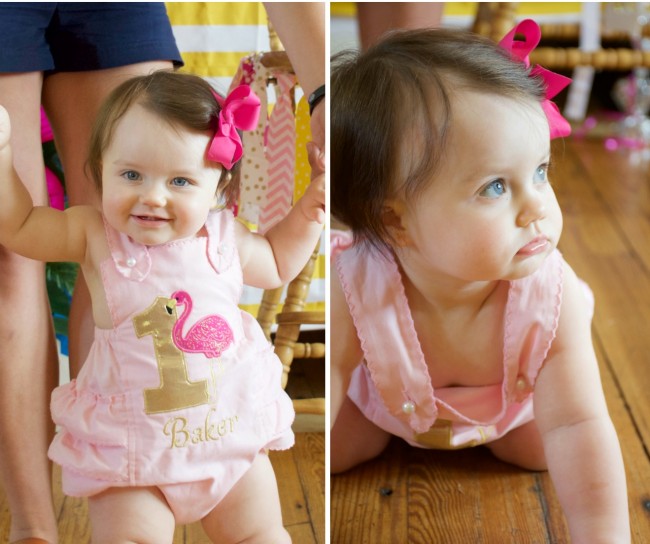 Baker's outfit was custom made by Cory's grandmother using this pattern and embroidered by my friend Kellie.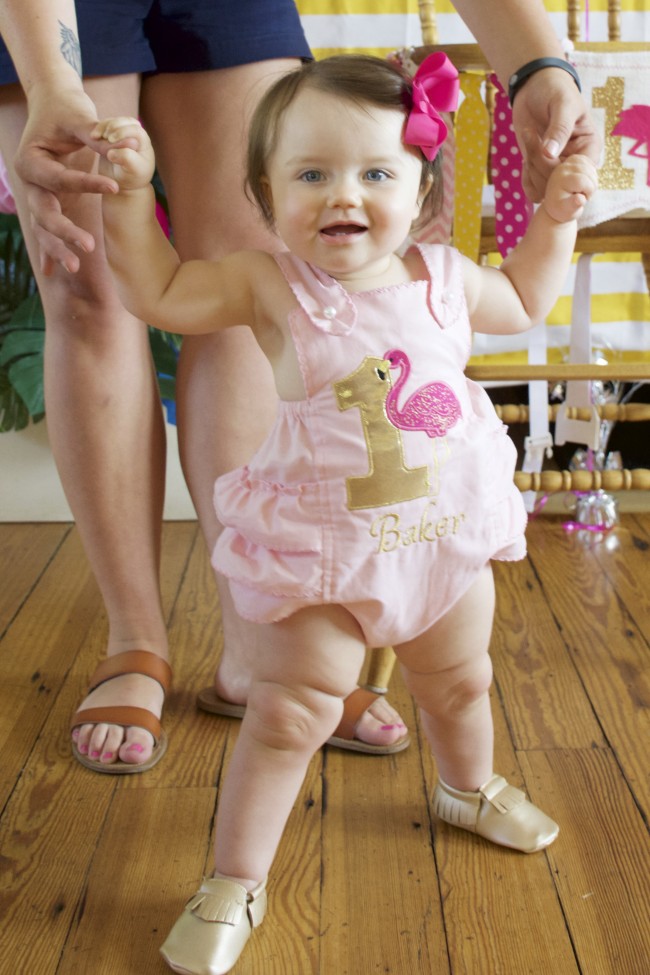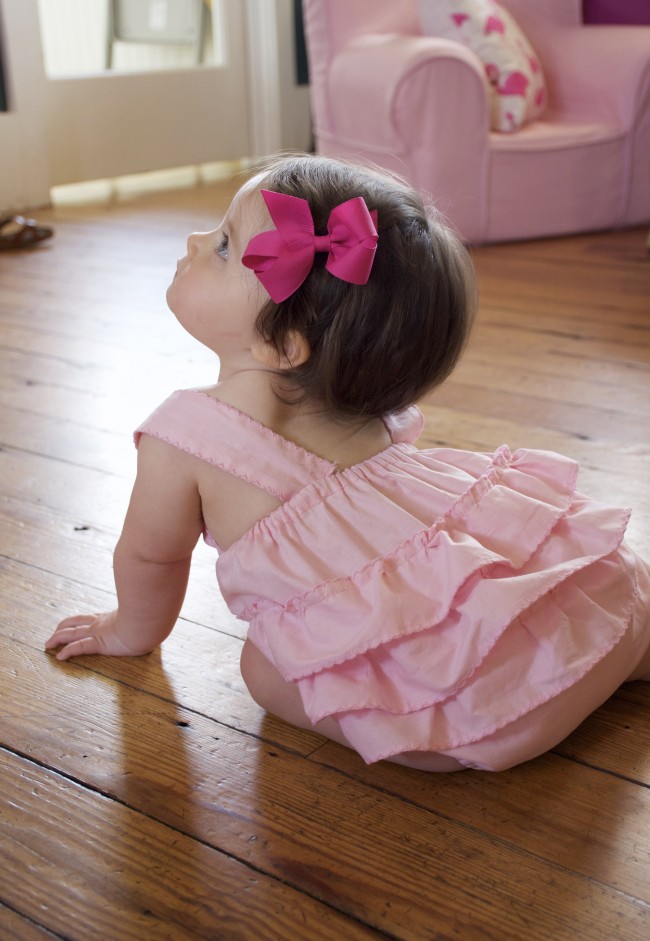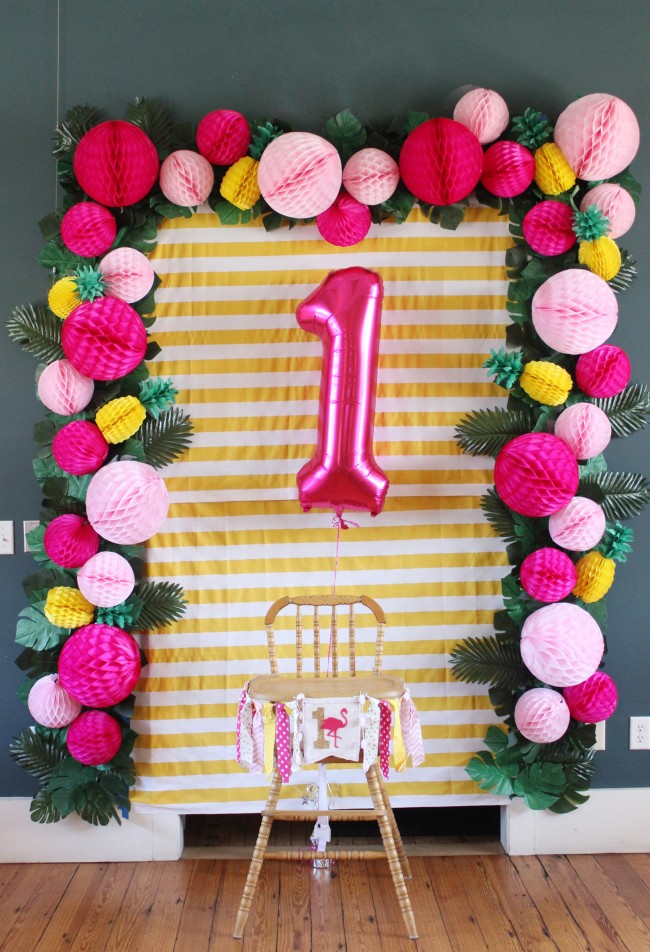 I'm going to try and list all the supplies I used to make this photo backdrop:
Paper balls 8″ and 12″ in Cerise and Light Pink- Devra Party
6 yards of yellow stripped fabric- Hobby Lobby
Palm Leaves- Oriental Trading
Tropical Leaves- Oriental Trading  (I wouldn't use these again because I had to glue pipe cleaners on about 8 dozen of them. I ordered these from eBay as backup but didn't think they would arrive in in time to use. I would recommend using something with a stem.)
Honeycomb Pineapples- Dollar Tree
"1" Balloon- LA Balloons
The fabric was held up by painters' tape and I attached the leaves, paper balls, and pineapples to three separate pieces of garden mesh and hung the mesh up with Command Hooks.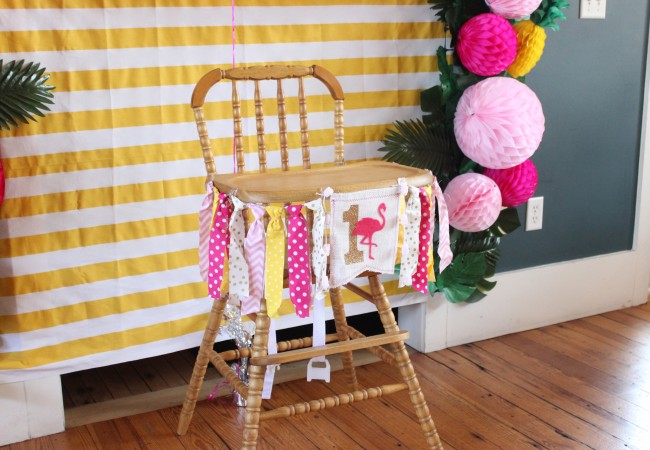 High chair banner via Raw Edge Sewing Co.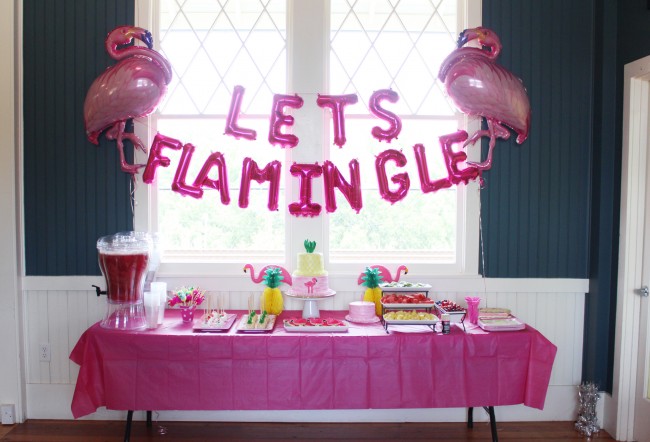 Flamingo balloons- LA Balloons
16″ Magenta Letter balloons- LA Balloons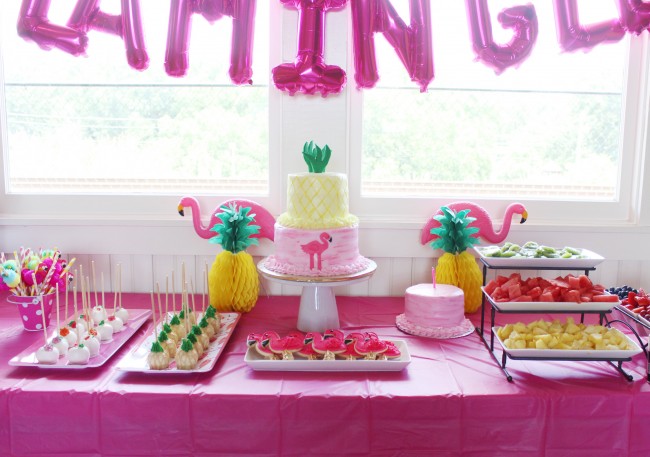 Cake- made by friend Toni
Cake Pops- Walnut Street Bakery 
Cookies- Sassy Sugar Cookies and Confections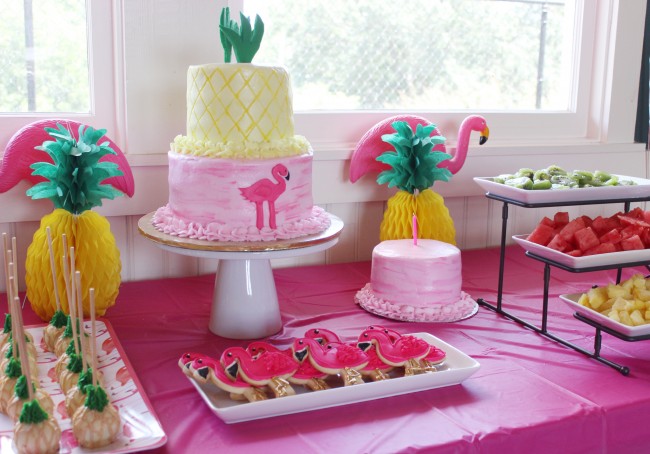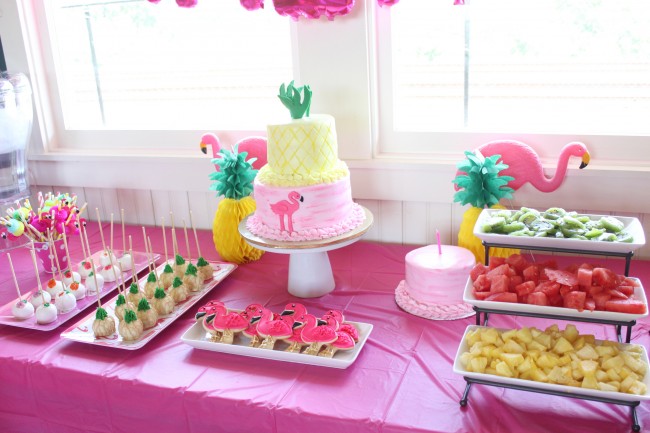 Since the party was at 2:00pm, we kept the food super simple with some tropical fruit (to go along with our theme!) and the yummy desserts.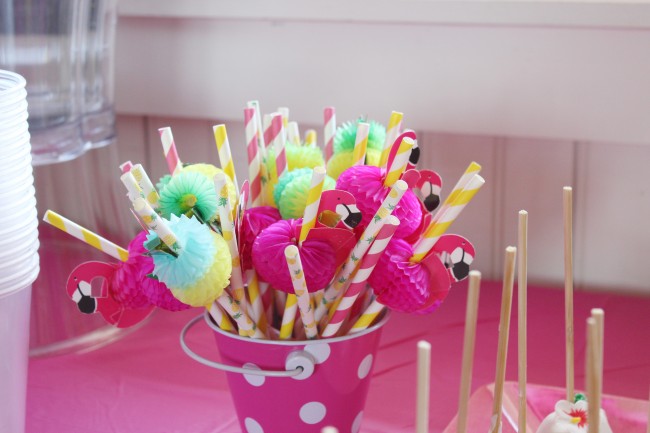 Pineapple Straws- Oriental Trading
Hot Pink Straws- Oriental Trading
Pineapple and Flamingo Honeycomb Straws- Dollar Tree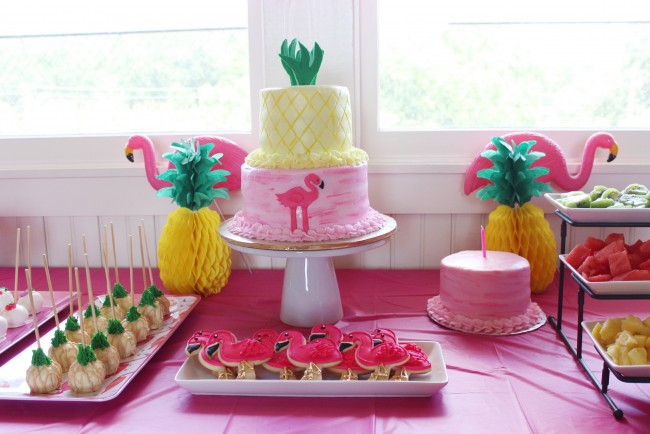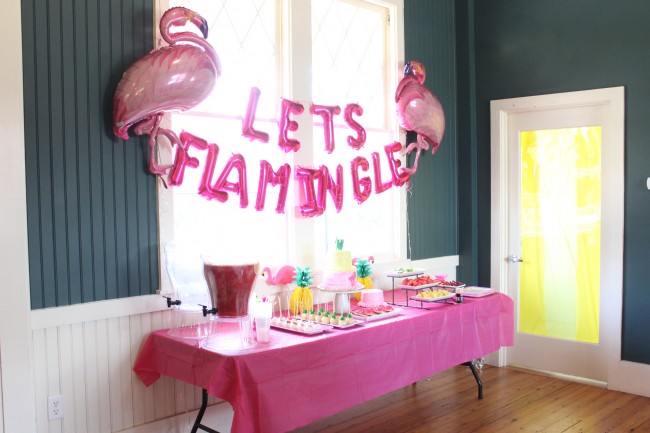 You can find the pink punch recipe I used here.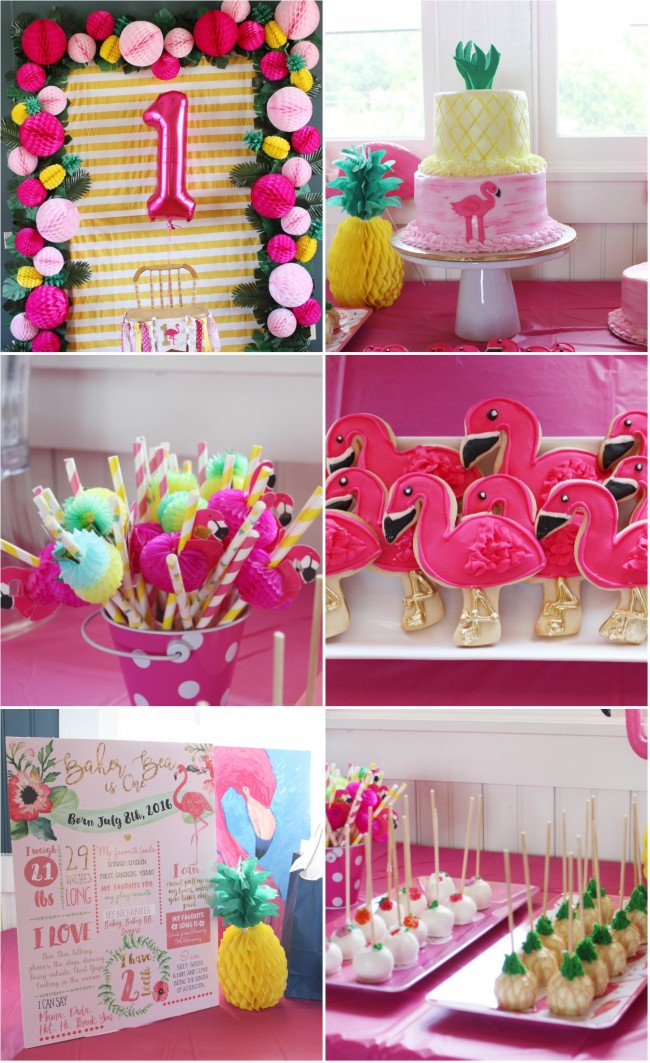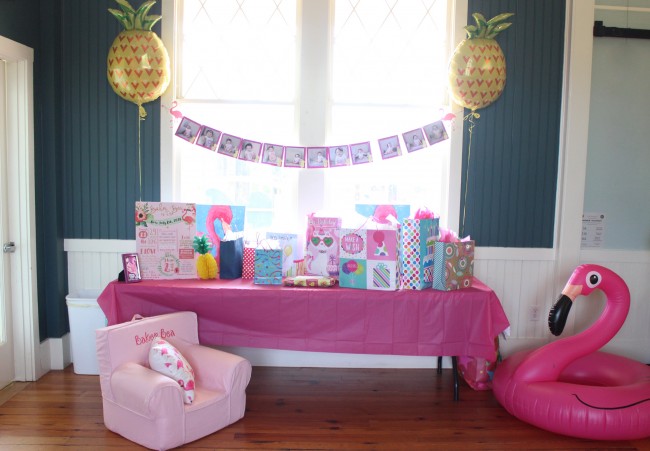 Pineapple Balloons- LA Balloons
Flamingo- Amazon
Anywhere Chair- Pottery Barn
Flamingo Pillow- Ali Express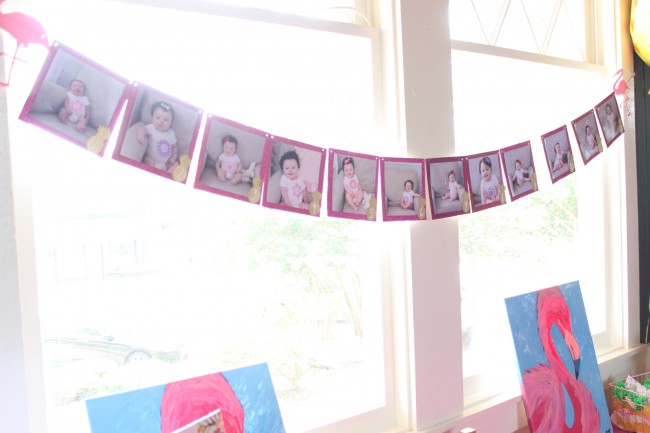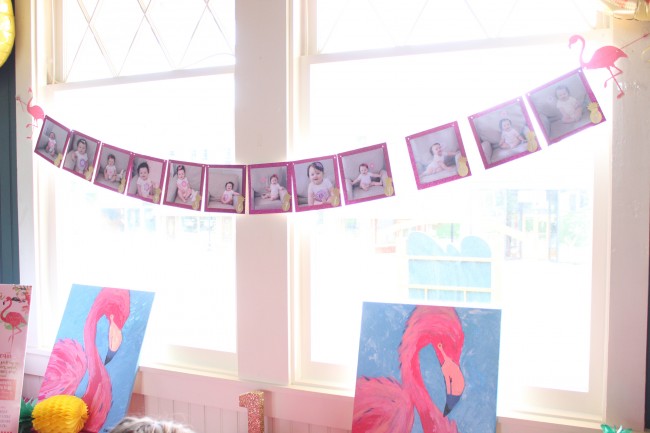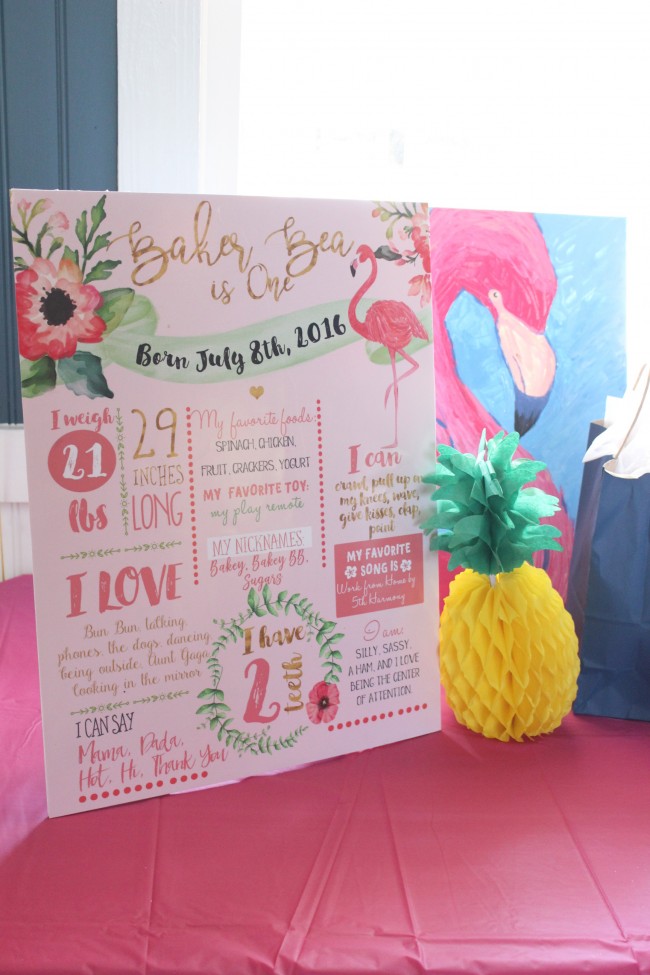 Milestone Poster- Happy Party Studio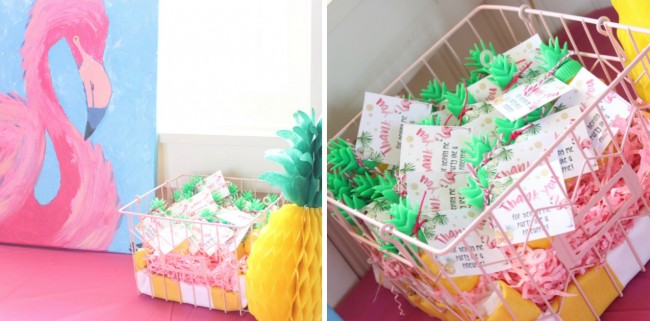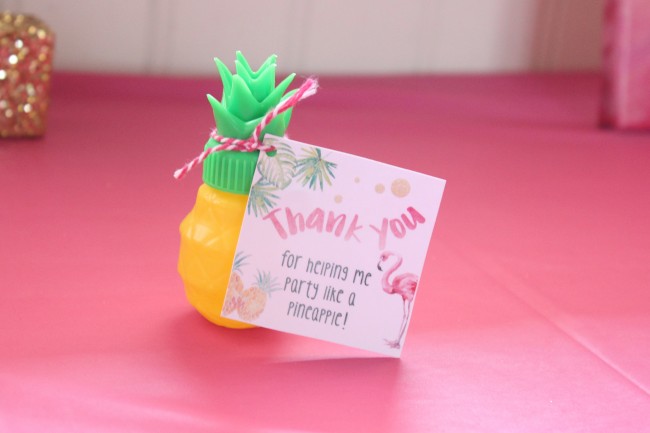 Pineapple Bubble Favors- Oriental Trading
"Party Like a Pineapple" Favor Tags- Paper Sparkle Designs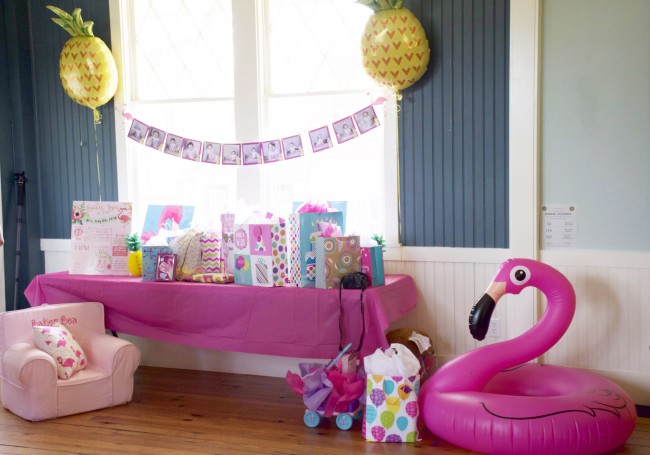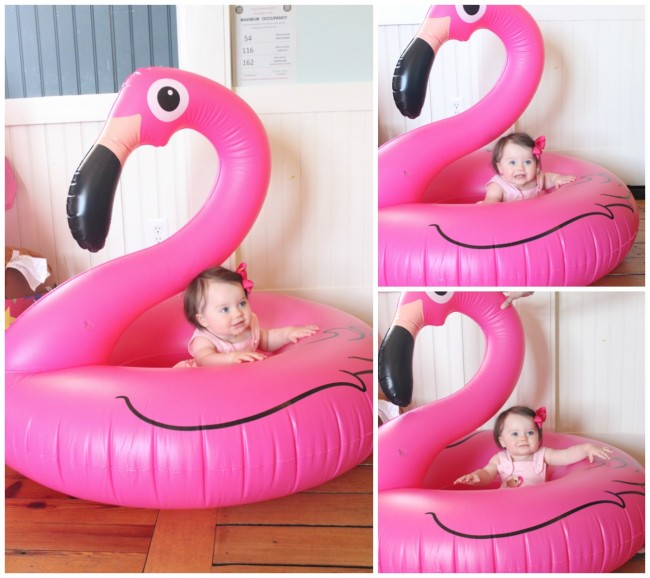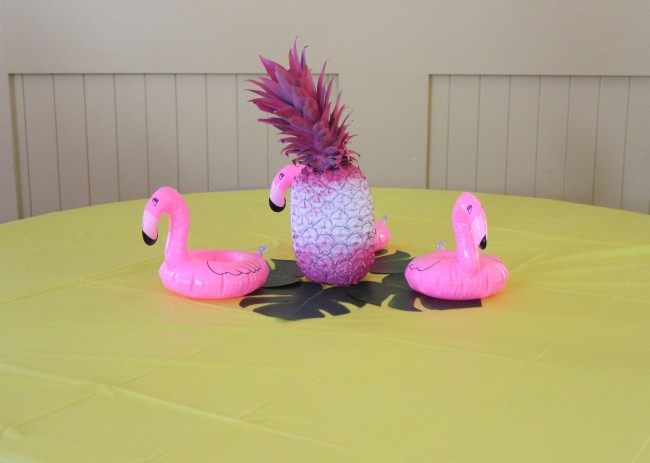 Flamingo Center Pieces- Oriental Trading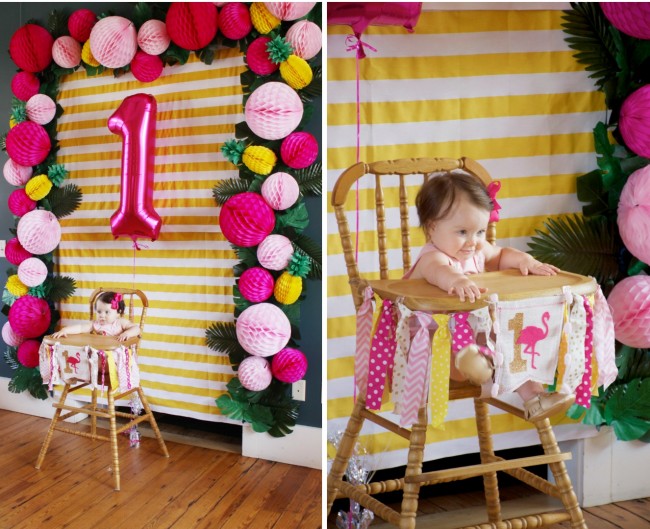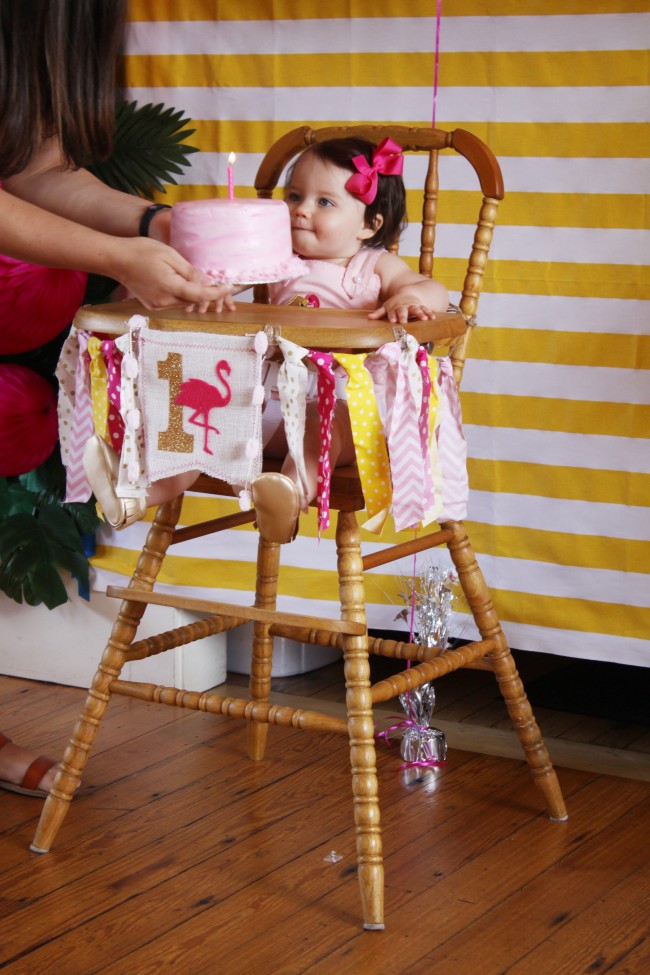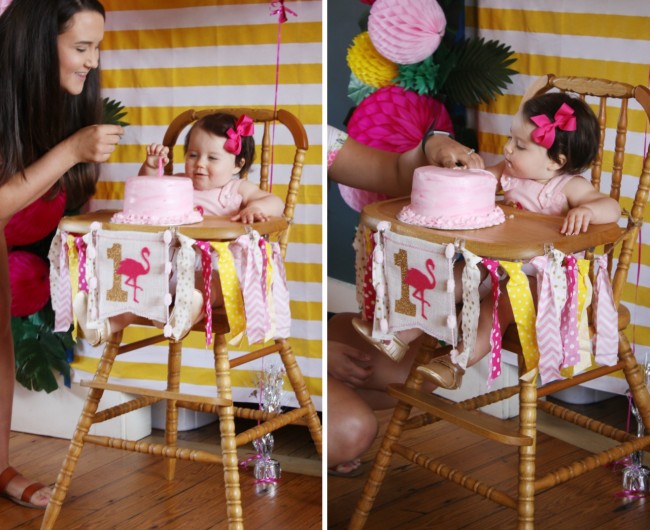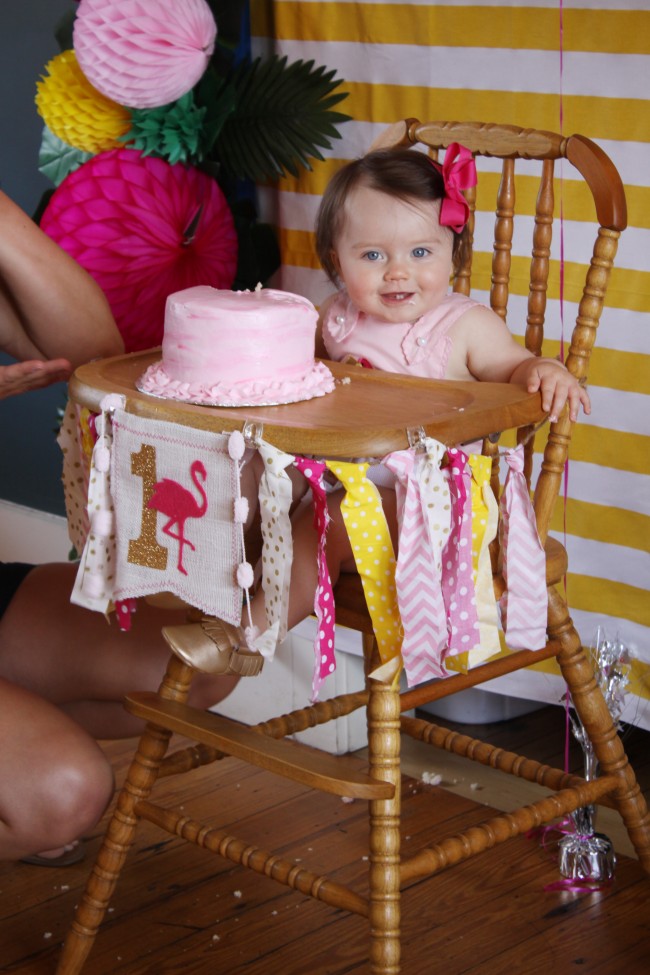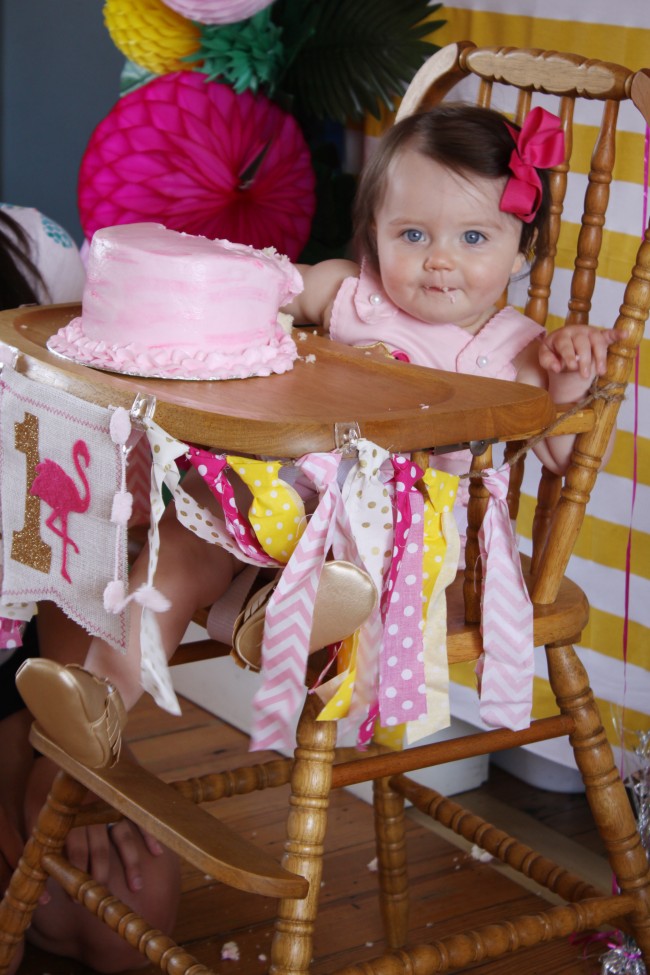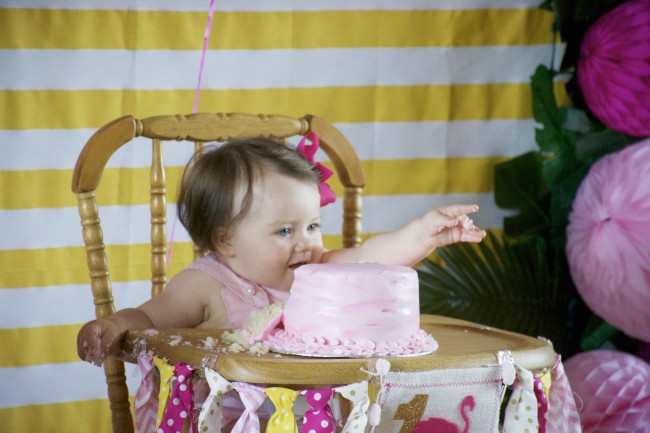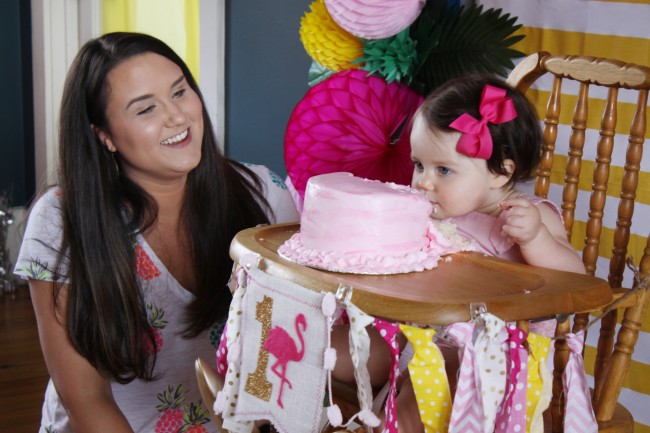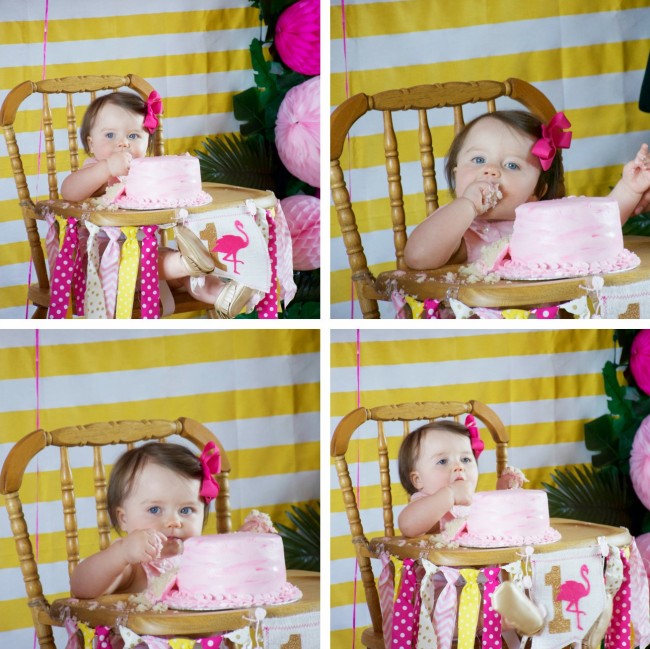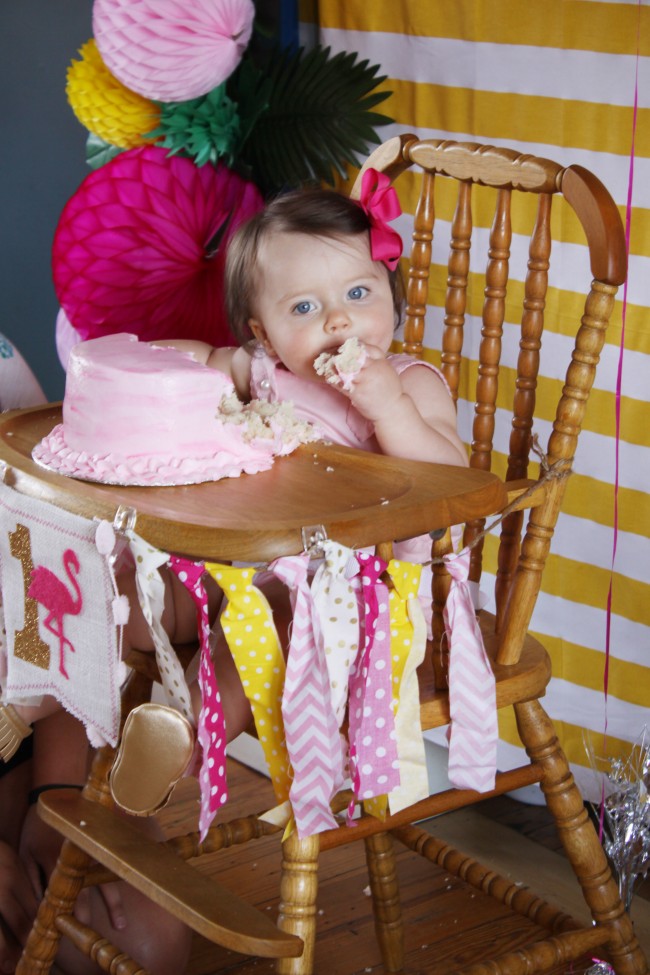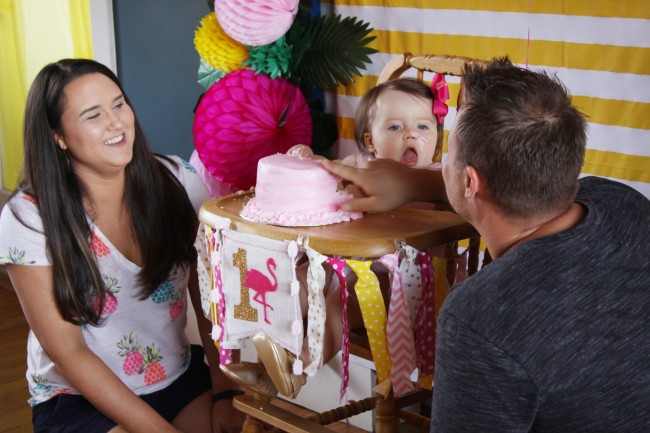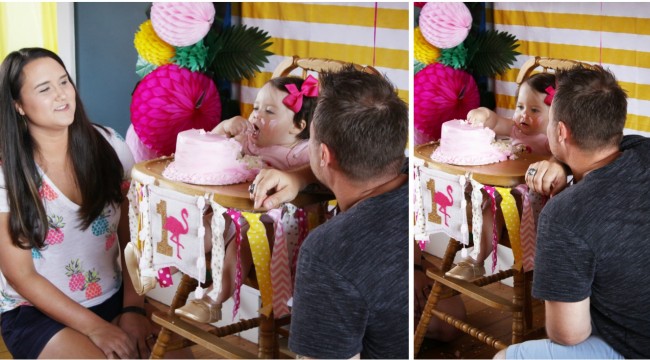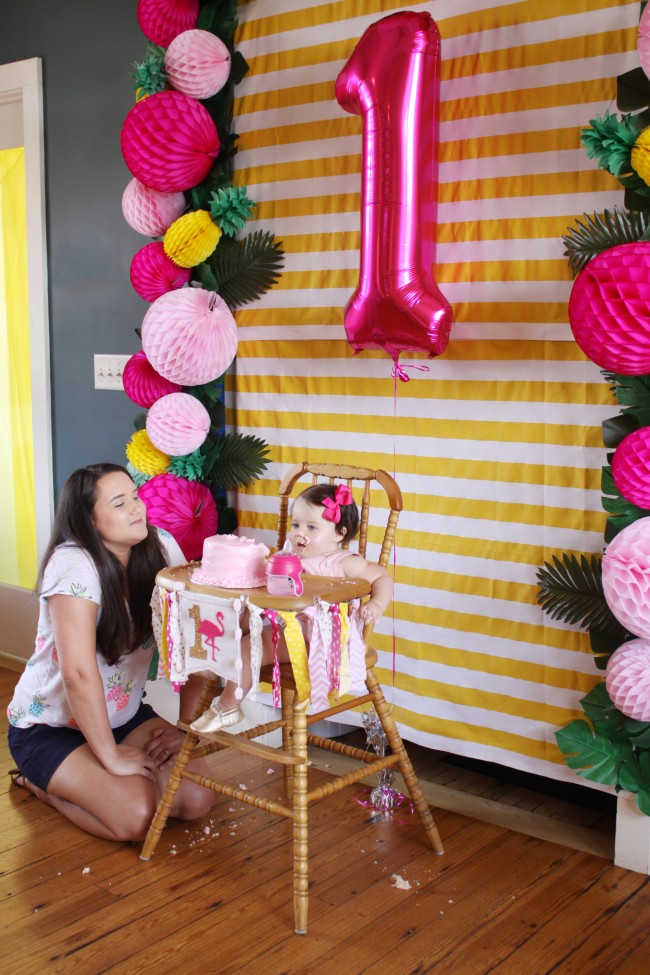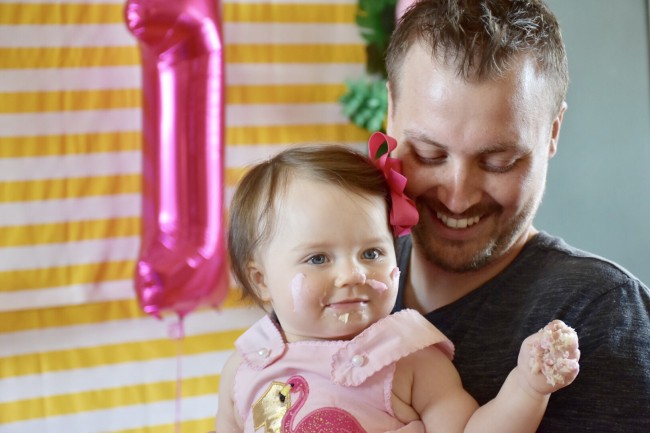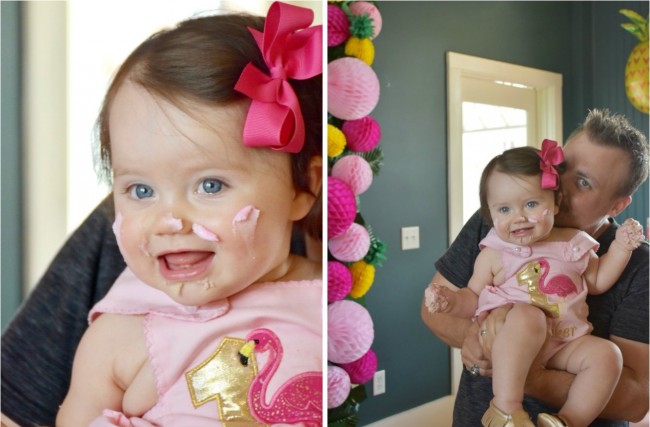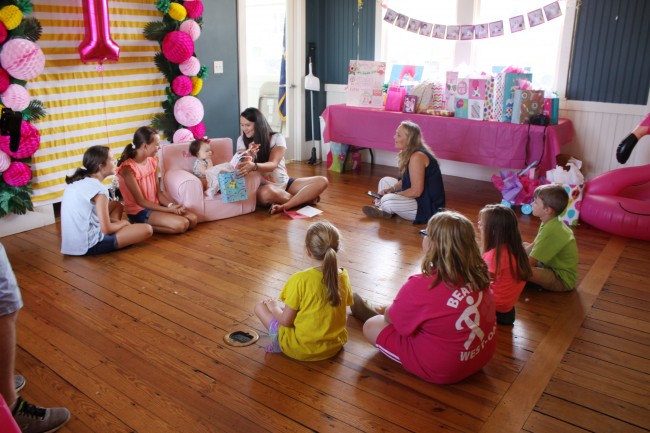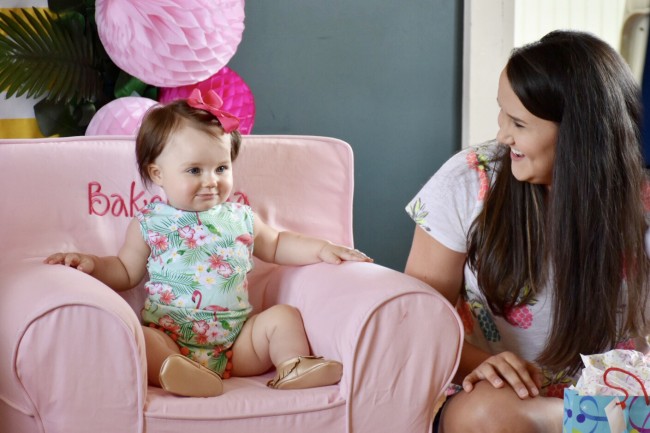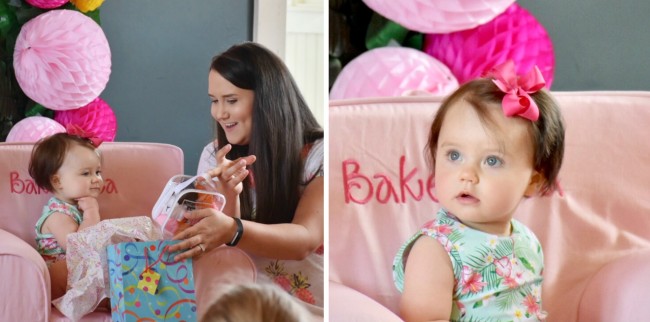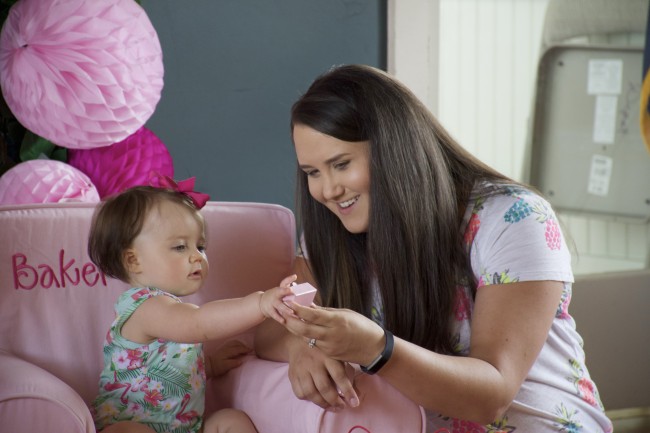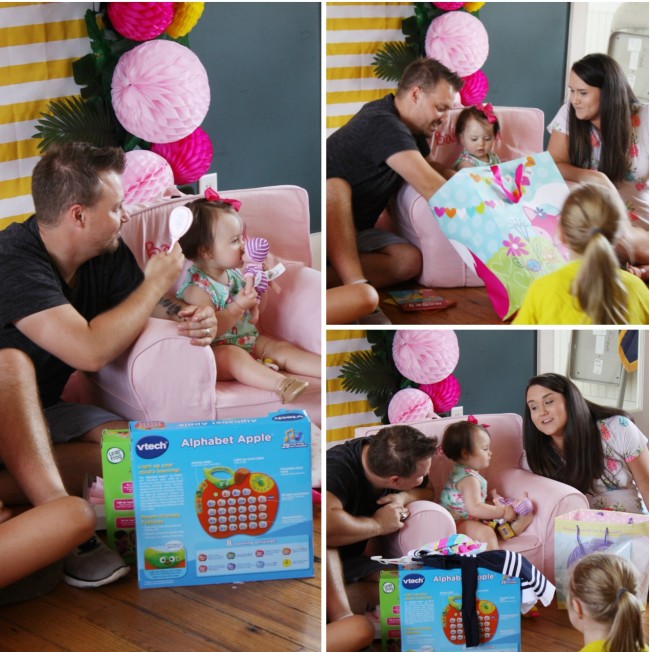 We were desperately trying to get her to say "thank you" because she can definitely say it–she just refuses!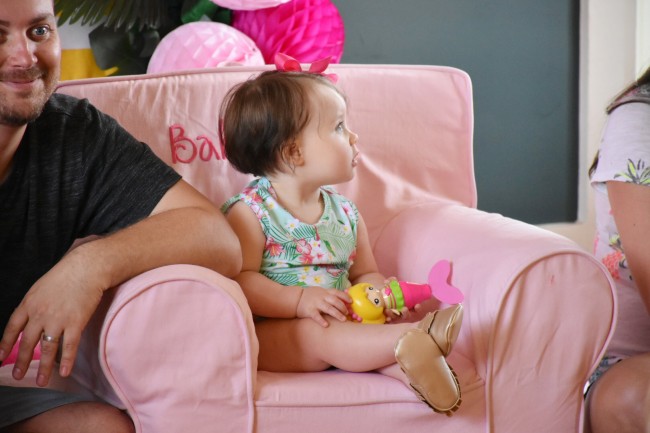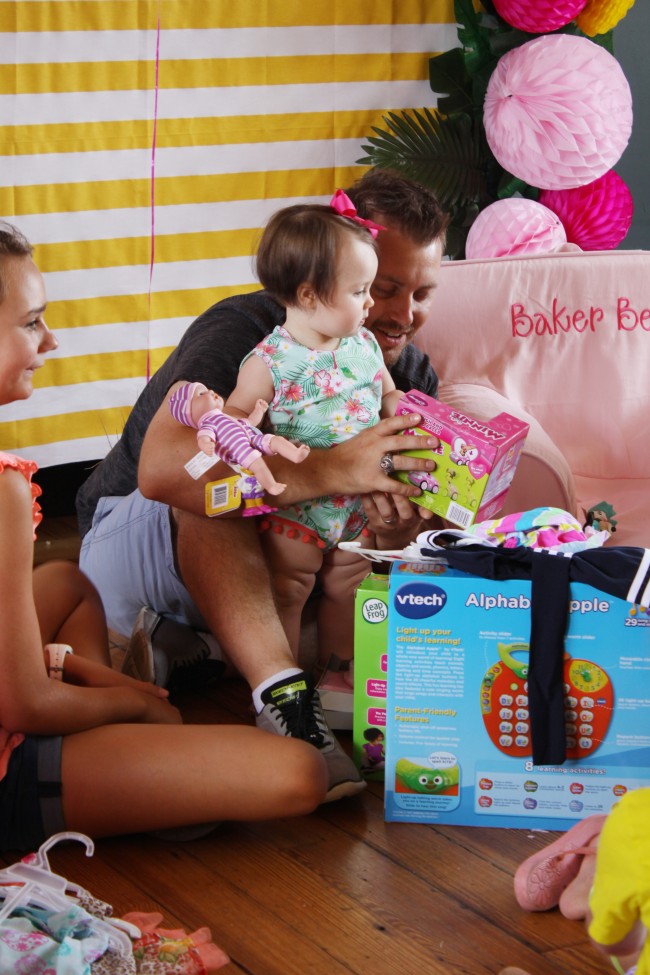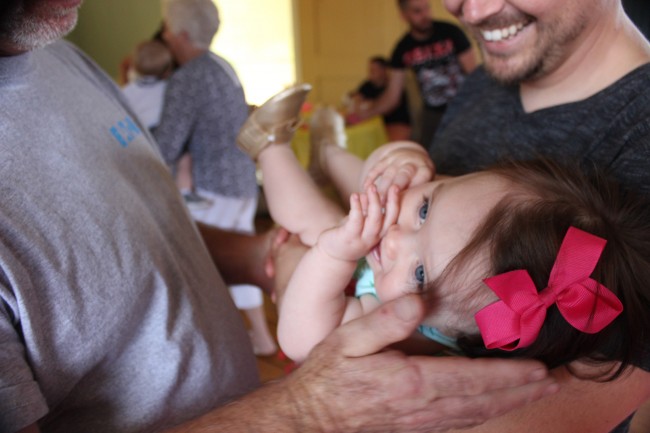 If I said it once the past couple weeks, I've said it a 100 times. This was THE fastest year ever with our Baker Bea and I'm so thankful for all our friends and family who came out and helped us celebrate our sweet girl. This year was definitely worth celebrating. Celebrating that we all three survived our first year of parenthood, most importantly. Celebrating the good times and the bad, the easy times and the hard. Celebrating the nights we stayed up all hours of the night bouncing our sweet girl to keep her calm, celebrating the milestones of her rolling over, sitting up by herself, and crawling for the first time, and how excited we were to see each one. But also celebrating how bittersweet it is to see each stage pass and know that we will never get it back. Celebrating us transitioning from a family of two to a family of three, and all the sweet, sweet moments we've had this year. Happy birthday to our biggest blessing! You are loved big time, my sweet little girl.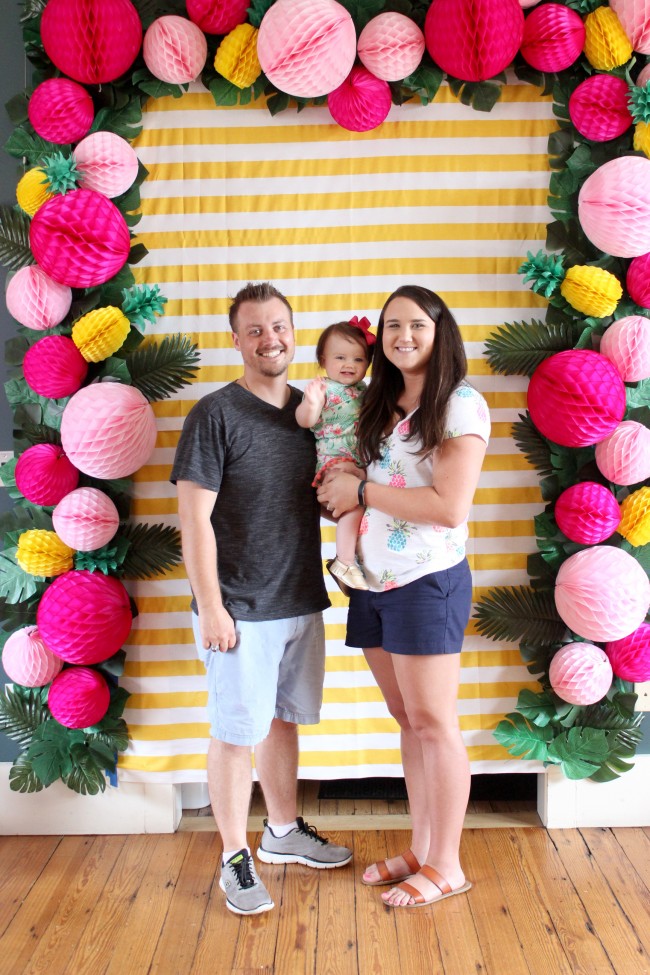 And we didn't even make it out of the parking lot before our birthday girl crashed…