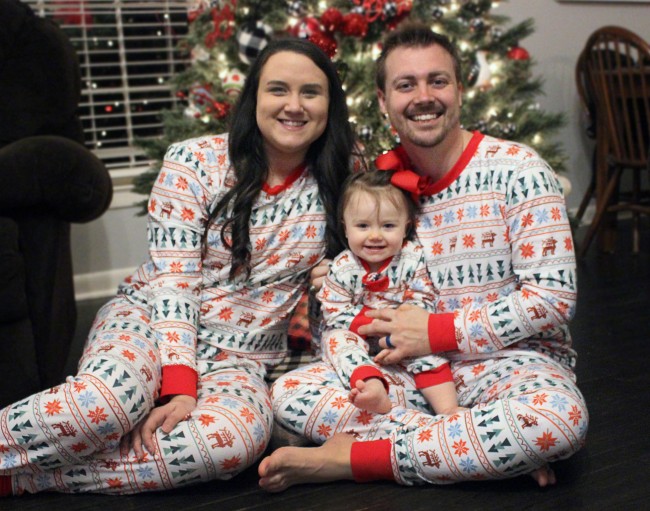 Christmas Eve is always a busy day for us and falling on Sunday this year made it a really full day! Nonetheless, it's really important to Cory and me that we start our own traditions with Baker and it's never too early to start.
For my new position at work, I had to take a test to become registered but the only day available over Christmas break was on the 23rd. After I finished it (and passed, praise the Lord!), I finally felt like I could focus on Christmas; that night we geared up for a wonderful few days celebrating Christmas with our families, starting off with baking some cookies for Baker to decorate for Santa the next day.
FYI, store-bought cookie dough does not hold the shape you cut them out to be.
We started Christmas Eve off at church with communion and baptism. You guys, Baker doesn't get to worship with me often (I say me because Cory is in the band) but Christmas Eve was a family-style worship service. I'm very free in my worship style–I'll dance around and lift my arms up–and Baker noticed.
"Train up a child in the way he should go, And when he is old he will not depart from it." Proverbs 22:6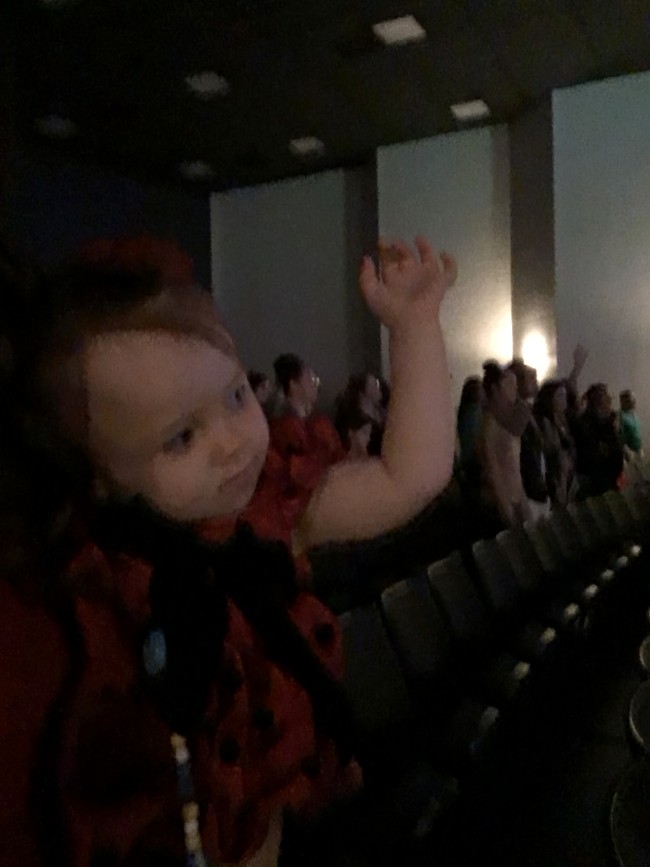 I don't take the task of teaching my child how to worship lightly, but y'all: this made me proud, even if she had no idea what she was doing.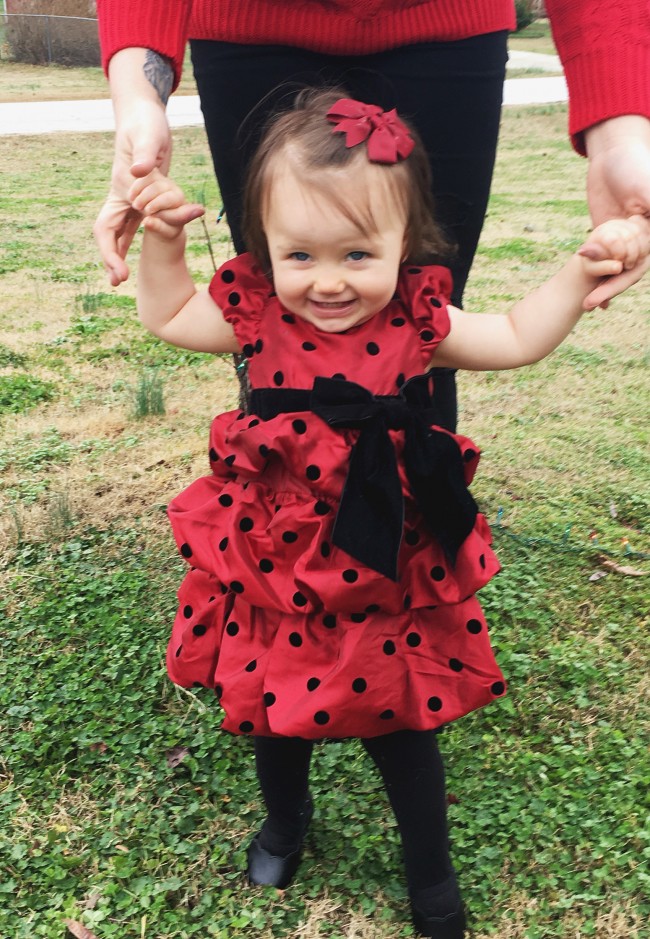 After church, we had brunch at my parents' house. Growing up, Christmas Eve was always a big deal in our house. We always had a fancy dinner and went to a late Christmas Eve service. I know my mom really misses this tradition since most of my siblings and I have left home. She always tries to find a time on Christmas Eve to have everyone over and brunch after church worked perfectly.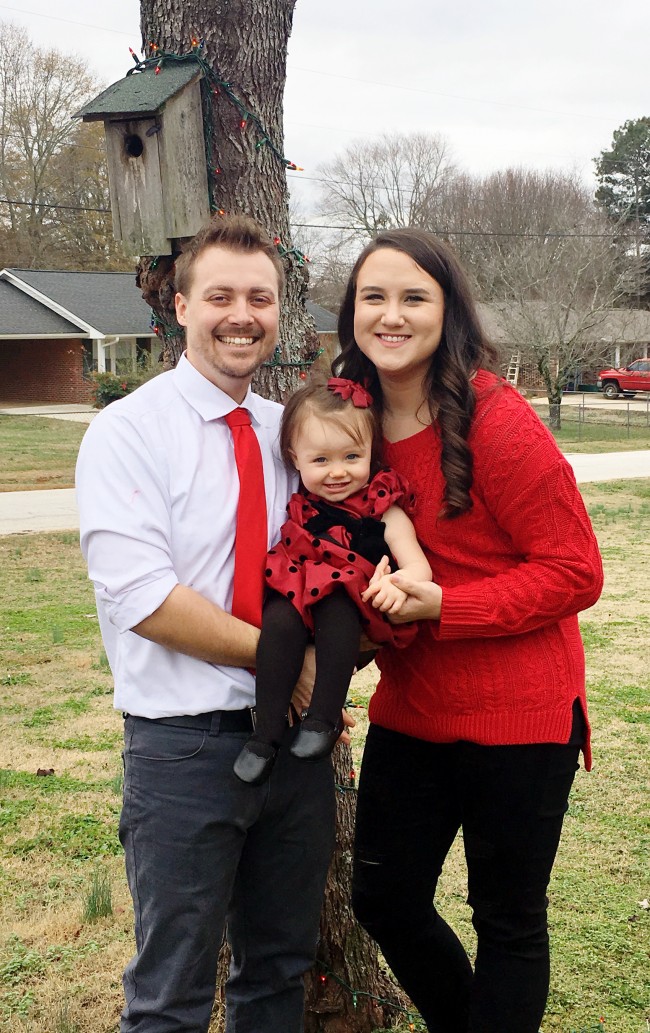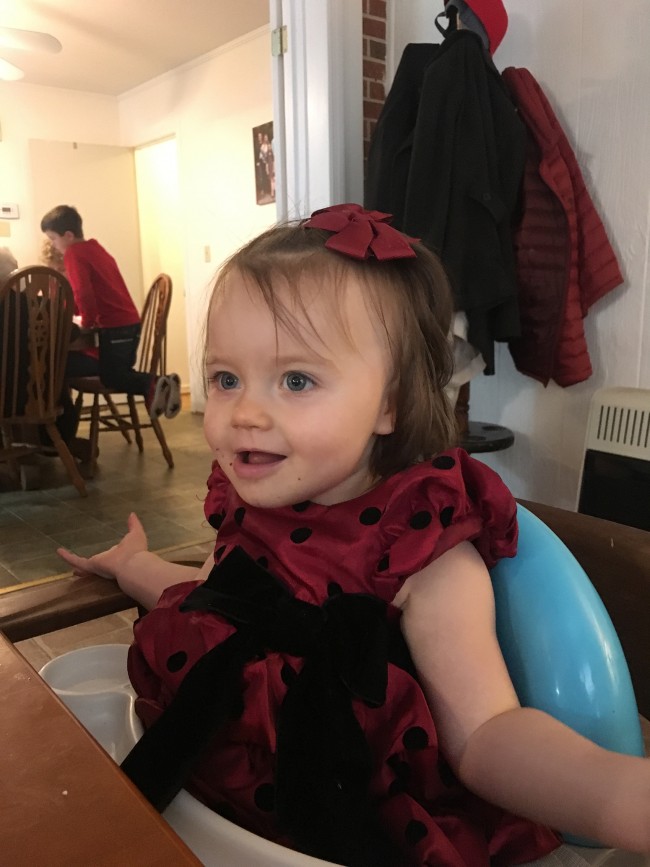 Once we finished a delicous brunch (see Baker's face), we headed home to put Baker down for a nap and prepare for our next Christmas celebration at Cory's grandmother's later that afternoon.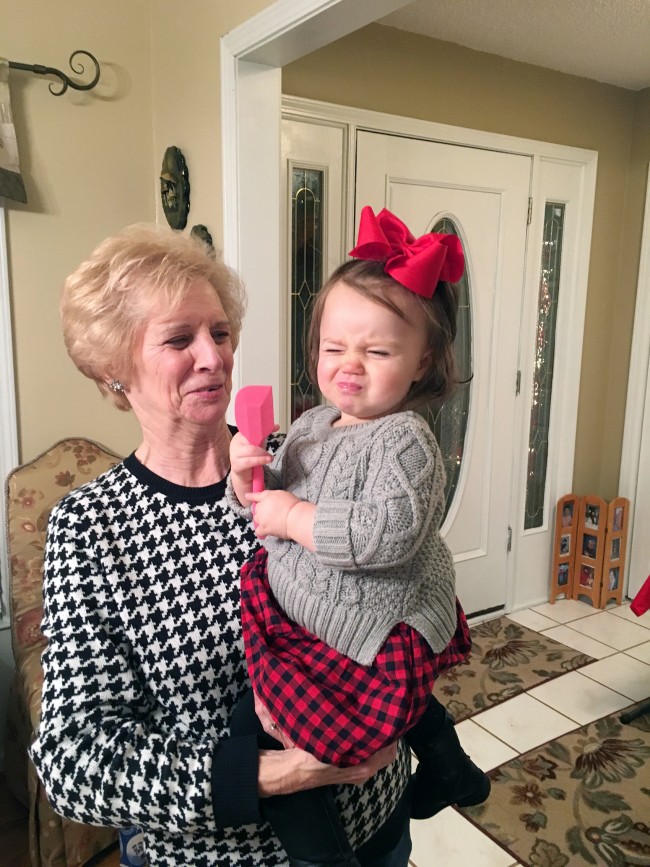 Nanny handed her extra sharp cheese. 😂 She's clearly not a fan!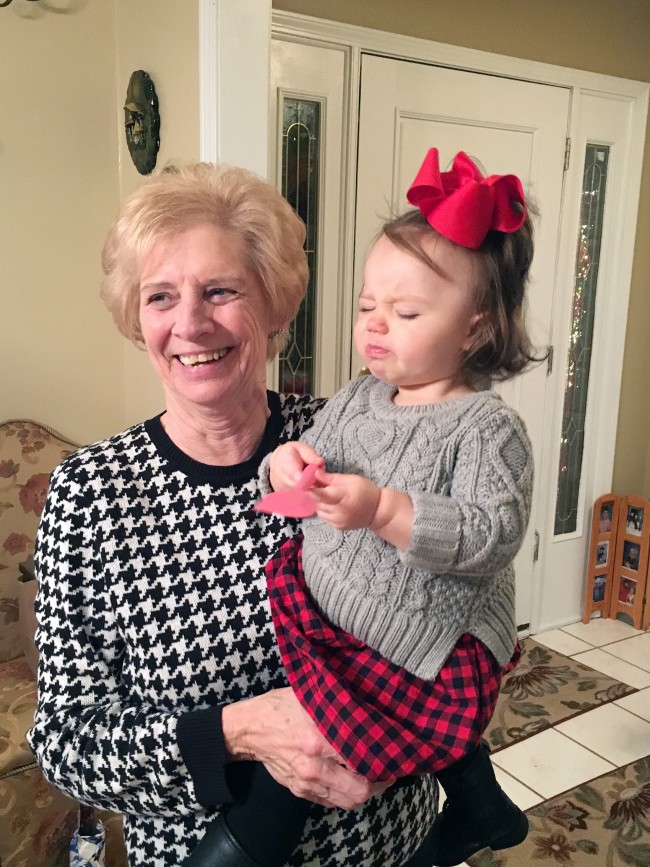 These sweet babies…Santa Clause even showed up to our celebration. 🤣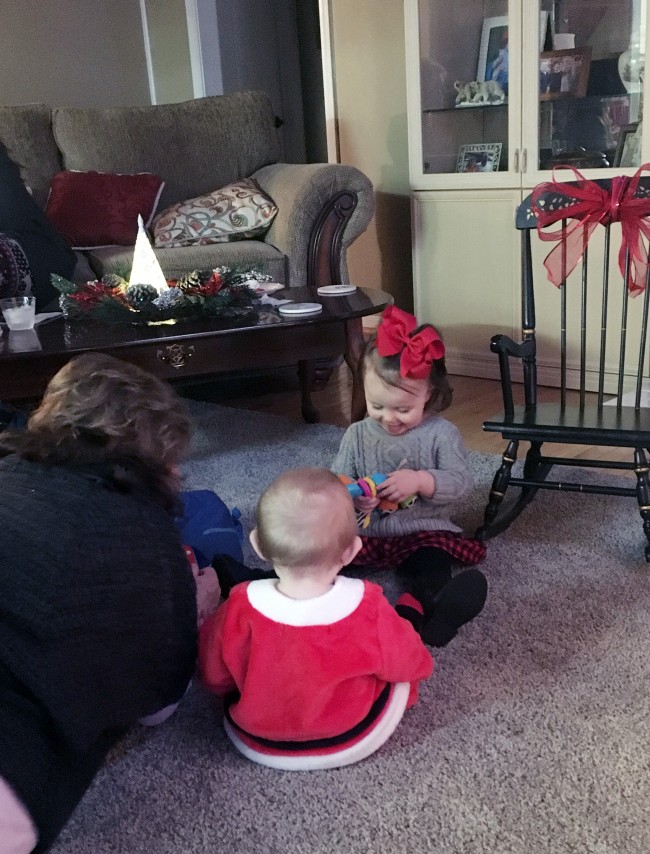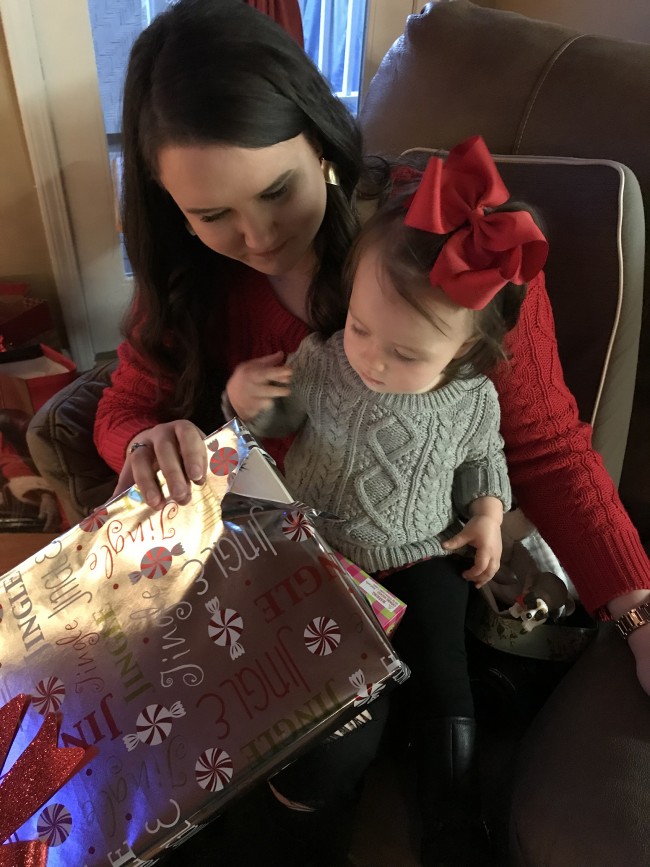 Last year was soooo easy to get pictures of Baker in her precious Christmas outfits.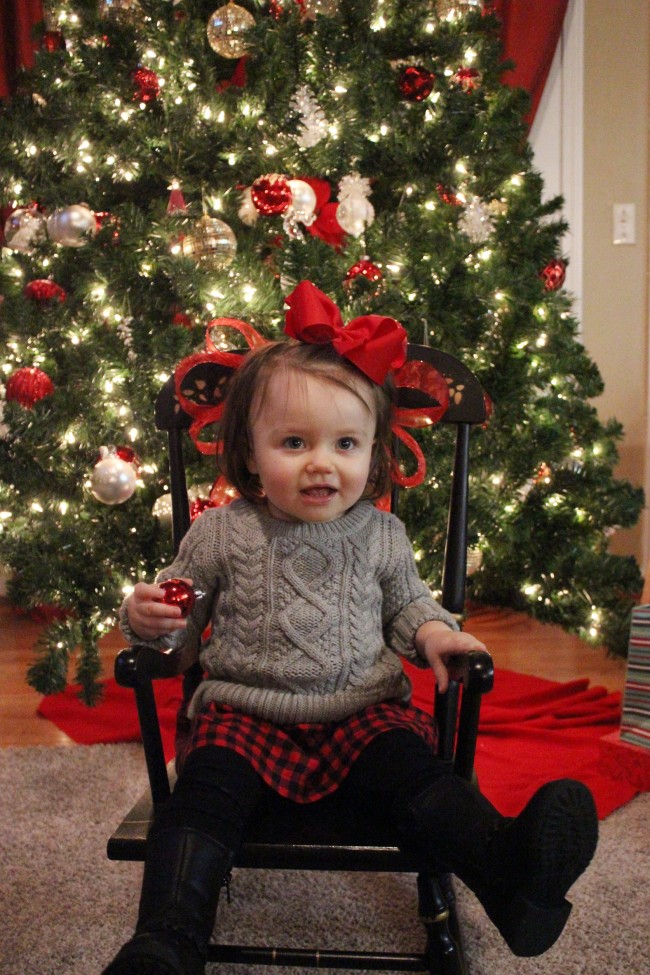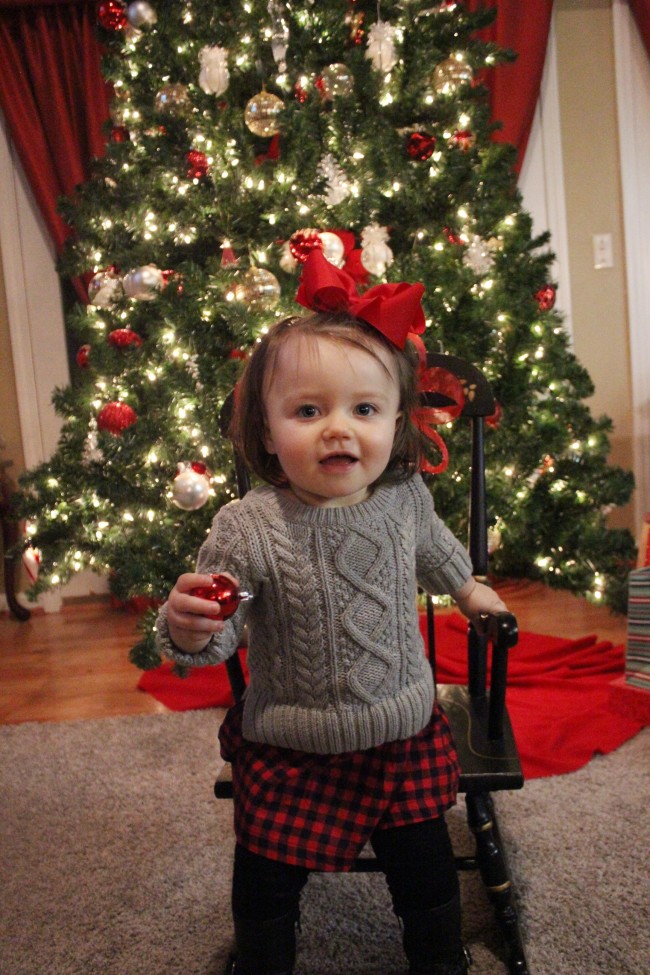 This year, not so much…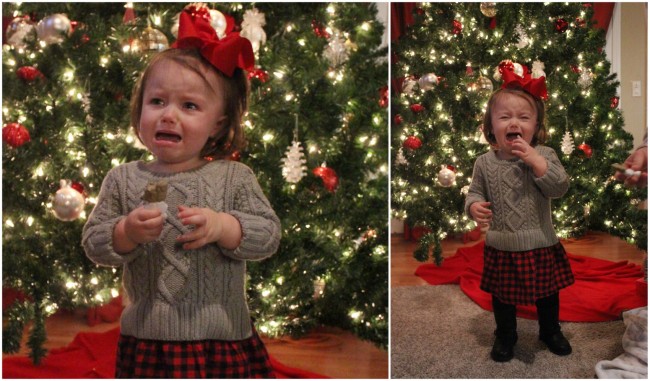 By the time we ate dinner and opened gifts, Baker was pretty much over everything.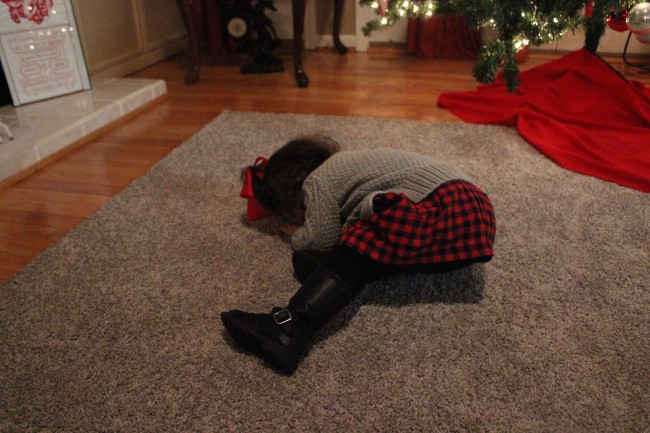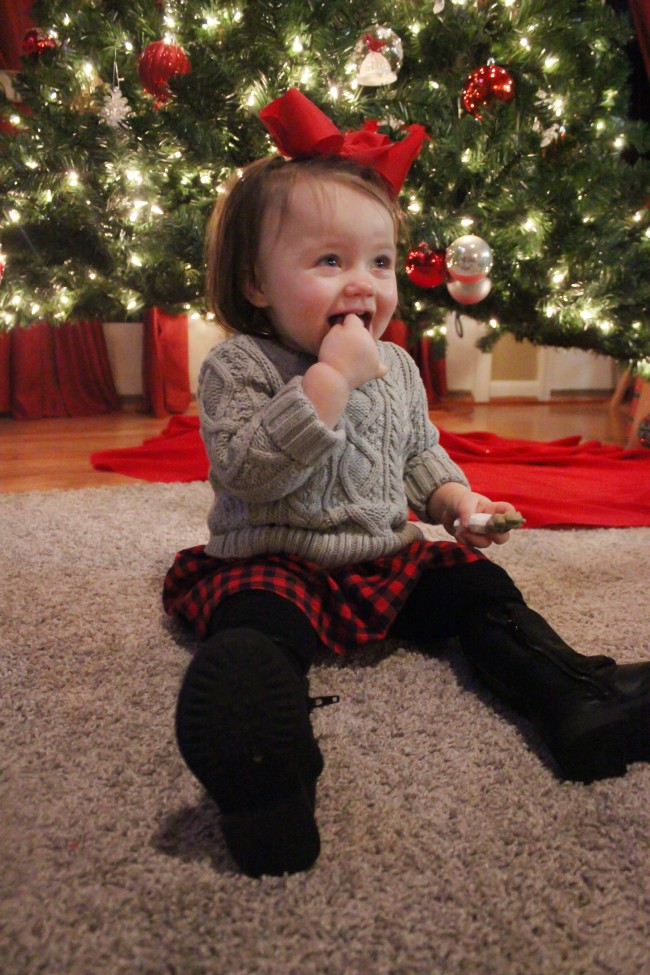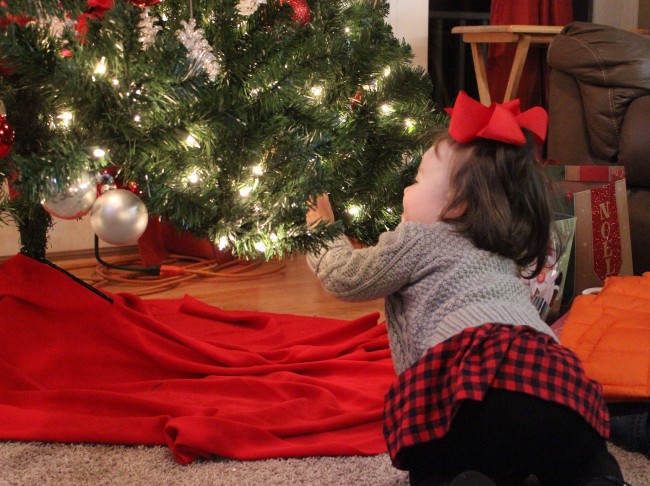 I just wanted one good picture…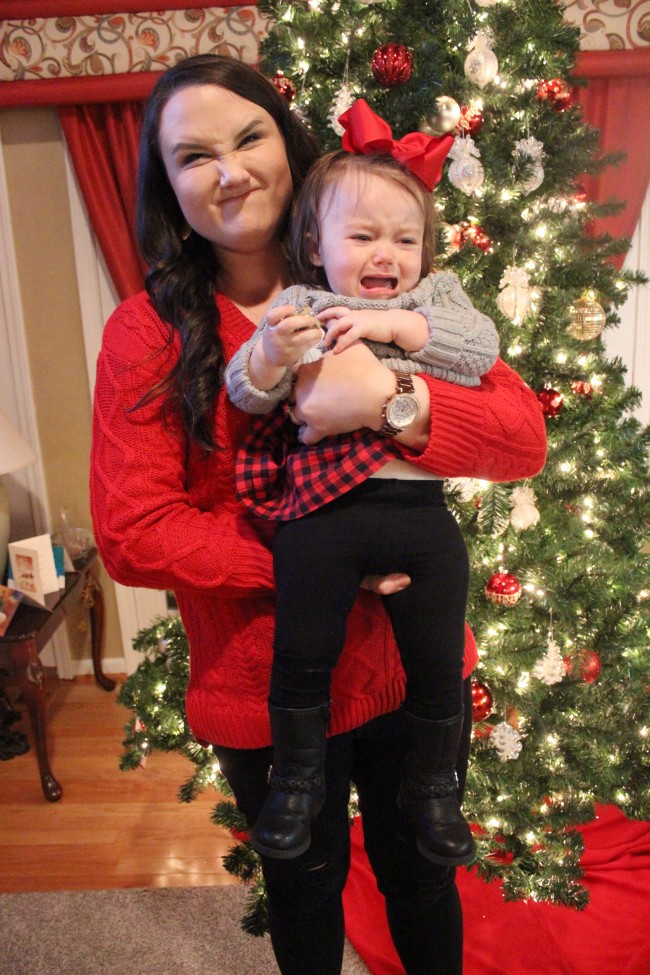 …but that's like wrestling an alligator.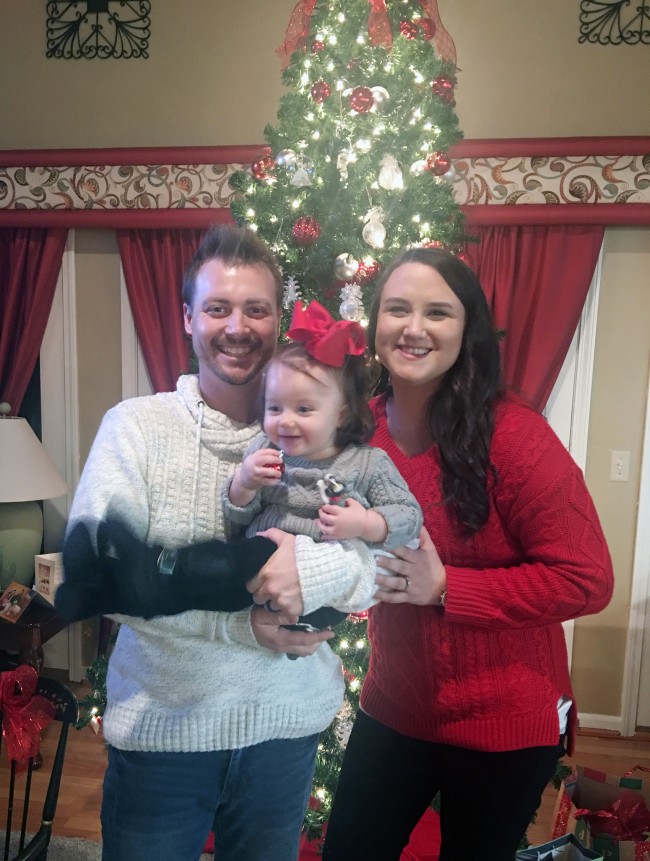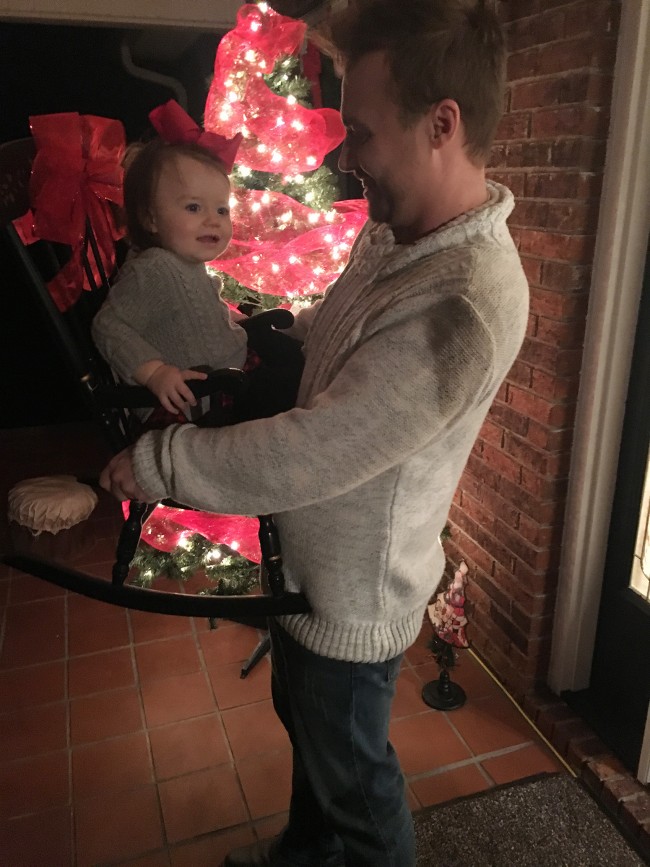 Cory's Mom was able to come up for Christmas this year and stayed with us on Christmas Eve. Once we got home, we started decorating our shapeless cookies. Ha! As I mentioned earlier, store-bought sugar cookie dough doesn't keep the shape we cut out with cookie cutters.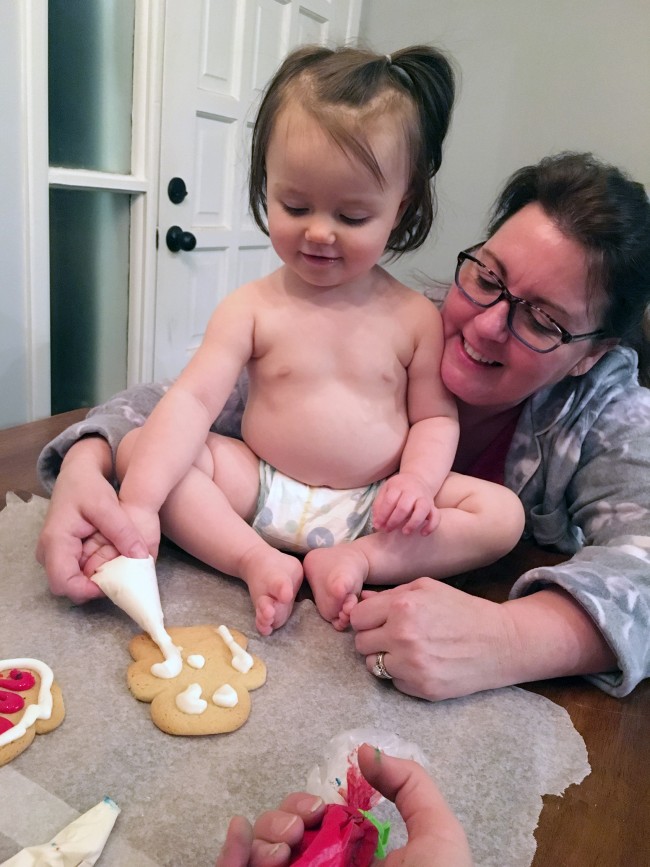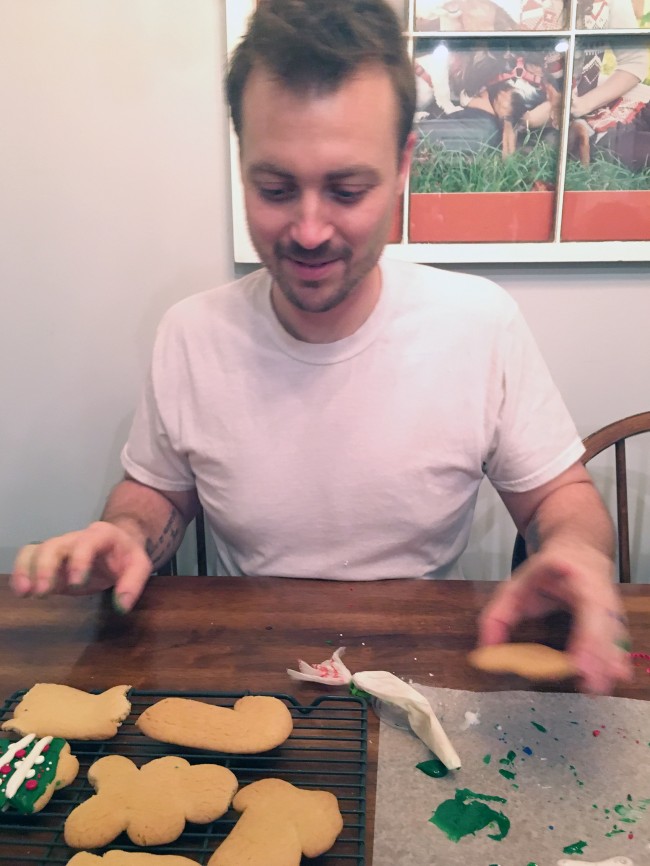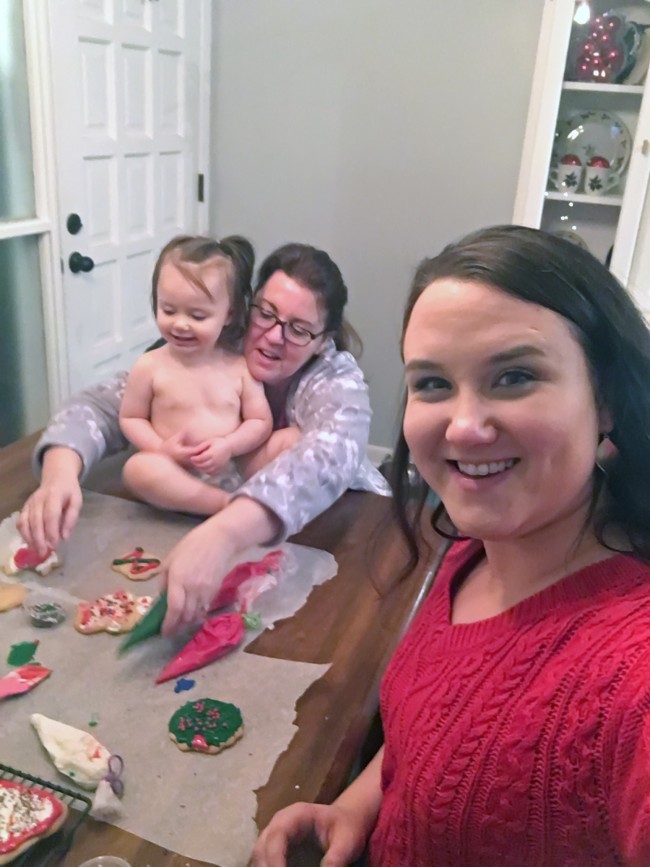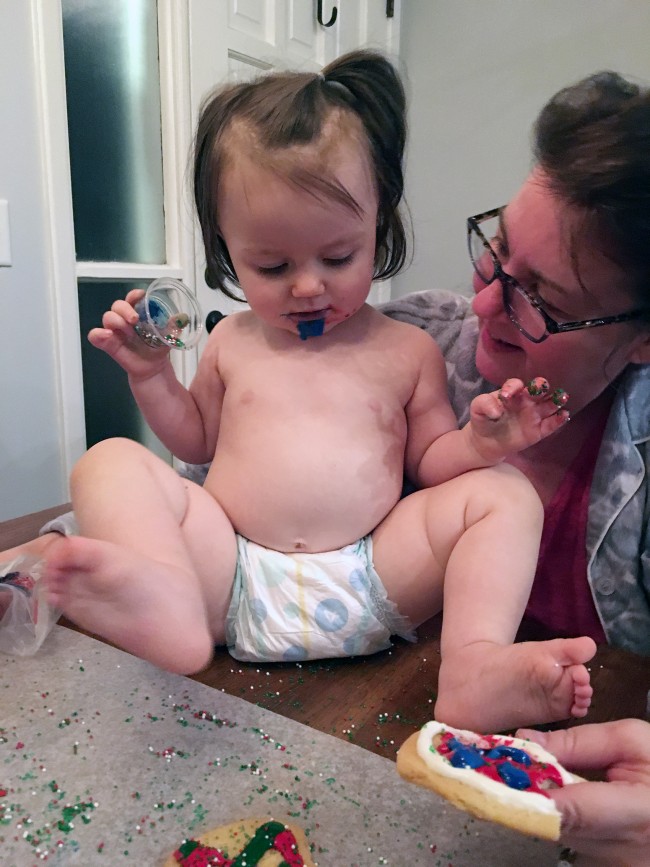 Clearly, some of us didn't mind!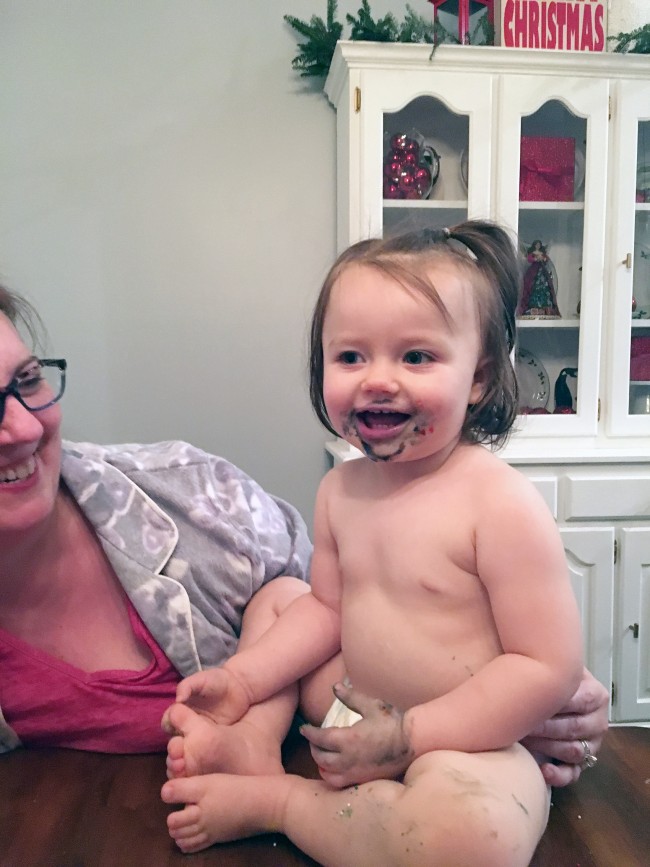 Some of them weren't that bad but there were a few that we couldn't even identify. But we had a lot of fun decoration (and eating!) the cookies!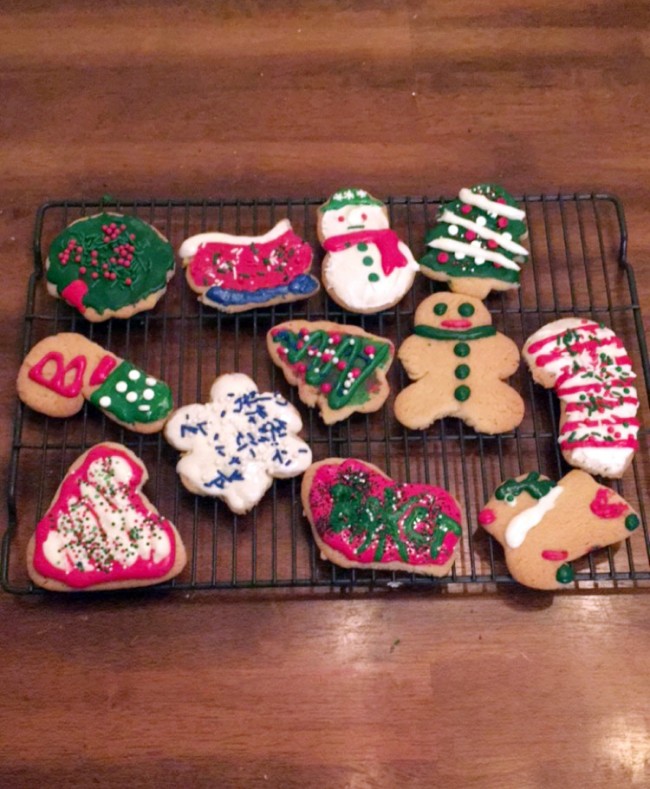 After a bath for Miss Bea, we put on our matching Christmas jammies (we will do this every year!), read the story of Jesus' birth, and thanked God for sending us his Son. As Baker gets older, we pray that she appreciates the true meaning of Christmas. Parenthood can be such a daunting task and I would be lying if I said the idea that this is mine and Cory's responsibility doesn't scare the living mess out of me. I think daily about how Baker will turn out when she gets older, but more than anything, I pray that she loves the Lord as fiercely as Cory and I do. Next year, I would really like to be more prepared and have a book that Baker can understand about the story of Jesus' birth. Any recommendations?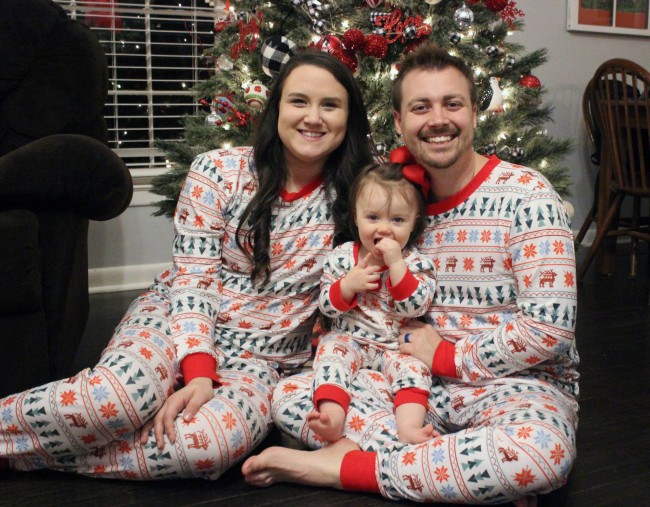 Of course, it took Baker forever to fall asleep. It's like all kids can sense the excitement? Or maybe it was all the icing she ate? Guess we'll never know.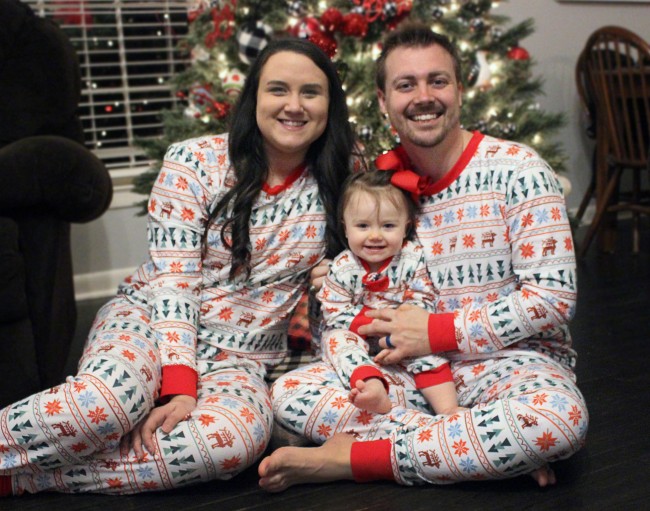 While Cory was putting her to bed, I started playing Santa. My mom and I used to wrap everyone's gifts on Christmas Eve while my dad and Cory put together countless toys for my siblings. To keep the tradition alive, I waited to wrap all of Baker's gifts, but it just wasn't as fun without my Mama! Thankfully, Santa didn't have a ton to wrap/put together.
After Santa made his stop, ate his cookies and drank his milk, I knocked out on the couch while Cory and his mom talked and watched Wrestlemania XIX. I don't know why either, go ask him. He's a big wrestling fan and I guess he just wanted to share it with his mom. Lucky her.
After that, we all headed off to bed, way too late, with visions of sugarplums dancing in our heads and the excitement of Christmas just beneath the surface.