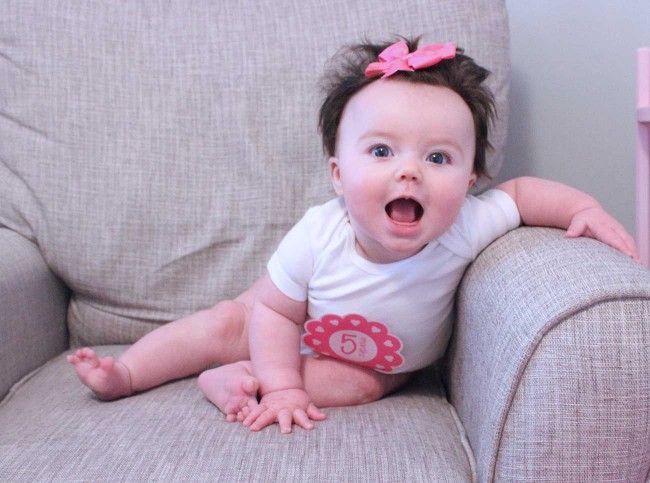 Five.
Five whole months with our precious Baker Bea. Five months, on December 8th, with our joyful, smiley, happy girl. I blinked and my baby is approaching half a year old. Cue all the tears over here!
Month five was all about adjusting for the Sloans. Baker started at her new sitter on November 9th and Cory continued working his outage schedule (6 days a week, 12 hour days) which left me to handle mornings and evenings. I have to say that this month was the roughest month for me, as a new mother. Having our last sitter quit unexpectedly broke my trust in sitters and left me with a ton of anxiety, something I've never struggled with before. There were many nights in which I felt completely alone because of Cory's intense schedule and very overwhelmed having to handle it all on my own. (MAD props to all the single parents out there…I really have no idea how you do it all!) I specifically remember laying in bed one night feeling like there was a brick on my chest and I couldn't breathe. I think it's important to note that postpartum anxiety/depression doesn't just happen early on. I didn't struggle with it in the early months but I was feeling very rough there for a while. Thankfully, once Cory's schedule normalized and I finally expressed to him how I felt, things got much better. Day by day, my anxiety levels went down and it did get easier dropping Baker off at the new sitter's.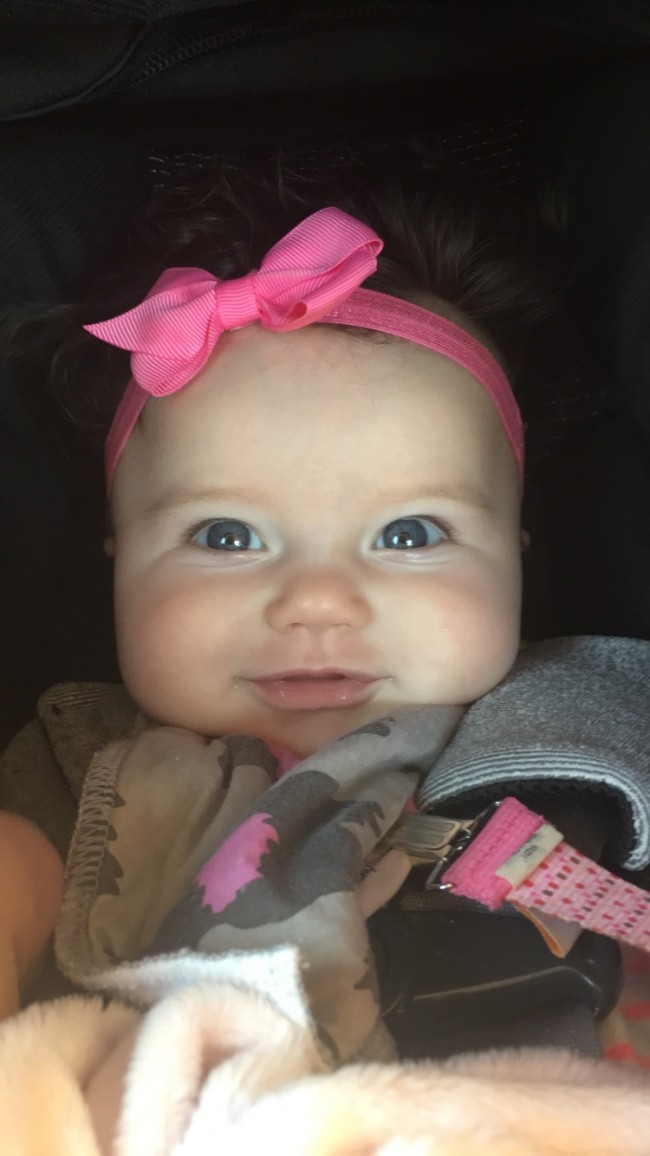 OUR FIVE MONTH GAL STATS
Weight: I would guess about 20lbs. ?
Birth: 8lbs 6 oz
Baker doesn't go back to the doctor until her 6-month check up so we don't have all her stats. For the most part, Baker is solid in 6-month clothes, just look at those rolls. There are very few 3-month clothes that still fit (mostly onesies…the pants are all too short). And she is still in size 2 diapers, which is the longest she's been in any size diaper.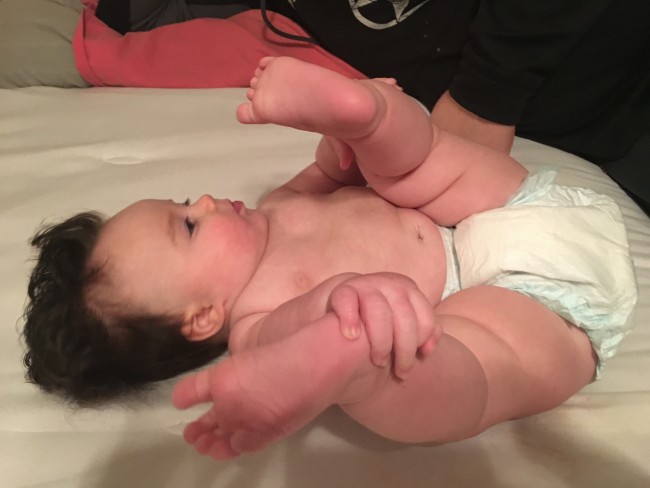 LOVES Her feet- she really found them the last month and has even started putting them in her mouth. I picked her up this giraffe on Black Friday, which we call Raffie, and she loves gnawing on it since she is teething. She really discovered her lips/voice this month and is constantly blowing bubbles and squealing. Really loud.
We hear these sweet noises pretty much all the time.
HATES Having her nose suctioned out. We found this out with her first cold this month. She really, really hates this. Instant screaming kind of hate.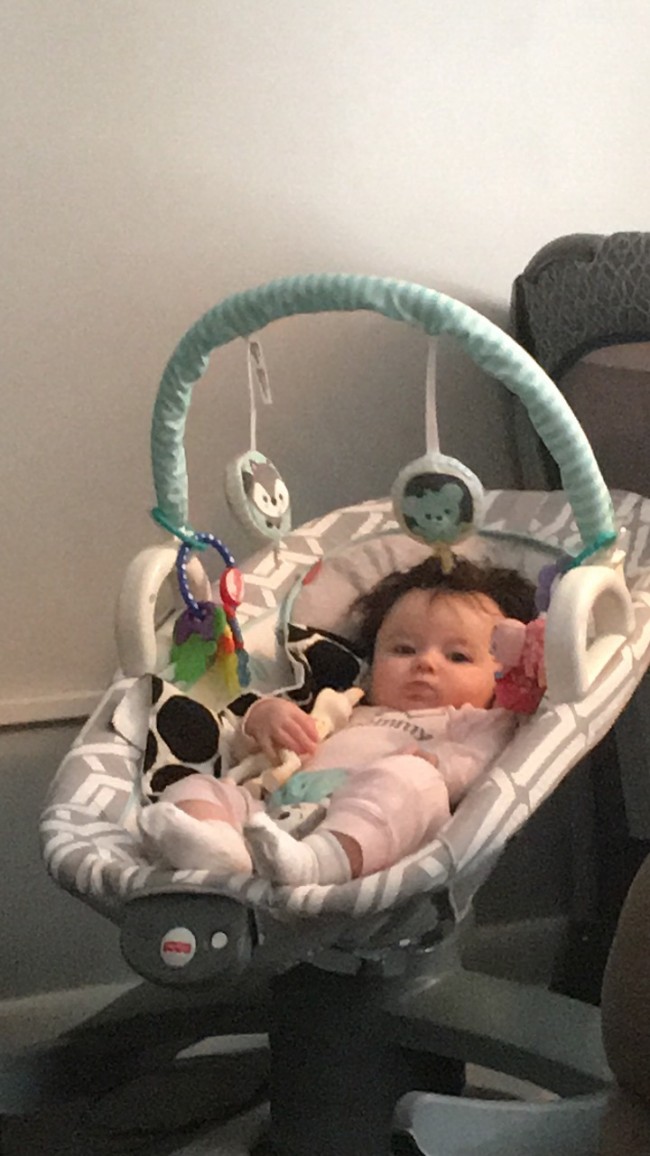 She has pretty much lost interest in her swing, if you can't tell by her facial expression.
SLEEP Baker still sleeps great through the night, except a few odd nights where she woke up multiple nights. Thankfully, that didn't even last for a full week. However, getting her to nap through the day has been a little tougher. She naps great if we are holding her but unfortunately, the sitter can't hold her during every nap. She's only taking one, maybe two, 45-minute naps which makes for difficult, tired evenings until she crashes and sleeps all night.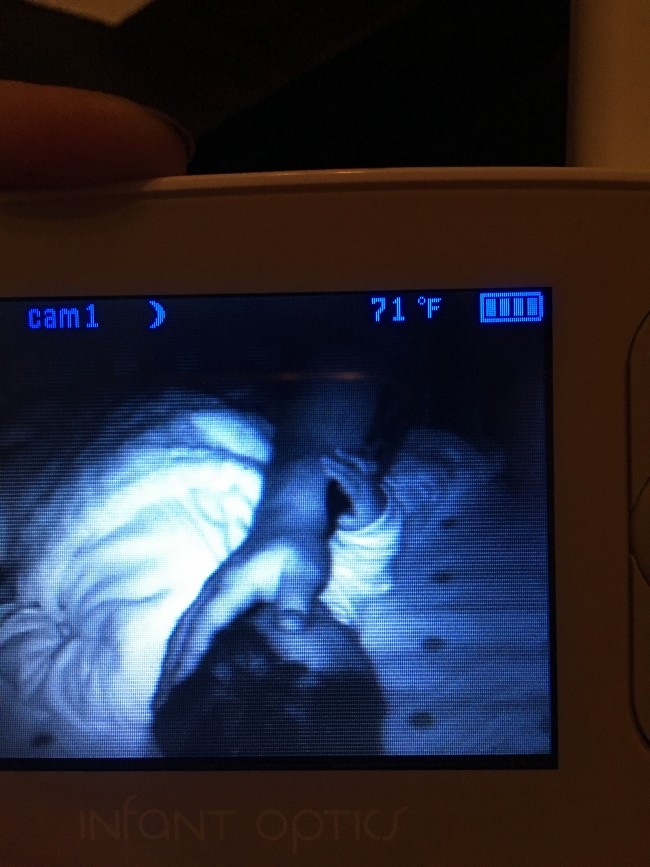 Baker prefers to sleep with something over her face–either a hand or a blanket works best. Real safe, right? But it's the only way to get her really sleep. We uncover her before we go to bed and I check the monitor at least 72 times a night to make sure she hasn't pulled the blanket back over head.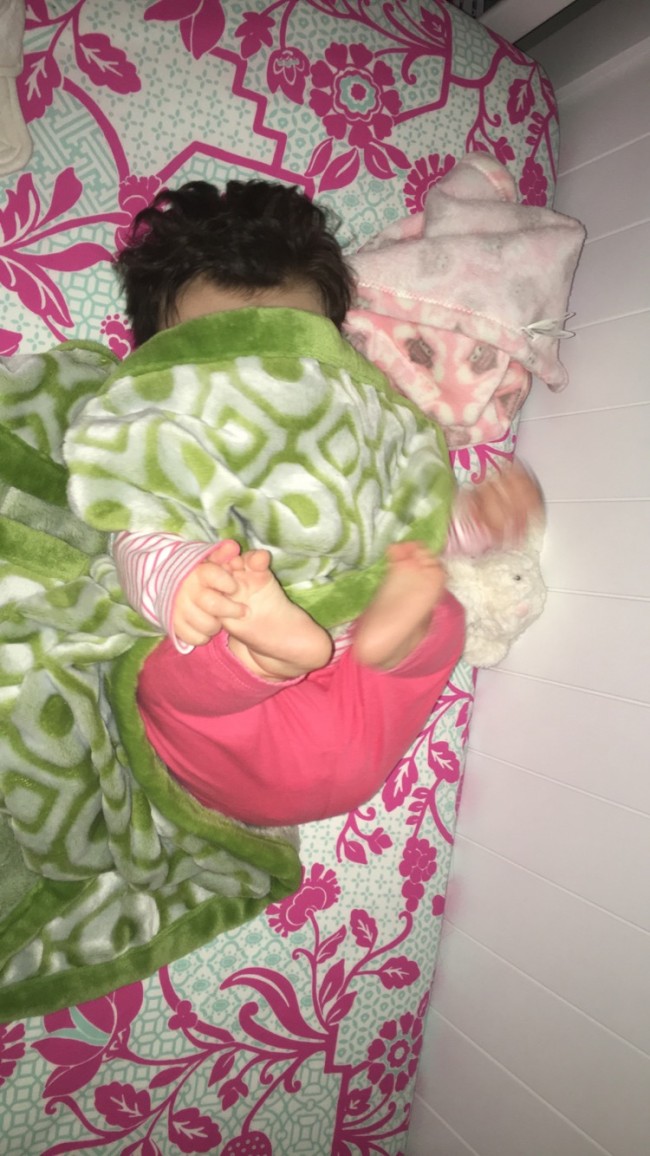 I walked in to her playing like this. Crazy child!
EAT Even though the doctor said we could start solids at 4 months, we are going to hold off until six months and I also made the decision to skip rice cereal. So, she's still taking 4-oz bottles every 2.5 to 3 hours or so.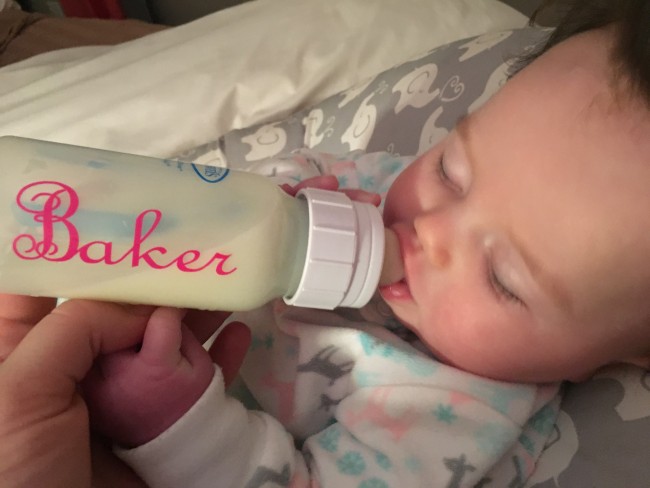 I'm still exclusively pumping and man, it's a pain in the butt! I'll keep going though until Baker has enough breastmilk to get to at least a year old.
PLAY My parents gave Baker the Fisher-Price Step 'n Play Piano as an early Christmas gift and she absolutely loves it! Baker still isn't rolling over. We try often to get her to but she has no interest!
She does however think she is a big girl and likes to try to sit up but that head normally gets too heavy and she ends up folded in half.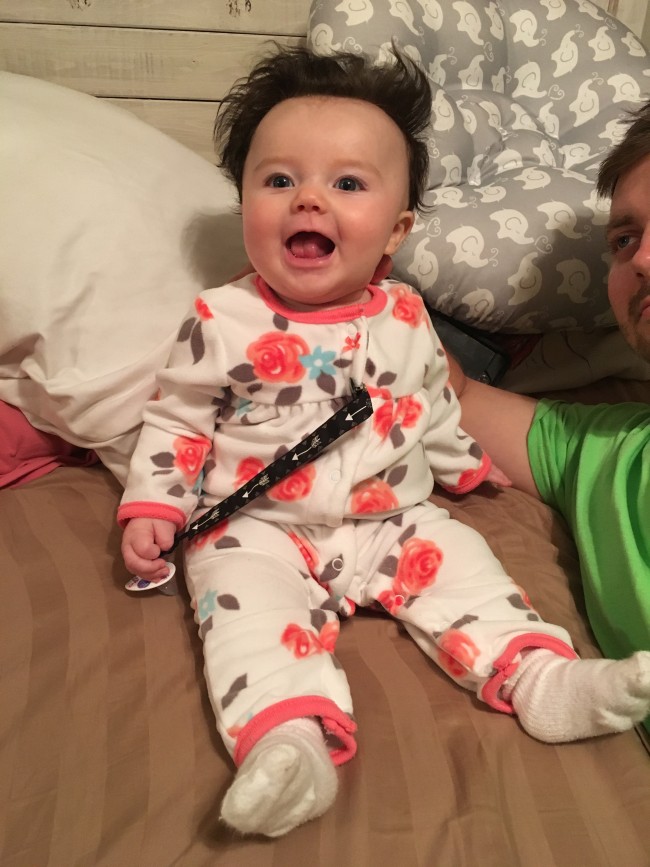 Since Daddy was working so much, Mommy and Baker got lots and lots of snuggles.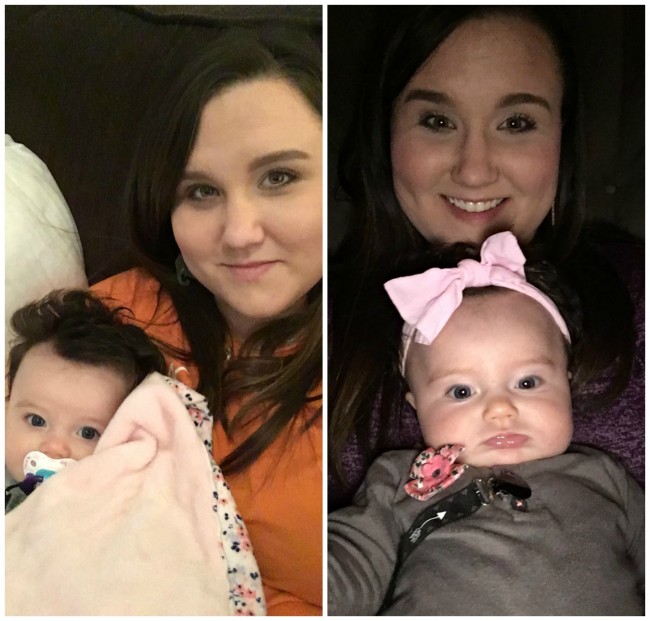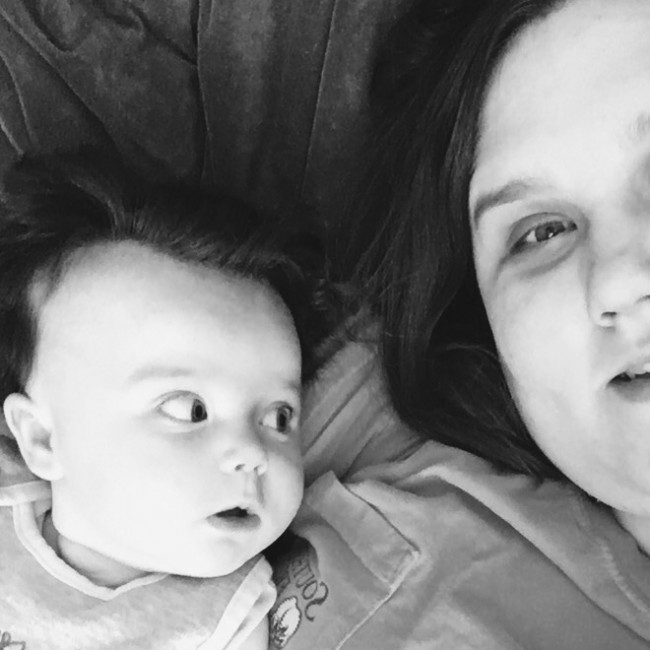 A FEW FIRSTS DURING MONTH 5
She started at her new sitter…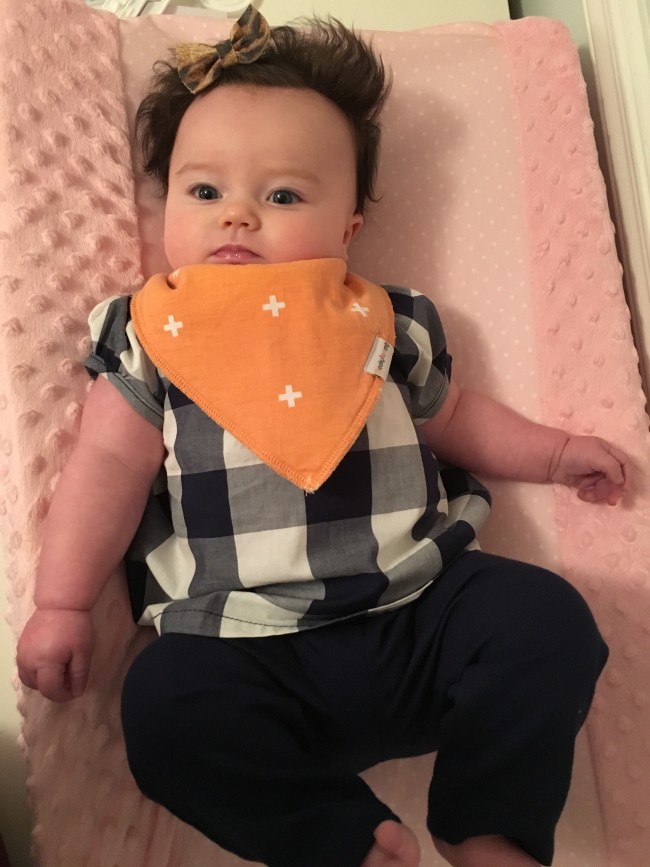 Baker got to meet Santa…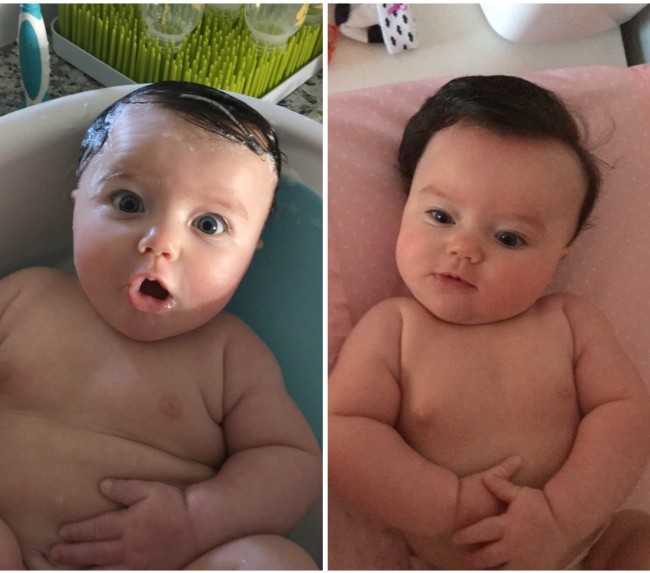 And she was very excited when I told her where we were going!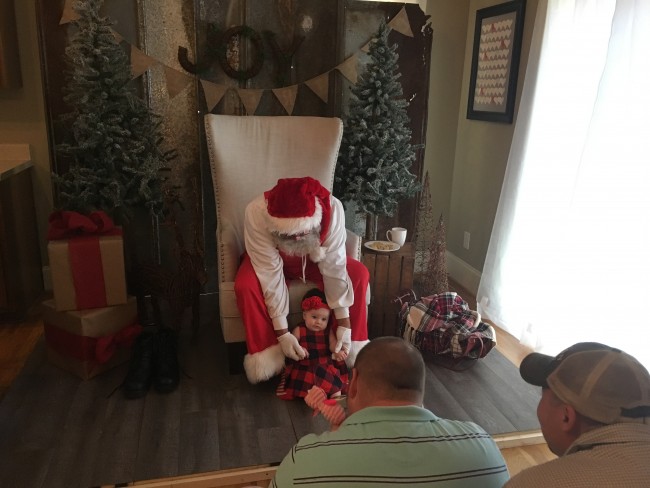 You can see the full recap of Baker meeting Santa here.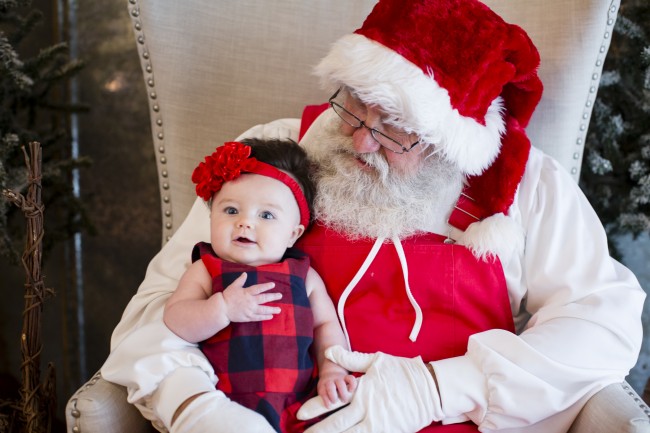 Apparently, meeting Santa wore Baker slap out.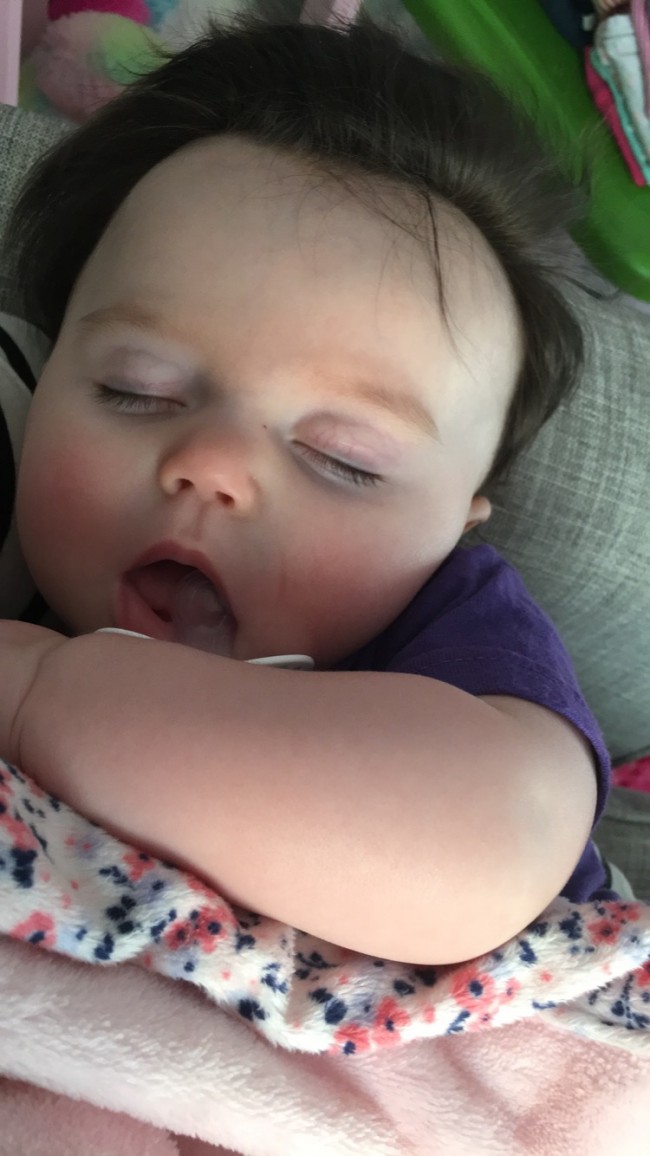 We had our first family photos taken at a Christmas tree farm…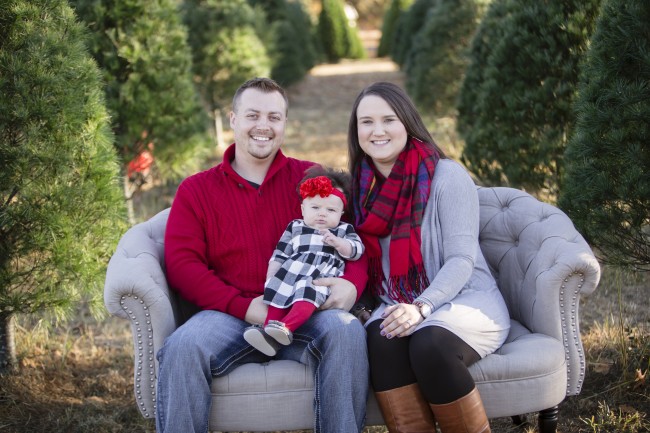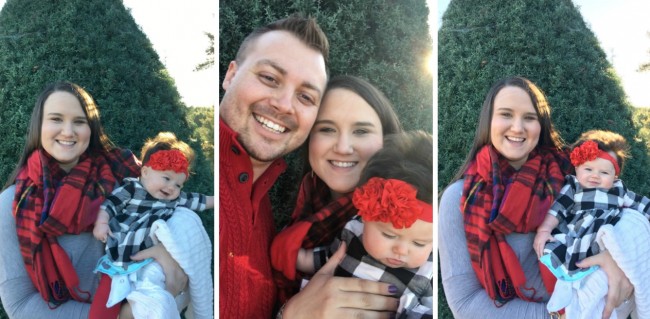 We celebrated our first Thanksgiving…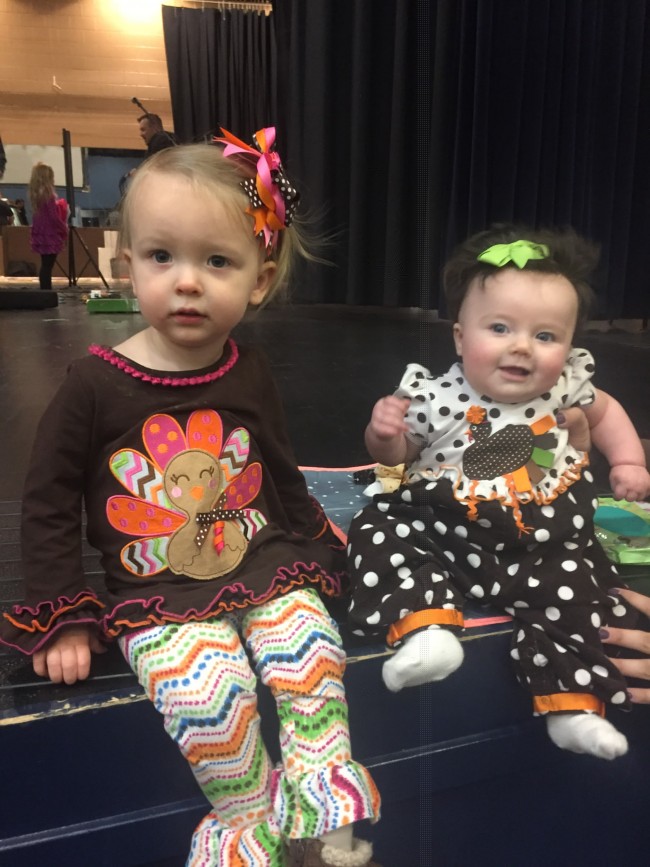 Two church band turkeys!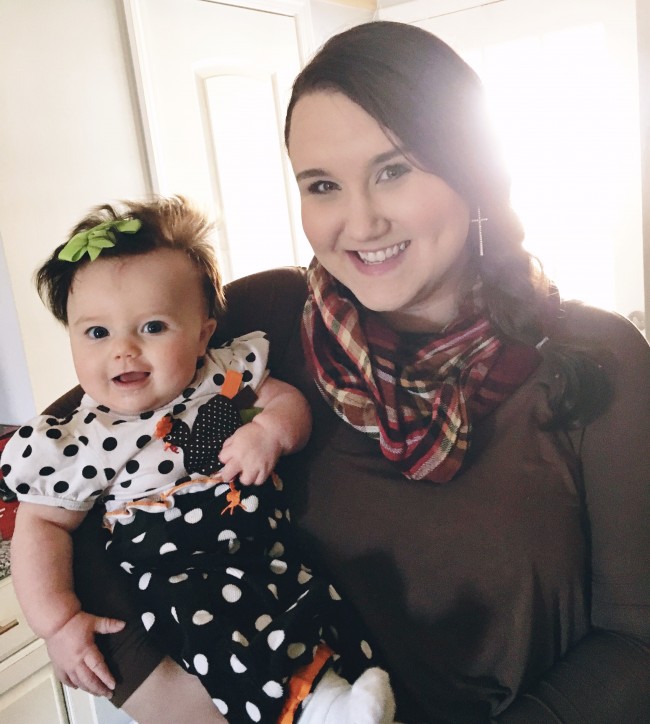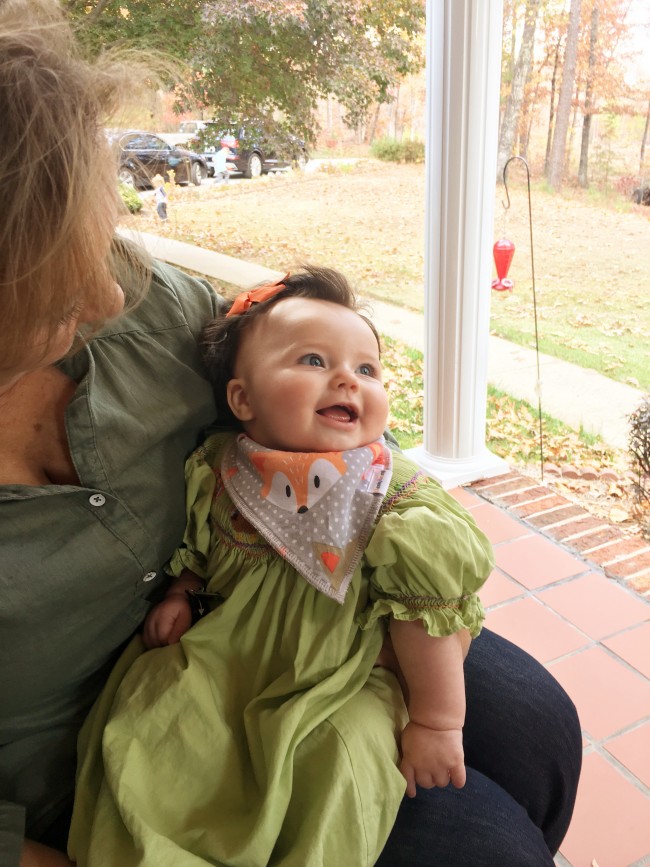 You can see our full Thanksgiving recap here.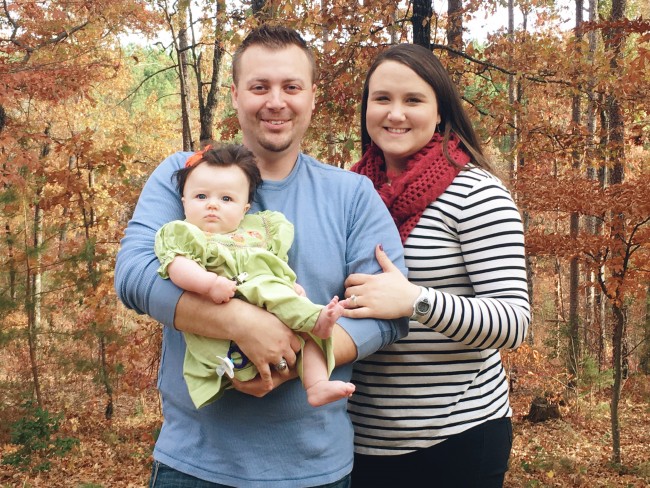 After a very long few weeks, Cory was finally off outage and Baker put him to sleep one night.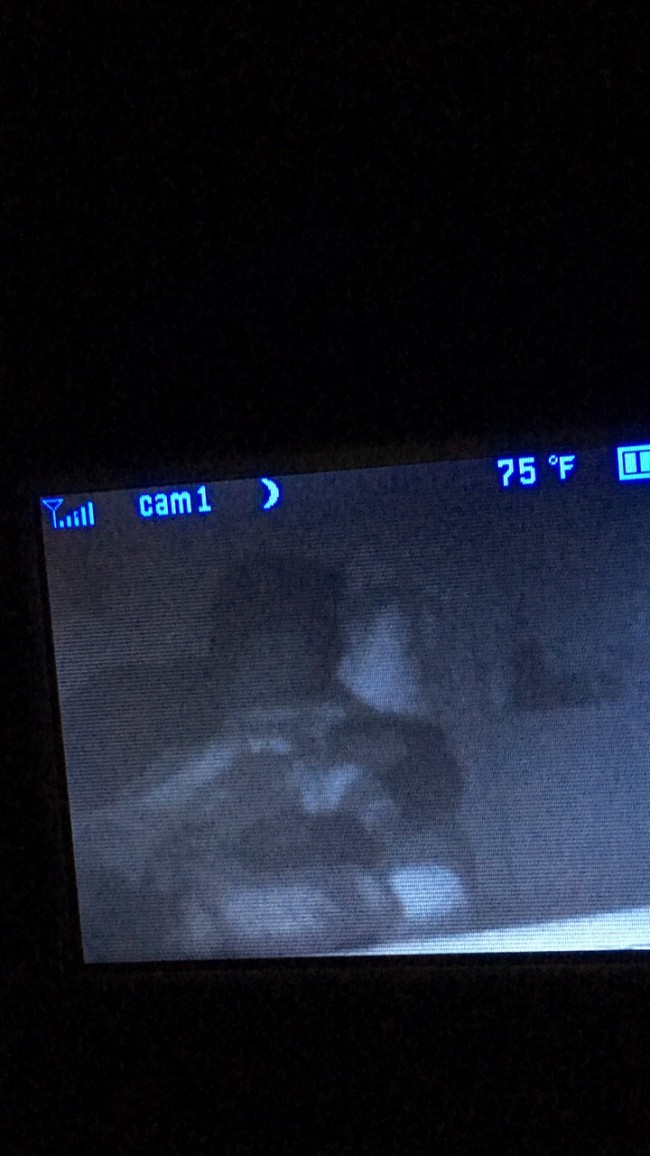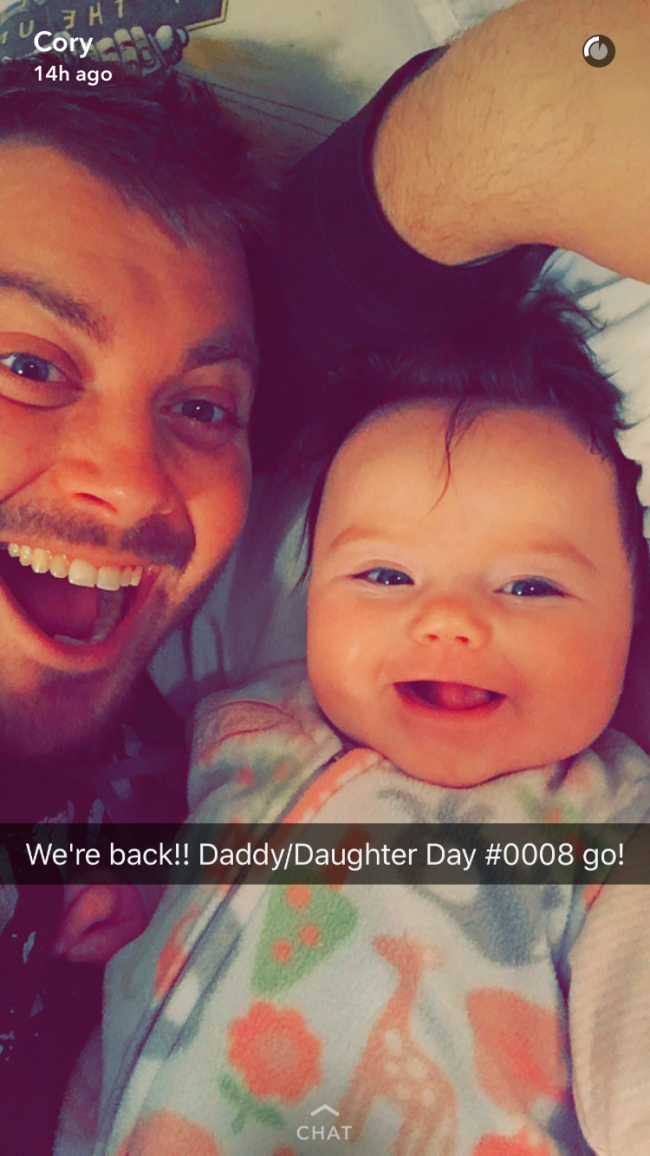 She went to her first Christmas parade in our town…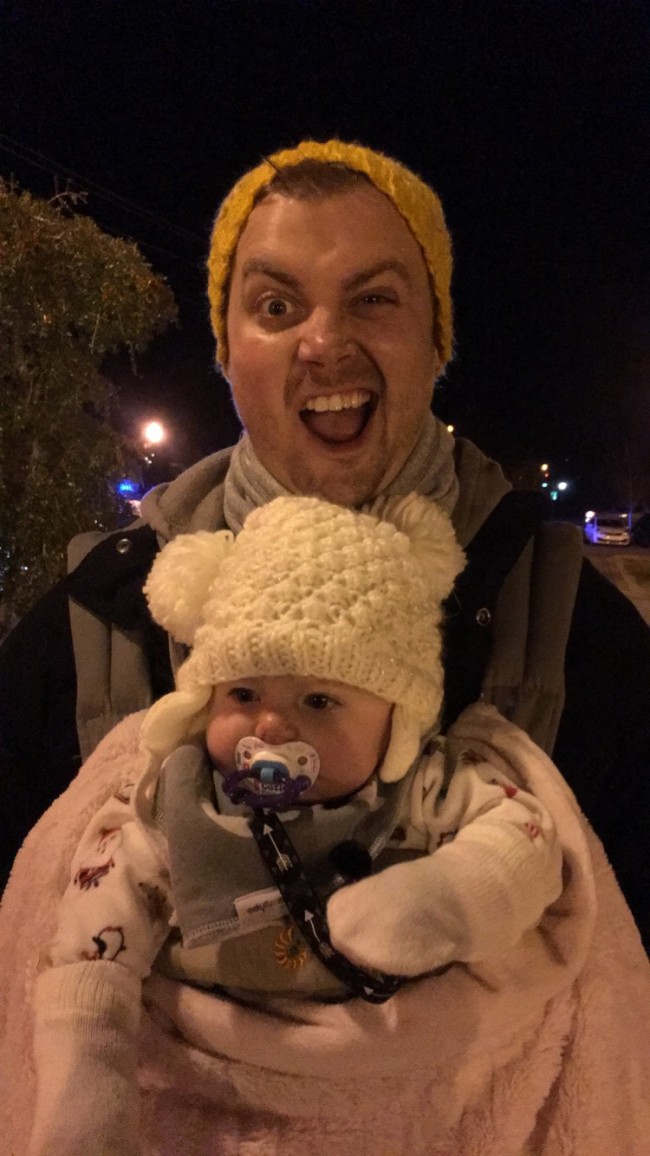 Is there anything sweeter than a sleeping baby? I can't tell you how many times a day Cory and I find ourselves just staring at Baker and saying "She's just so sweet" or "She's just so pretty" or "How did we get such a perfect baby?"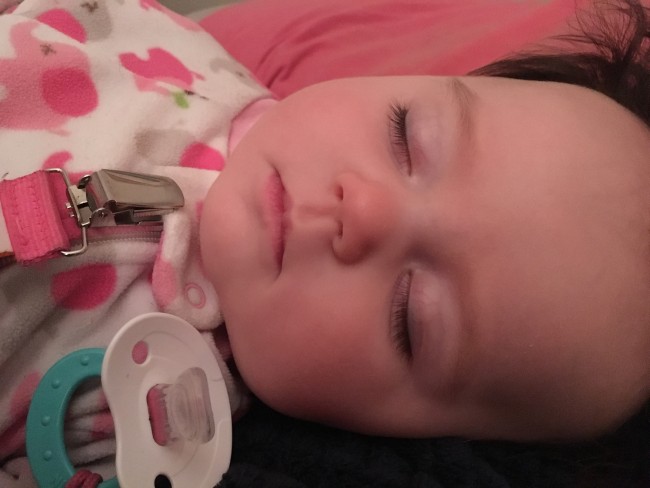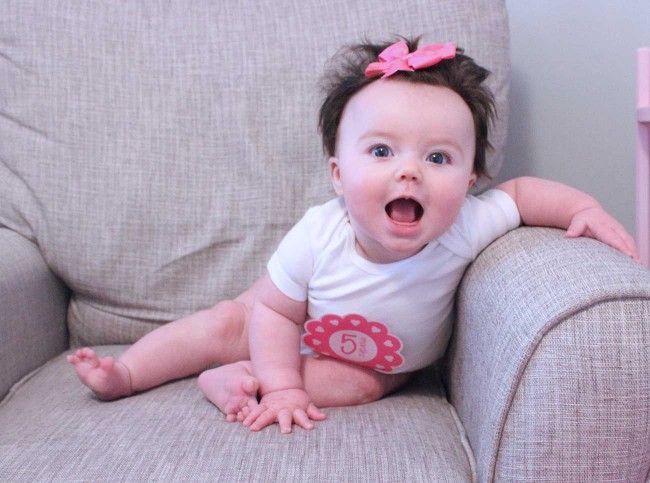 To our sweet, silly girl:
This month you have really made the transition from a newborn to a funny, silly little girl with a wonderful sense of humor. Watching you laugh and smile at things you find funny has been so amazing–just as last month you started to show signs of having an opinion on things, this month you've really started to show what you find funny. Seeing you light up with delight has become our favorite pastime; we've told each other that we would do anything, no matter how silly or stupid it might make us feel, just to see that beautiful gummy smile and hear that honest little laugh.
You continue to bring light to every room you enter, making family and strangers alike fall in love with you at first sight. Even though you were sick for a while this month, you showed how tough you can be and you didn't let it get you down, even when you were clearly feeling bad. We love you so much and we cherish every smile, every laugh, and even every cry that you make. Your sixth month is your first Christmas and first New Year's and we know it'll be the best yet!