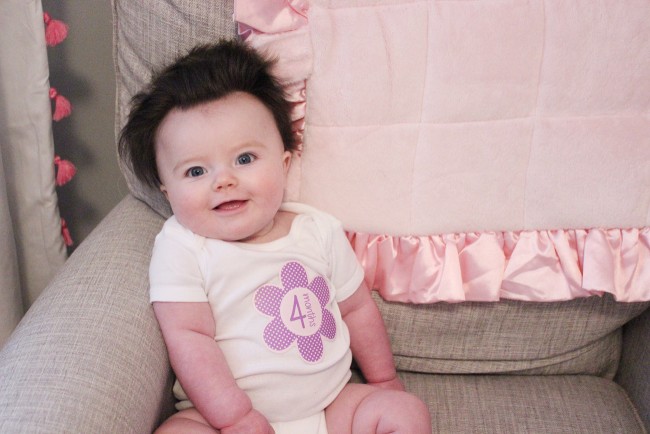 (Cory took these pictures hence the crazy hair and no bow but that smile!)
Four.
Oh hey, month 4 (She was 4 months on November 8th and my goal is to to get caught up over Christmas break!). You were such a fun but difficult month full of all kinds of new adventures! We have been slowly adjusting to life as a full-time working parents and just when things started to feel normal, we were thrown for a bit of a loop. Our first sitter quit unexpectedly quit on us on Halloween, but thankfully our friends and family stepped up to help until we were able to find another sitter. I feel like this was the first month that we struggled. Our sleepy-all-the-time newborn is gone and we now have a very active, needs-much-more-attention baby. We love how fun this stage is but there were some really long days adjusting. I also felt like my hormones were the most out of whack this month. It could have been Cory's busy work schedule, but there were many days that I felt very overwhelmed. But, we all survived and made some wonderful 4-month memories!
OUR FOUR MONTH GAL STATS
Weight: 15 lbs 10 oz (90th %)
Birth: 8 lbs 6 oz
Length: 25 1/2 in (90th %)
Birth: 21 in
Head: 15 1/4 in (50th %)
Birth: 13.5 in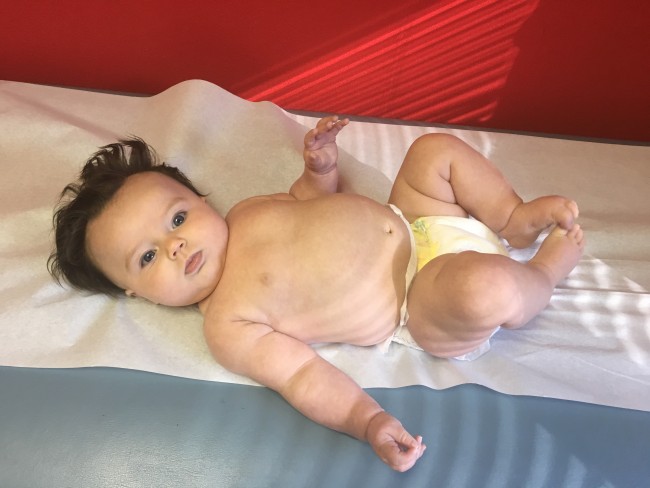 Baker is probably the healthiest (chunkiest) baby around. I. love. all. the. rolls. She is still in size 2 diapers and wearing mostly 6-month clothes. She can still fit her 3-month clothes (except pj's…they are too short) but all of her fall clothes are 6-month.
LOVES Blowing bubbles, grabbing my hair, sitting in her froggy chair, "talking", and chewing on those fists. We believe she is teething since she drools nonstop and constantly has her hands in her mouth.
She also loves looking at herself in a mirror and we stop at every one we see just to get a glimpse of that gummy smile.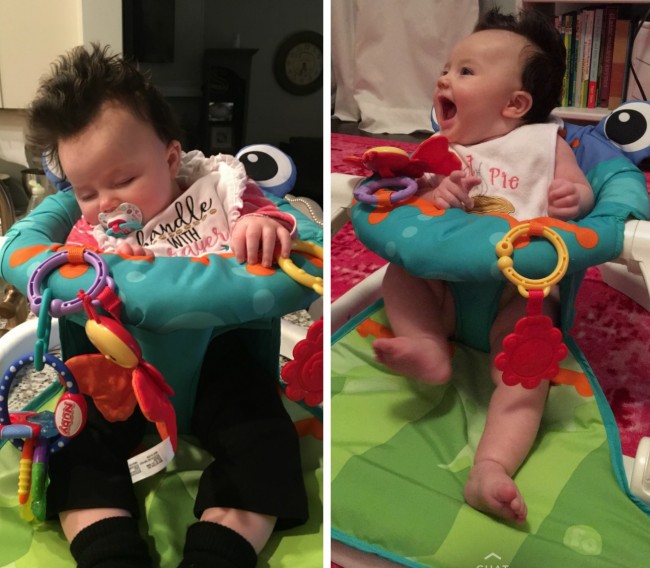 HATES We are very fortunate to have a happy baby who really likes pretty much everything. Well, everything except having to wait to eat, getting buckled into her car seat, or tummy time. She really HATES tummy time. This is about the only way we can get her to lay on her tummy without her quickly descending into fussiness and eventual screams. And can I just point out that her hair looks like she is moving, even if she's not. :)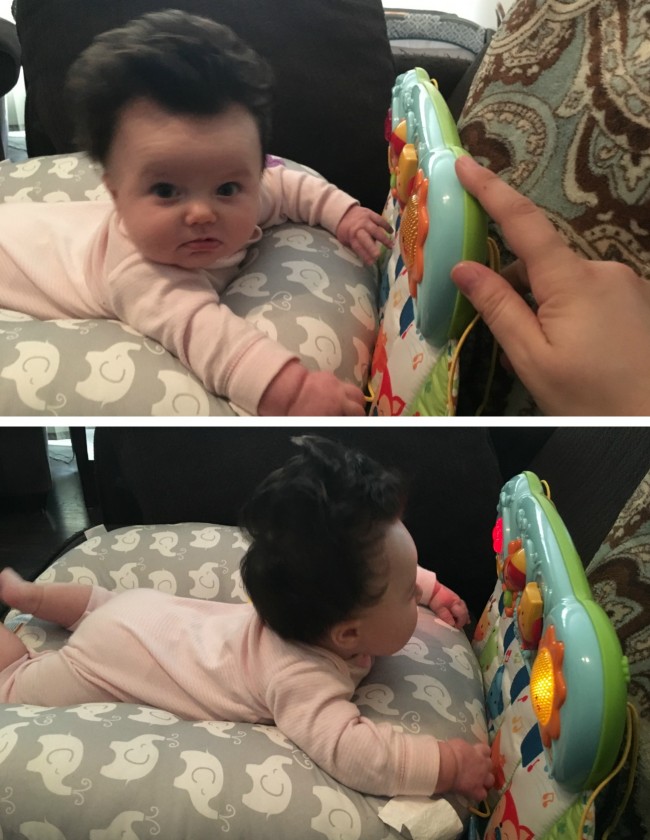 SLEEP Even though we've always had a great sleeper, she has started to sleep 8+ hours every night! We are lucky, lucky, lucky to have such a good sleeper. Daddy normally handles bed time (because she refuses to stay asleep if I lay her down) so we lotion her up and put her in her sleep sack, and then she takes her last bottle and gets rocked to sleep anywhere between 8:00pm- 9:00pm. She normally wakes up between 5:30am-6:00am to eat again before falling back asleep while I get ready for work. Thank you, Jesus.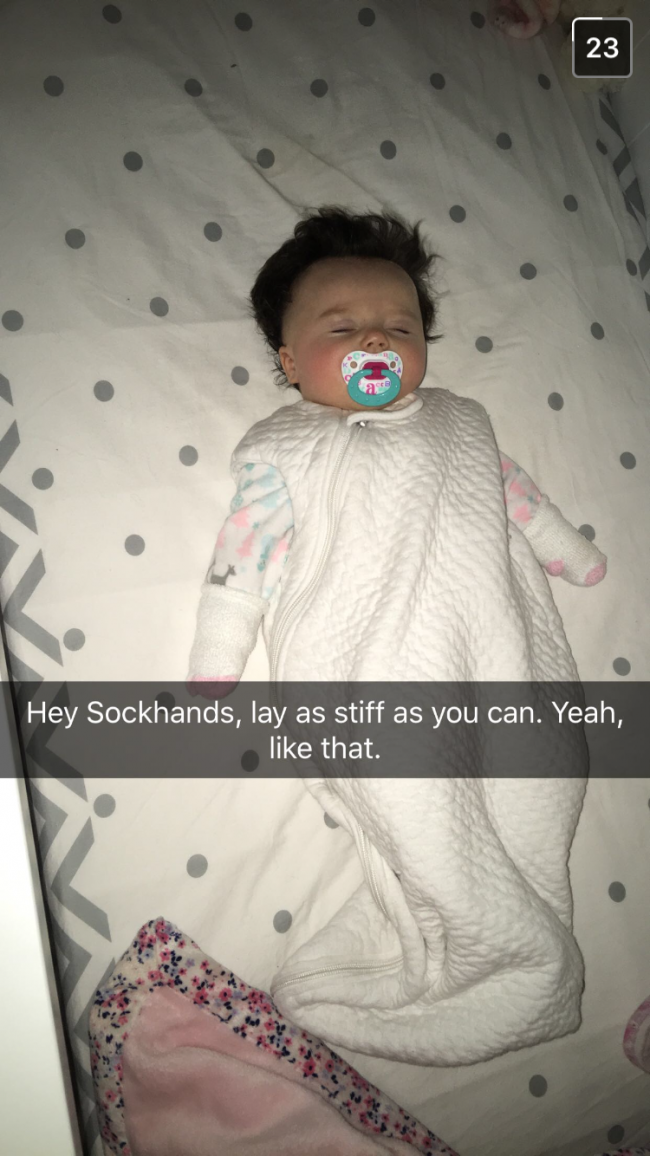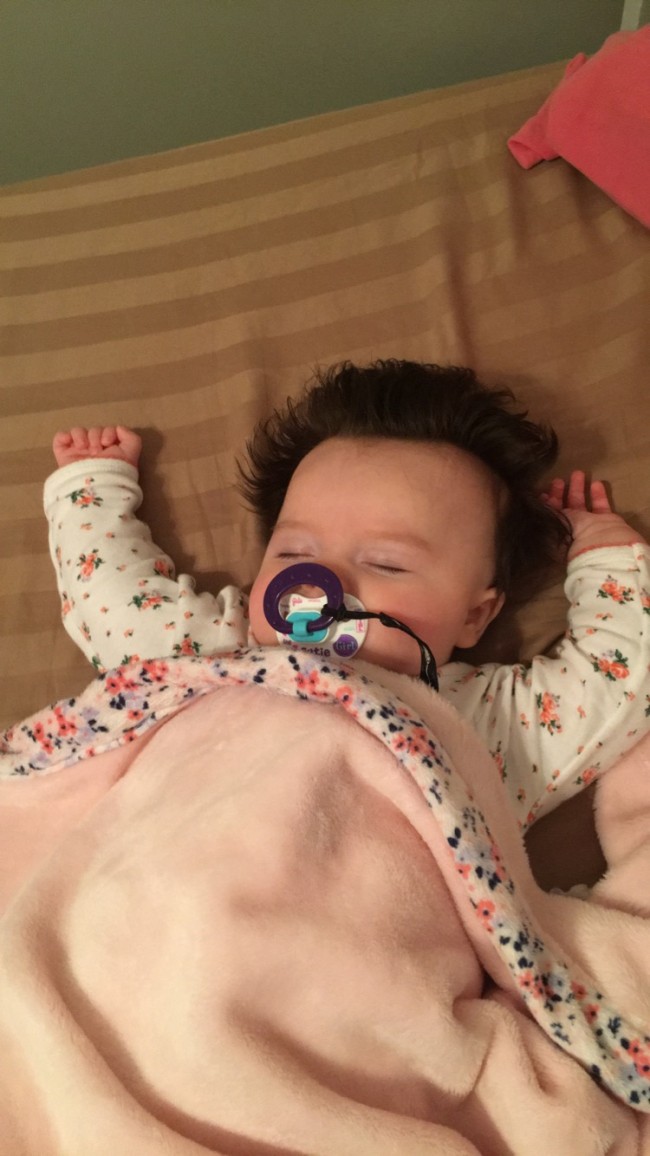 EAT She is eating 4 ounces of breastmilk at a time and is starting to go longer in between feedings. Before, she could barely make it two hours but now is going 3-3.5 hours (and even 4 sometimes). She's also started holding her bottle when she eats. ?
Pumping is still going really well for me but I do wish that I had tried harder to nurse. I'm over being tied to the pump!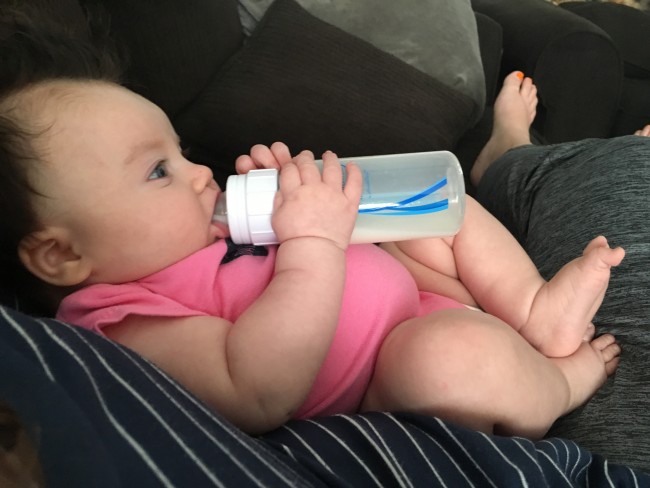 PLAY She can kinda(?) sit up by herself, even though it's just for a few seconds before she topples forward (we mostly try this on the bed). She has really started to notice the dogs and will even pet them, which looks more like just holding on to their ears.
She's only rolled from her belly to back one time and we can't get her to do it again.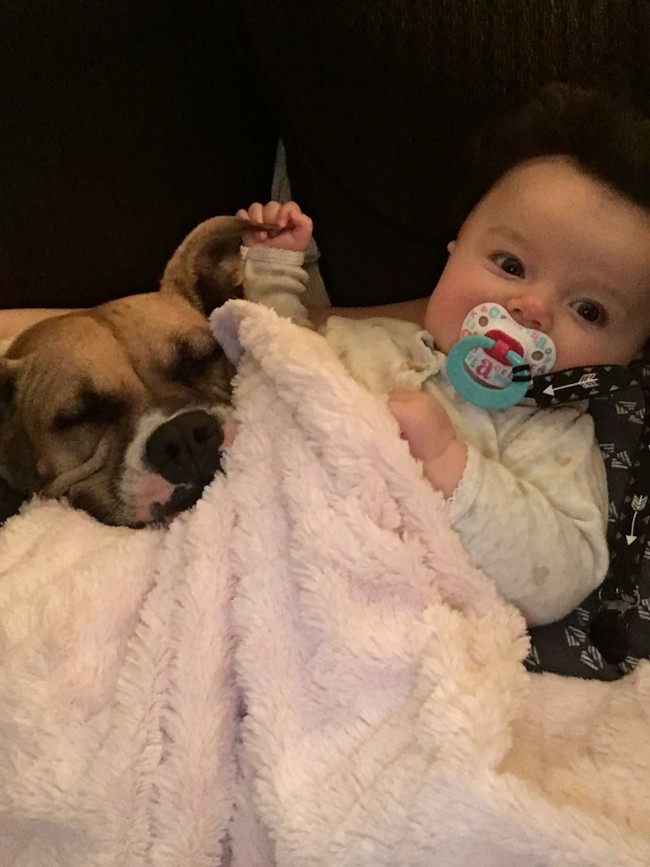 She has started to really get excited over things and does this cute thing with her hands.
Baker has mastered all kinds of facial expressions during month 4, particularly the judgy face and extremely happy face.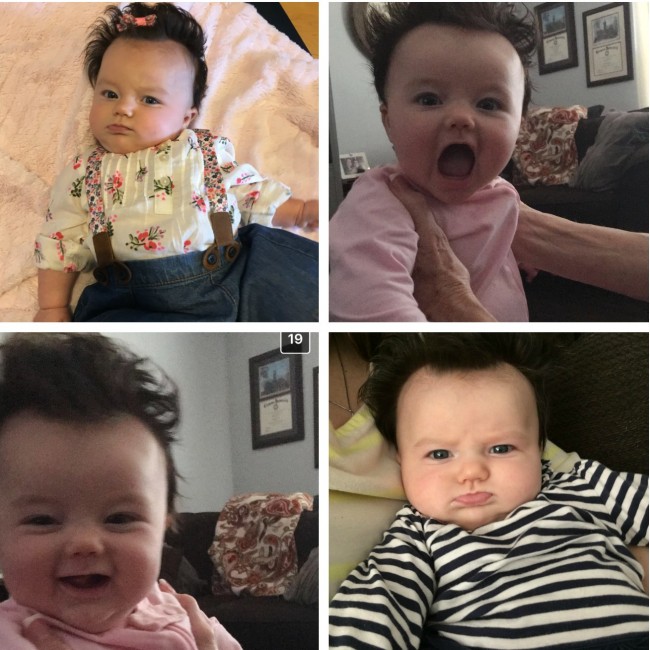 She started to really laugh this month and I was finally able to hear it! Is there anything sweeter than a baby belly laughing??
If I'm being real honest, we only bathe Baker once, maybe twice, a week. We both work full time and who has time to bathe her every single night? Not us!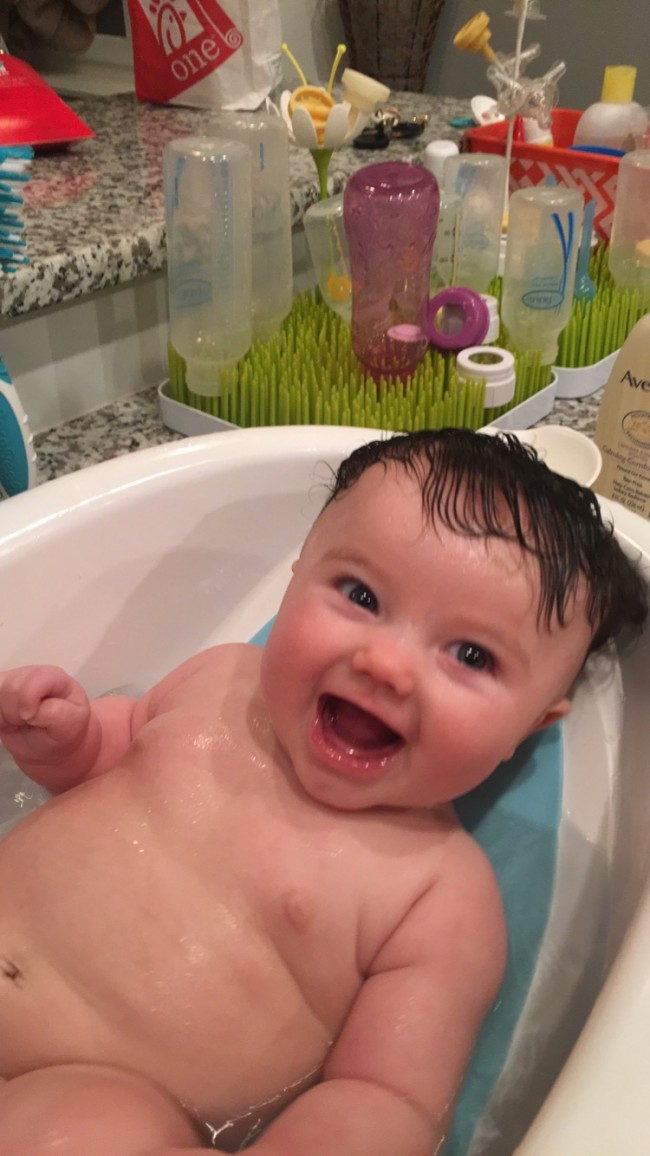 But she does enjoy her baths and having that hair dried.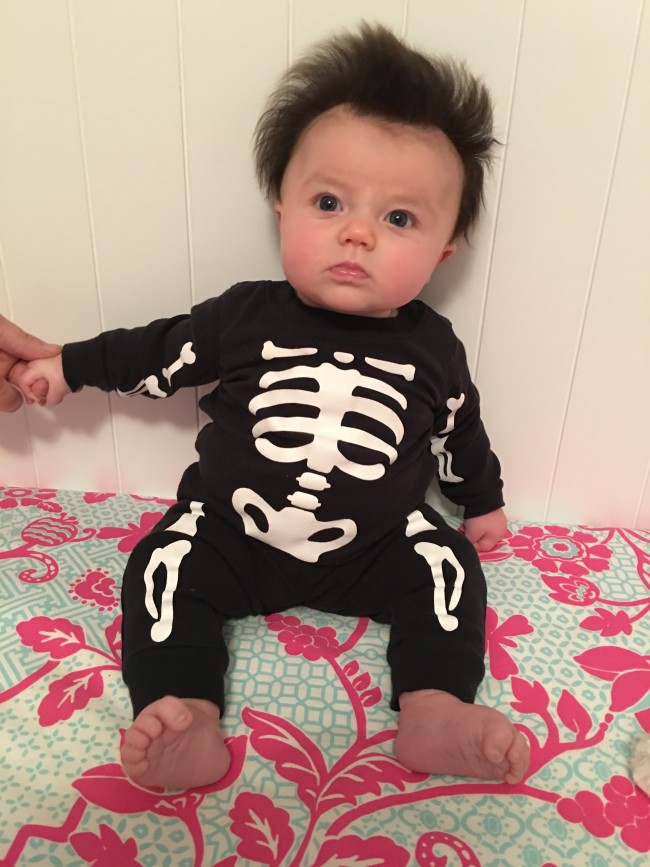 And it's still sticking up, even if air dried. Her hair, which she hasn't lost one bit of, is always the topic of conversation. We can't go anywhere without being stopped and asked about it!
She is still the most snuggly butterball though and I eat up all her sweet, sweet snuggles.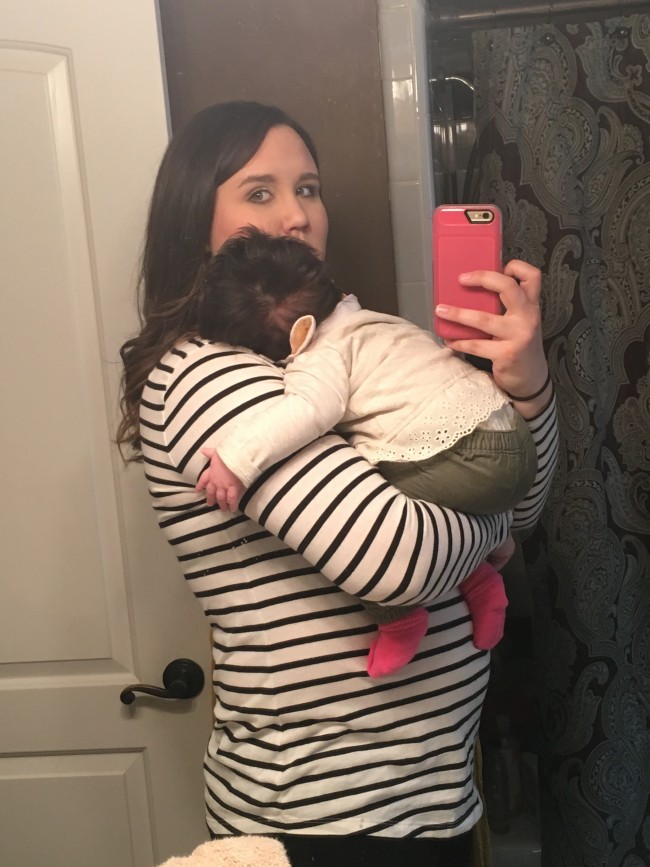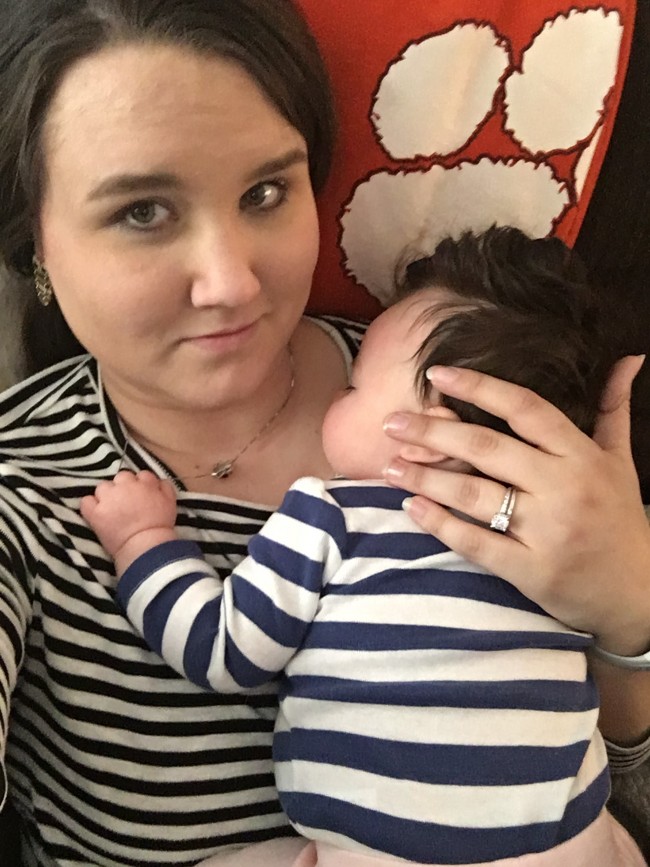 The poor child hardly ever gets to sleep without one of us taking a picture of her, but who can resist that much sweetness?! Not us.
Daddy started an outage this month so Baker took any chance she could get to snuggle up with him, too!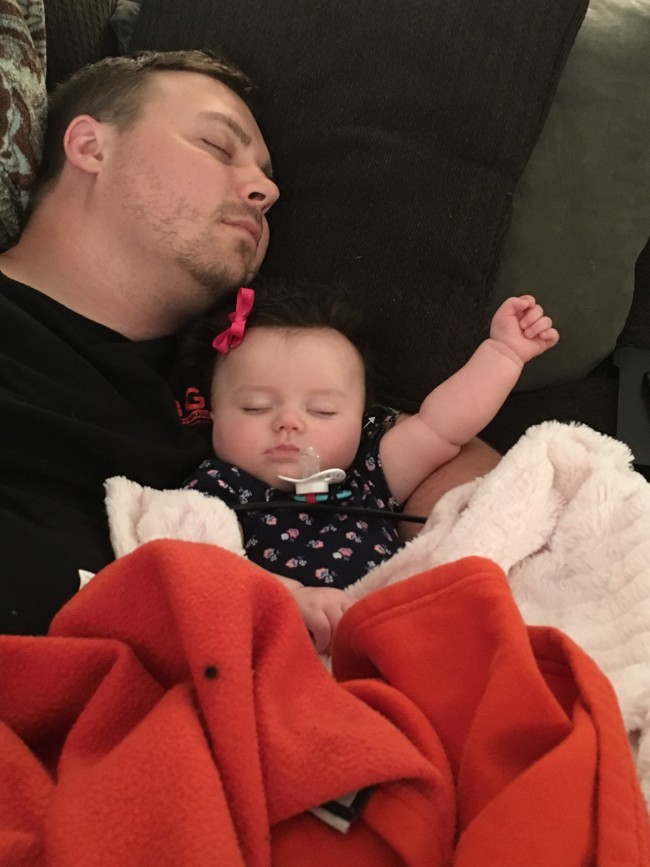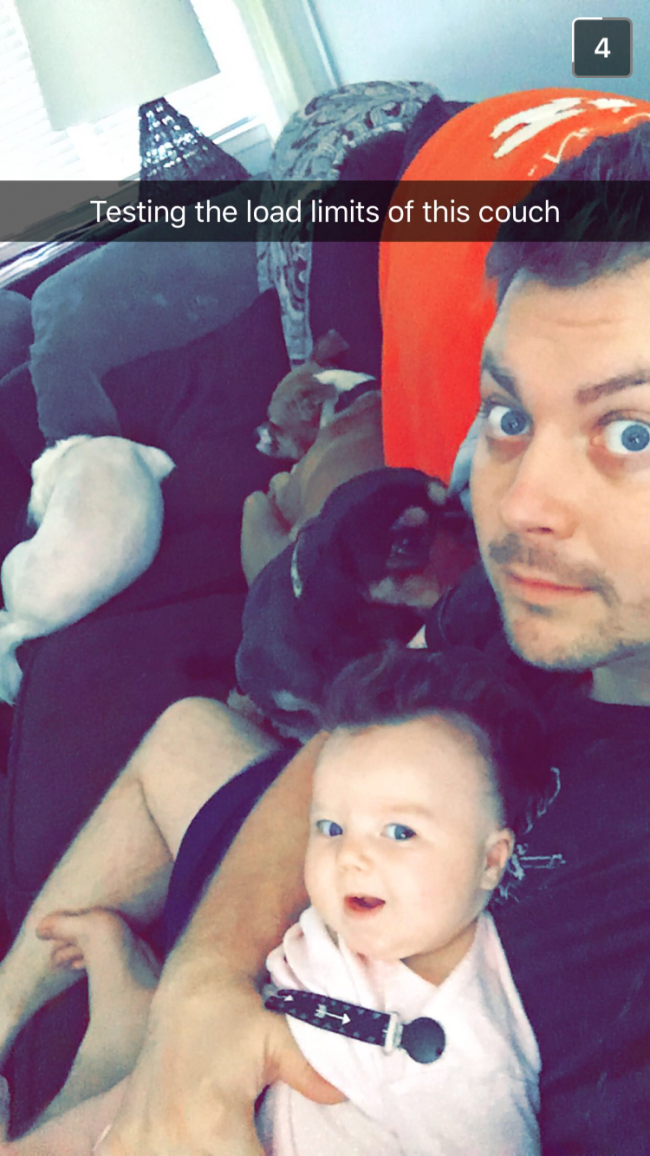 A FEW FIRST DURING MONTH 4
Her first Clemson Homecoming…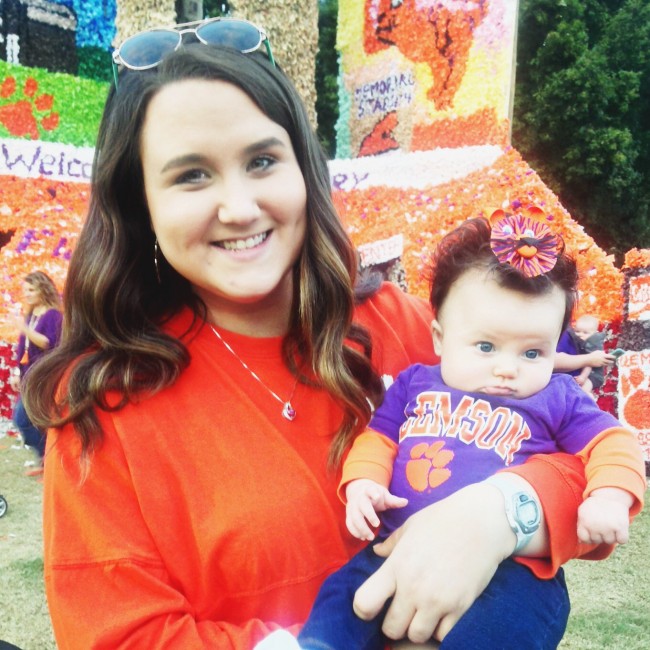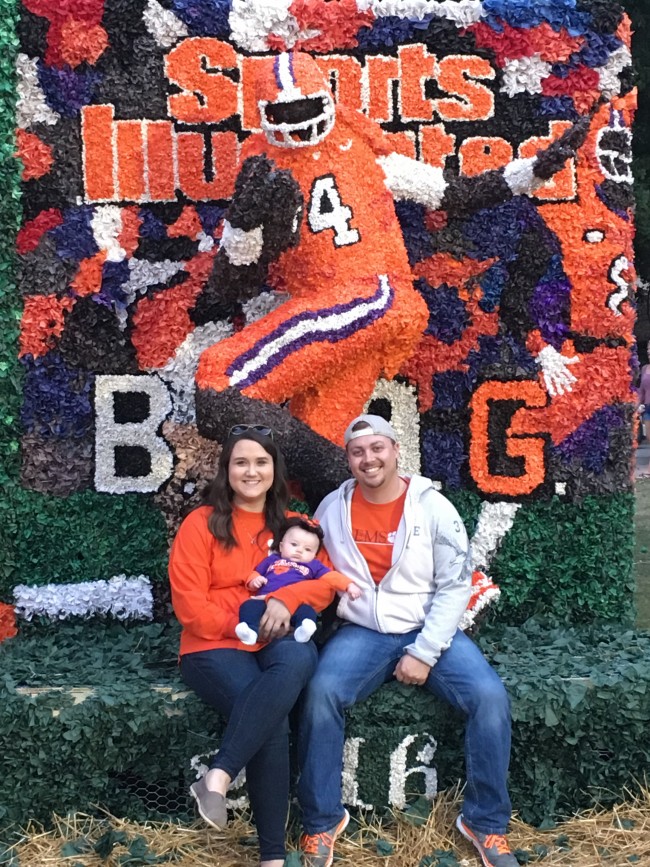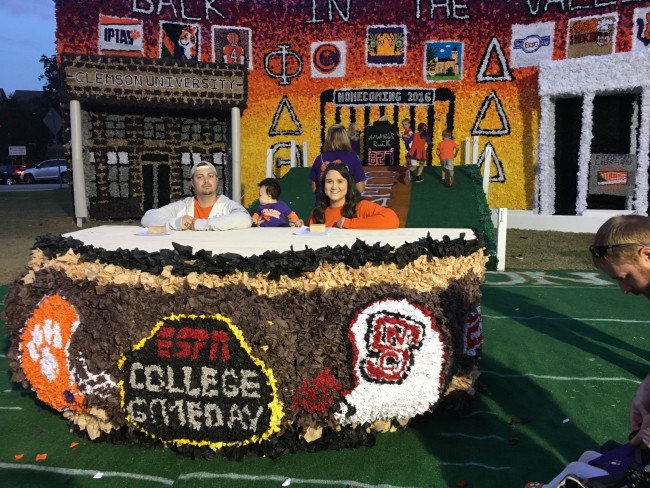 Her first Oktoberfest…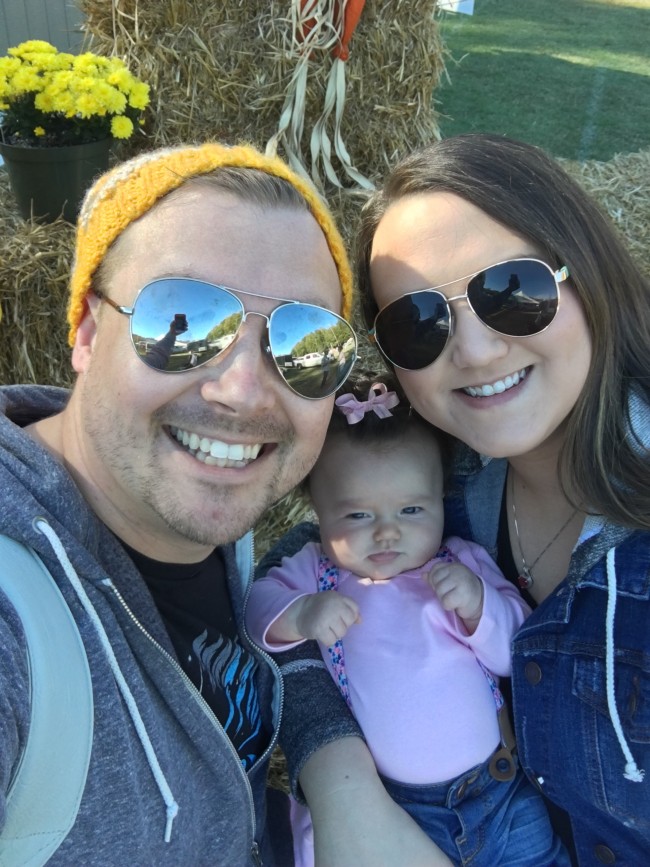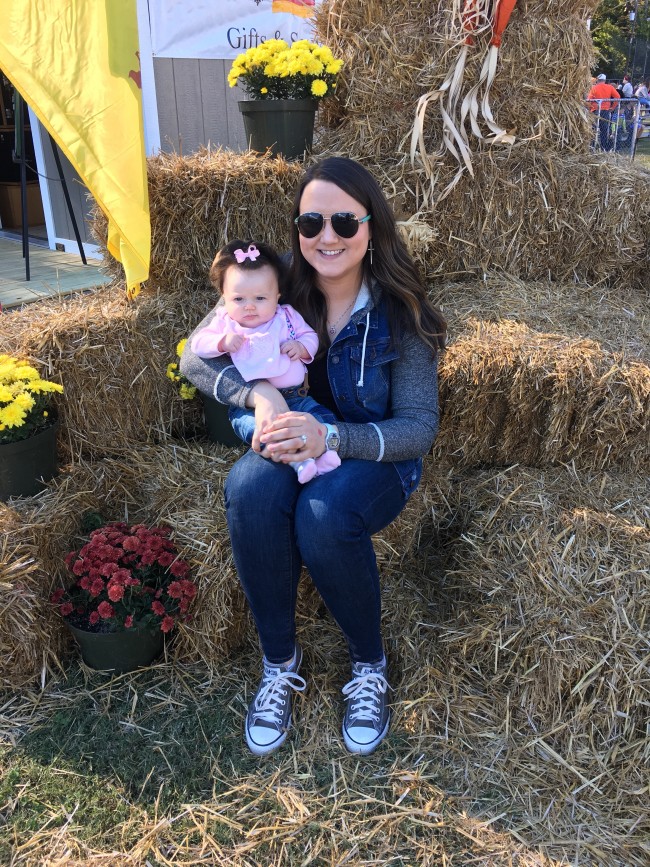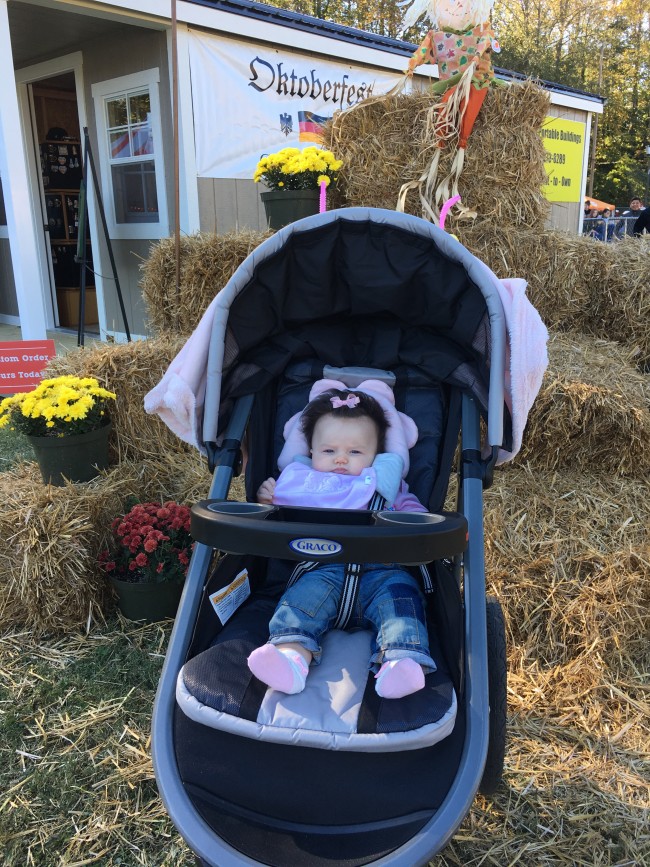 And her first Halloween!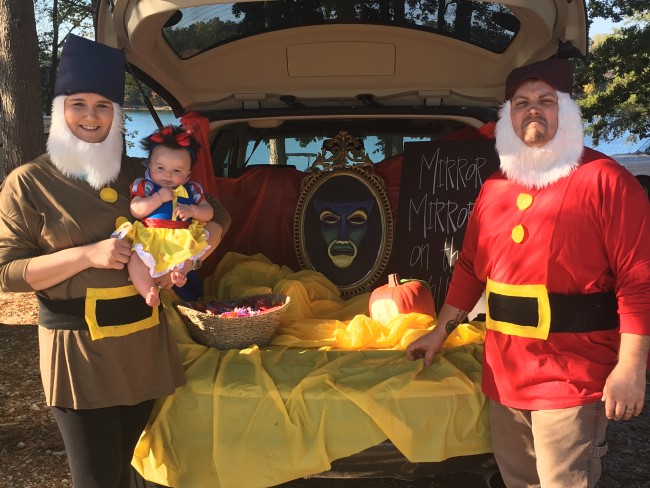 You can see a full recap of our first fall with Baker here.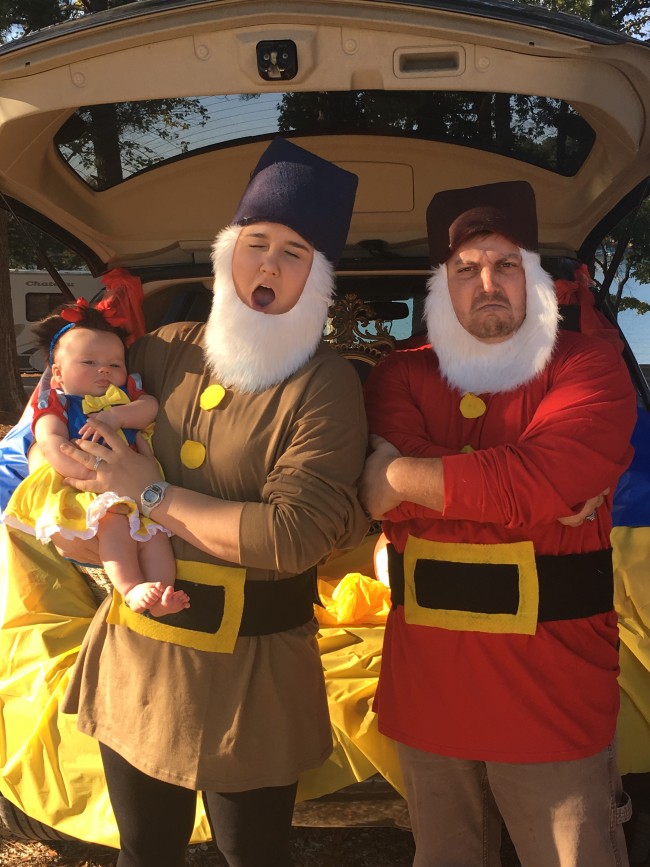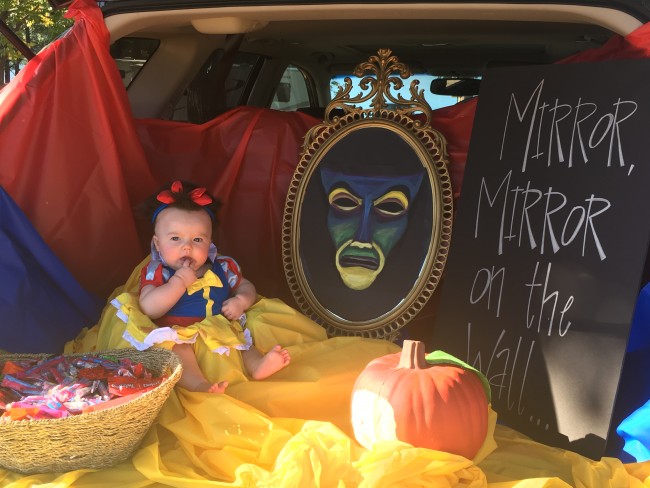 And what monthly update would be complete without a photo gallery?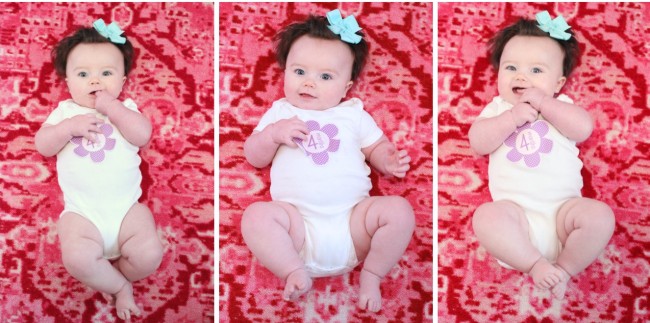 Our sweet Baker Bea,
You make everything that your dad and I used to think was fun, so much more fun and enjoyable. Getting to experience so many firsts with you this month was a blessing and we're so excited for the rest of the firsts to come. We love that we are getting to see more and more of your personality and adore how laid back, funny, happy, and fun-loving you're turning out to be. It's been so amazing for us to watch this tiny little person that just a few months ago didn't even exist start to become this little girl with opinions of her own, toys and games that she prefers, and a wonderful sense of humor that never stops. Thank you for everything that you are–not just a baby to care for and a mouth to feed, but a sweet angel who has graced our lives and made everything in them sweeter with her presence. You bring light and joy to everyone you meet, and you haven't even spoken a word yet. Oh, the things to come! We love you so much!!