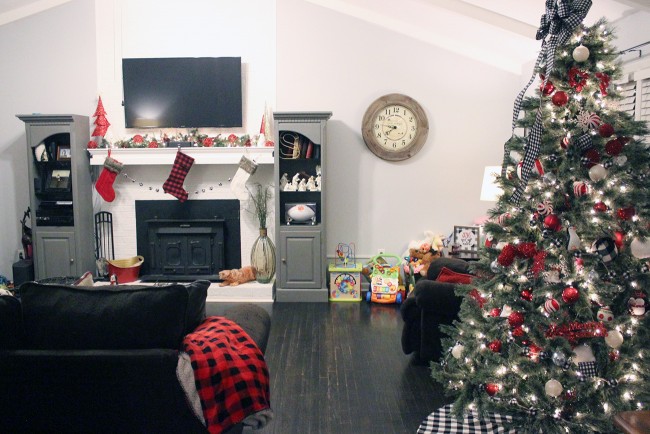 I know that Christmas has come and gone but we are still very much rocking our Christmas home and will be until after the New Year. Heck, we just finished our last Christmas celebration last night. Plus, I've been working on this post for like a solid week and just haven't been able to get it together. So, I'm sharing my new and improved (not really! but maybe a little) buffalo plaid Christmas home with you guys!
If you've followed my blog for the past couple years, you probably already know how much I love Christmas and decorating my home for the holidays. There is just something so peaceful to me about having my home decked out with Christmas lights and all things festive. Throughout the years, my home has changed drastically (you can see what it's looked like over the years here) and by last year, I was pretty tired of the decorations I had been using for the past 7 years or so.
But starting a new job, coaching middle school cheerleading, and having a toddler (um…how is this possible? It doesn't even sound right out loud) don't lend much time to go shopping for all-new decorations. And honestly, who can afford to start completely over every few years?
In case you're wondering, the answer to that question is not me!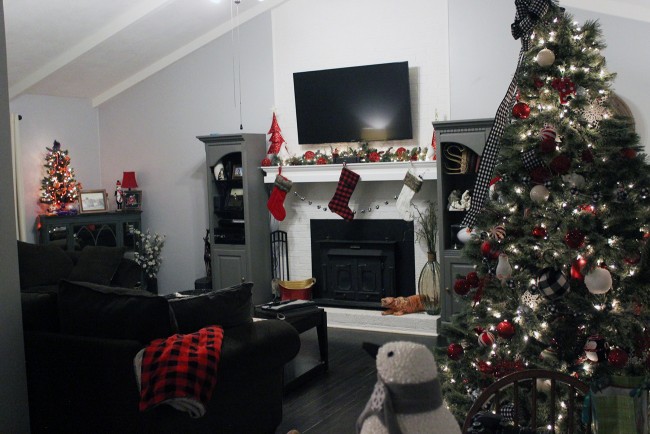 While I dream of having a true farmhouse one day, and I wouldn't say our home has a farmhouse style, I love the rustic/ farmhouse look. We've always had rustic pieces in our house, especially with our DIY industrial lighting. In previous years, my decorations were always very whimsical with a lot of classic Christmas colors like red and green and lots of glitter. I still like that look, but I was just ready for a change. The blanket on the edge of my couch was really my inspiration for my buffalo plaid Christmas decorations.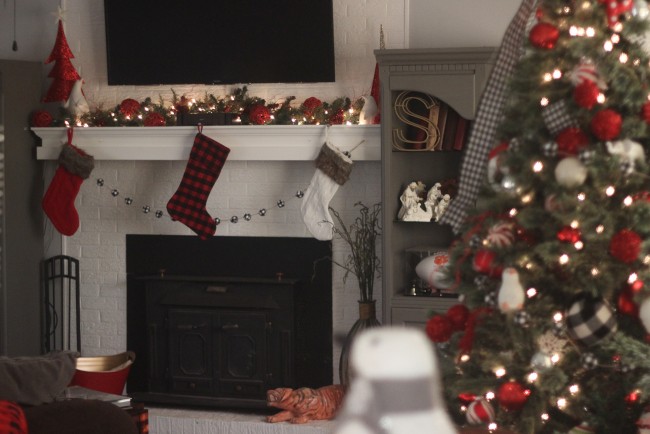 In order to give myself the illusion of a complete Christmas decoration makeover, I decided to stick with the basics that I had, leave a few things out, and purchase a few new things like stockings and ribbon to make a new tree topper.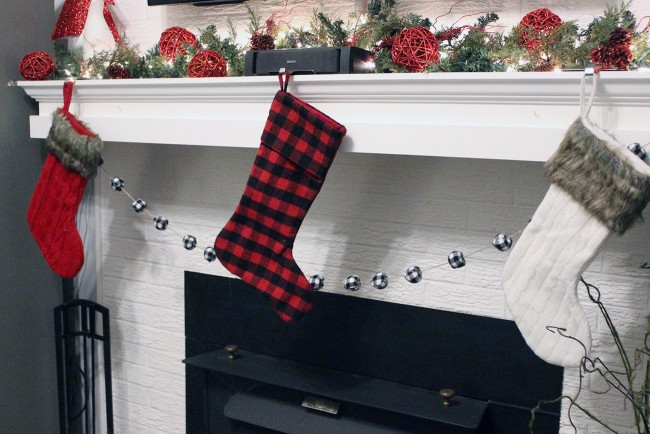 I've been searching for new stockings for about two years now as I was growing tired of the whimsical ones I had. I was having trouble finding any stockings that went along with my farmhouse-ish theme that didn't break the budget until I was scrolling through Instagram the evening of Black Friday. I scrolled past a post by Kirkland's and decided to browse their site since I hadn't checked for stockings there.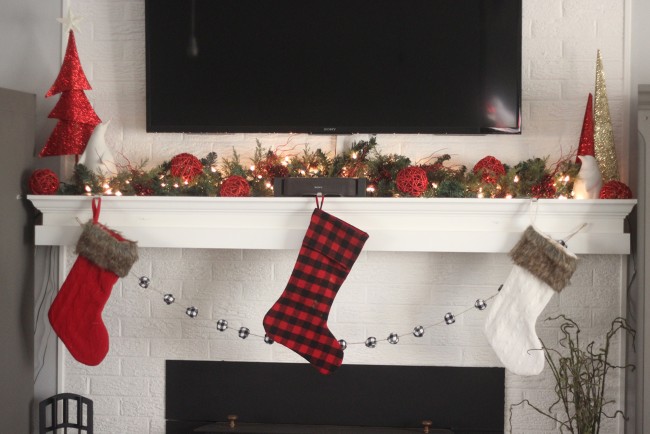 What I found was exactly what I was looking for! The stockings were already marked down plus an additional 20% for Black Friday. I was so excited to have finally found stockings I liked for a good price. When I added them to my cart, I realized they were out of stock online and out of stock in the store that is closest to my house, but in stock in Greenville which is about an hour away from me. Knowing the sale would be ending that day, I picked up my friend Amber and at around 8:30pm and we headed to Greenville to pick up my stockings!
On my Instagram stories that night, I shared about my haul and the price I ended up paying for the stockings. I can't remember the exact price but I think it was between $3-5 each. That's my kind of price for a stocking!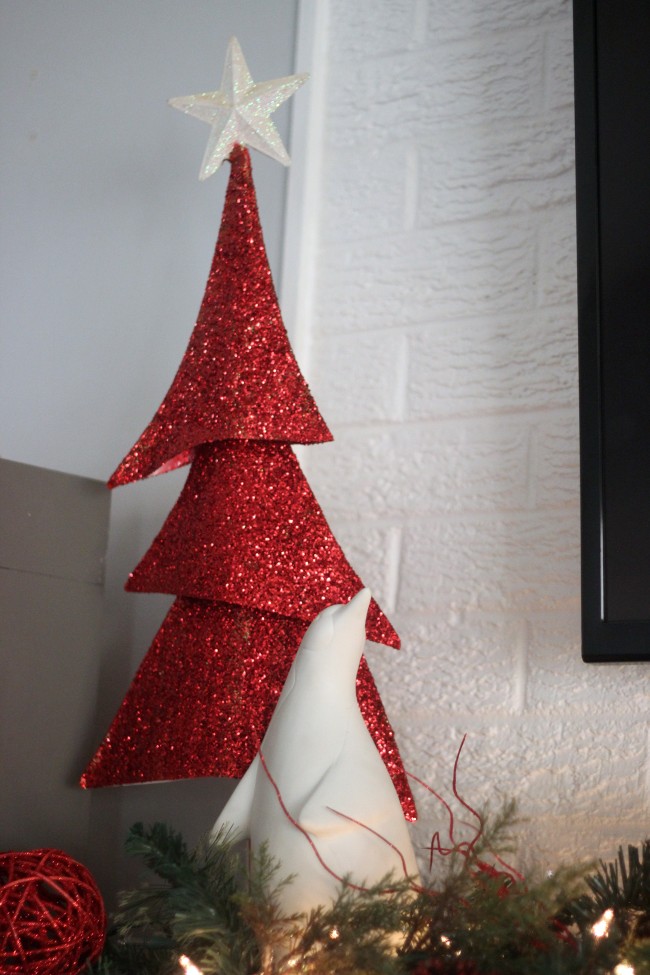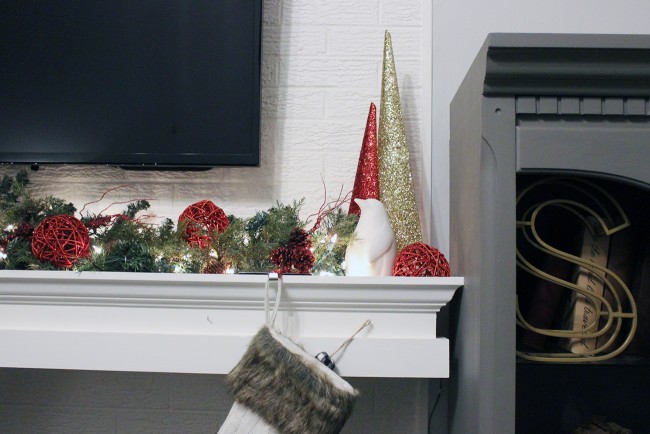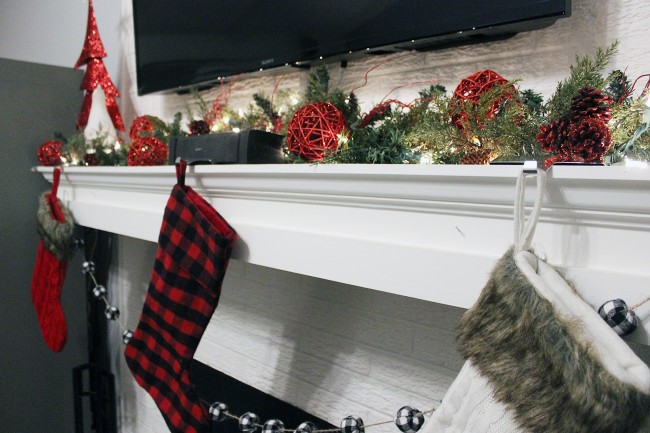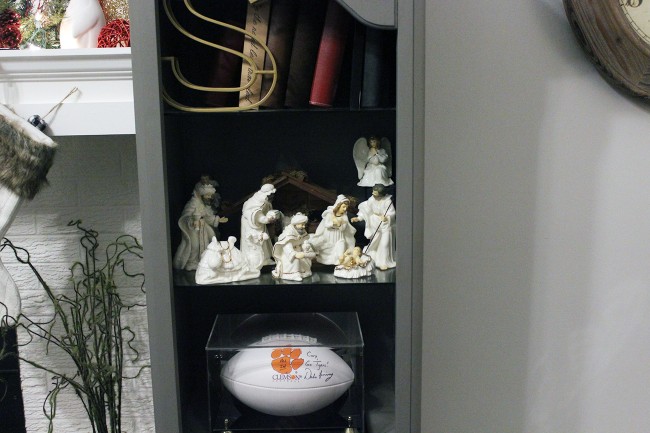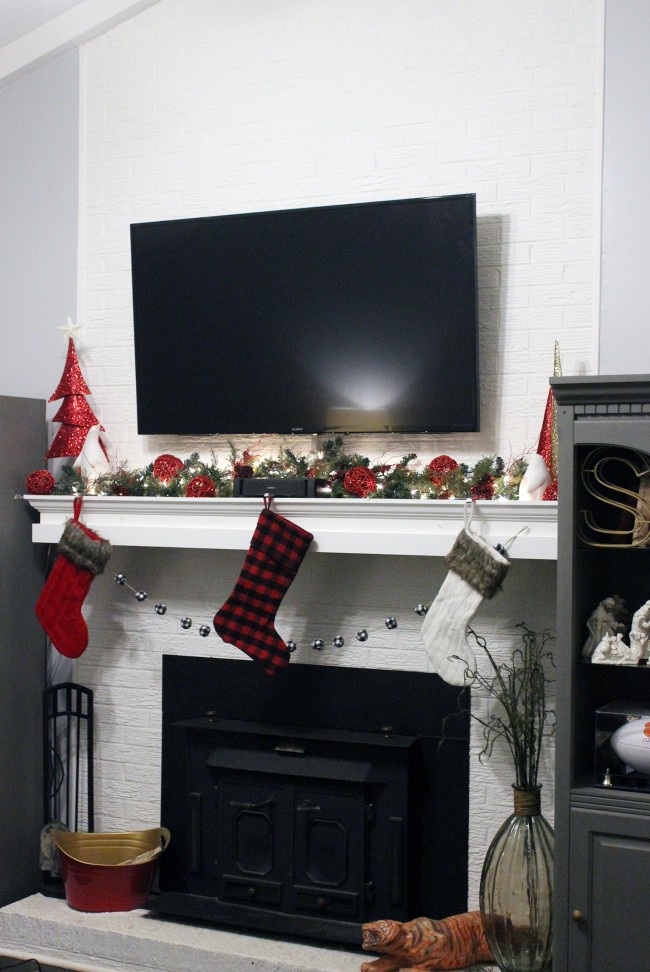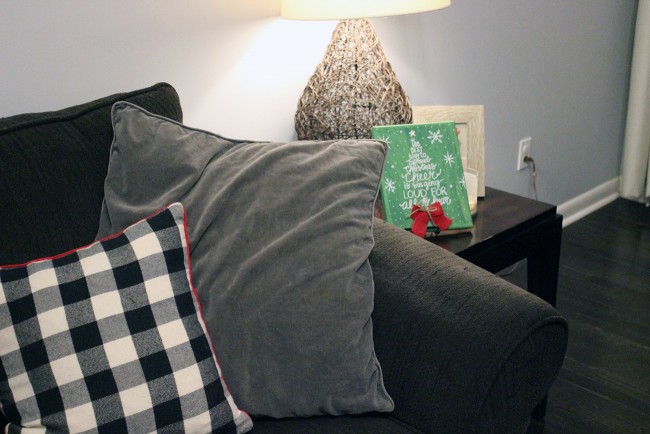 While I was at Kirklands, I also found these perfect buffalo plaid pillows and this cute wooden sign.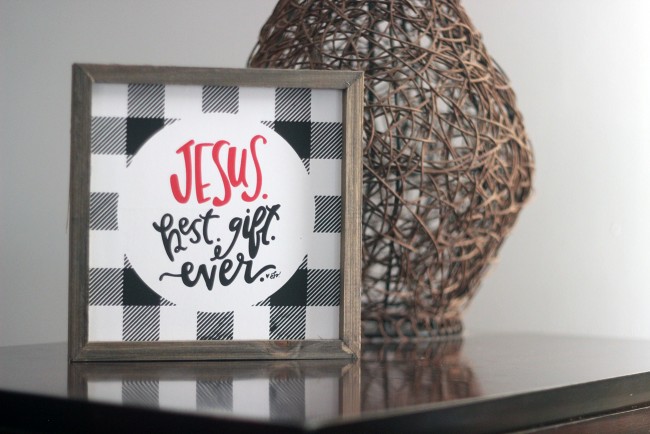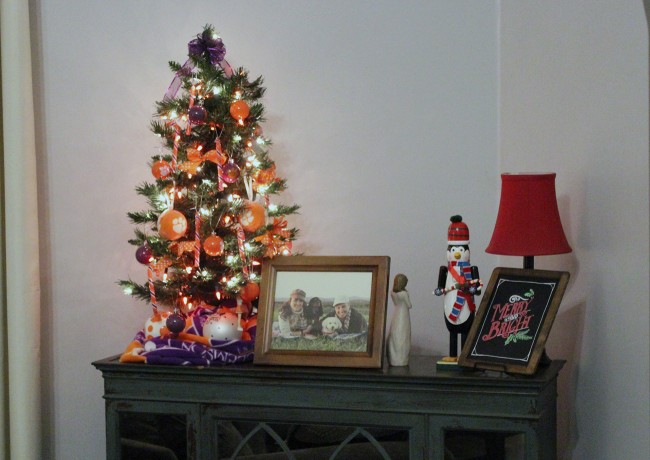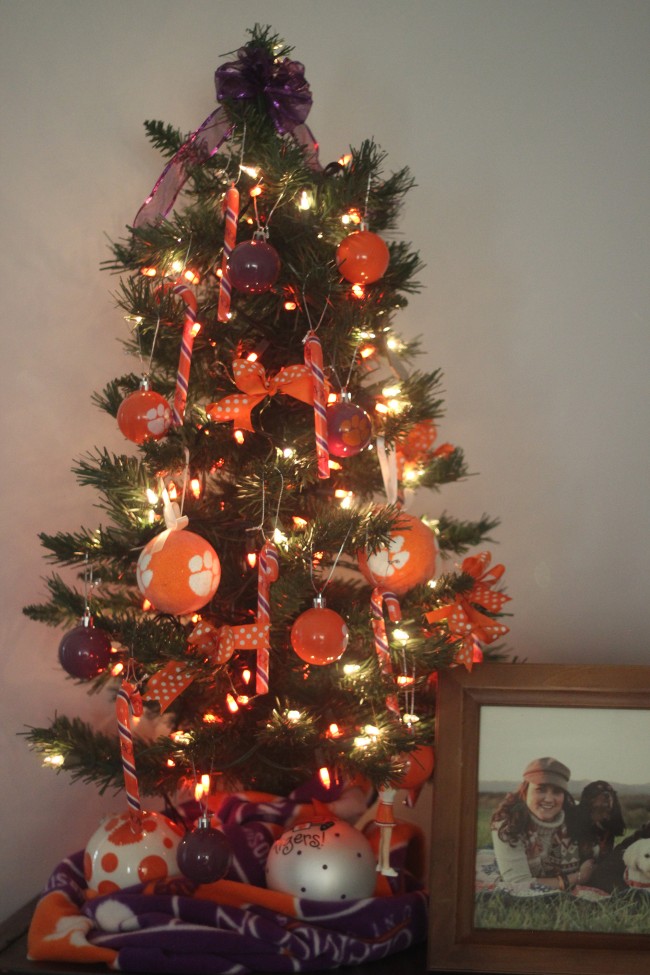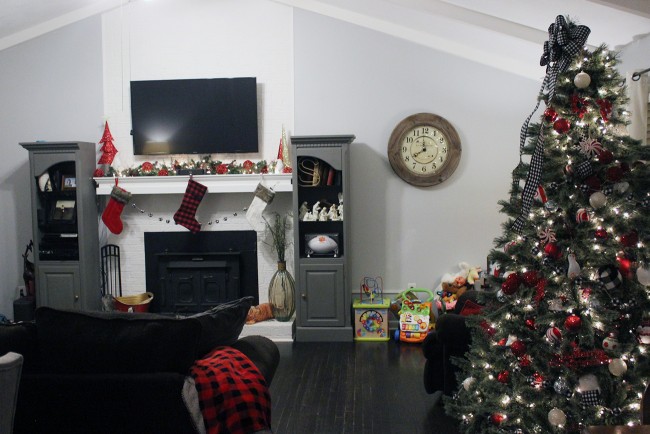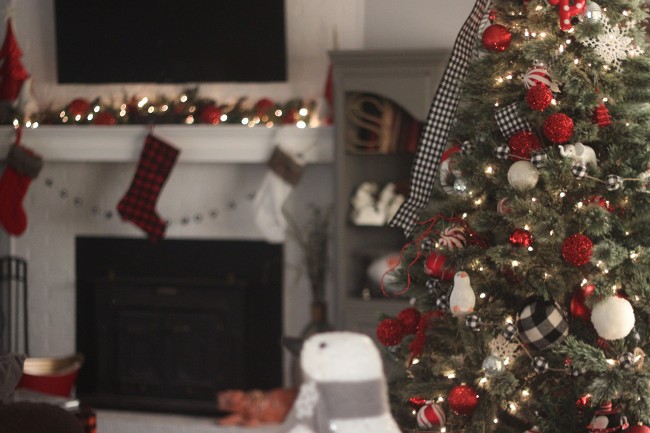 Since deciding on a more "farmhouse-ish" style, I decided that I would use the black and white buffalo plaid to accent my tree. While decorating it, I left off any ornament that wasn't black, white, or red, unless it was sentimental.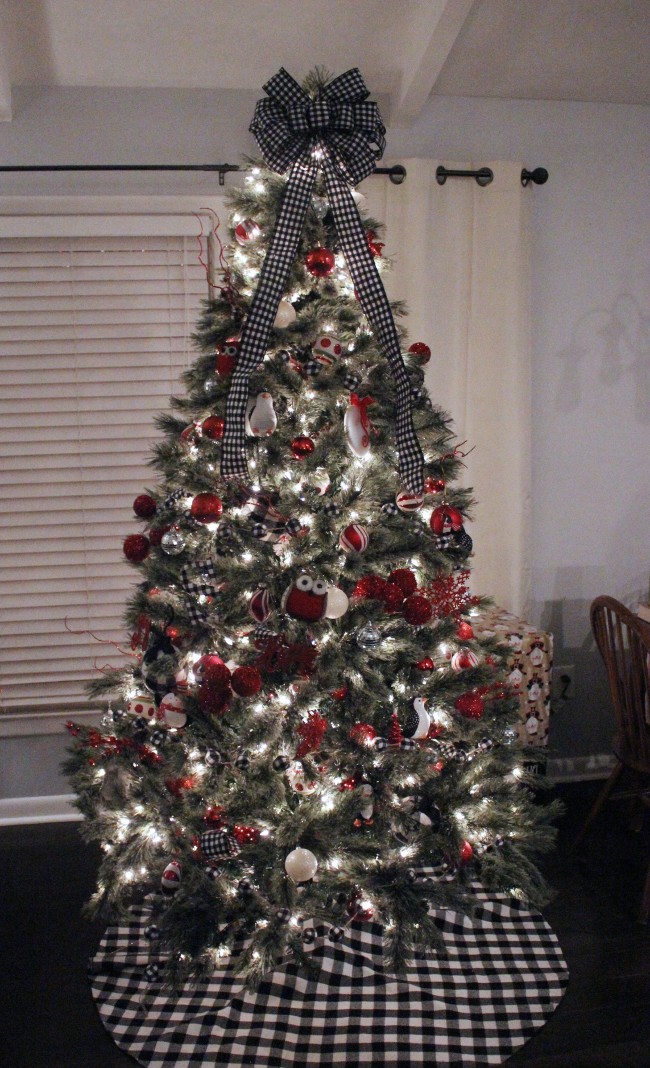 Of all places, I found this buffalo plaid ribbon at Big Lots and decided I would attempt to make my own tree topper. For years, I have struggled with bows, even using a bow maker, so I sat down one afternoon with my bow maker and watched a tutorial as I was making the tree topper. I decided I would not get frustrated and give up as I've done in the past. I probably stopped and rewound that video a hundred times but successfully made my first tree topper bow!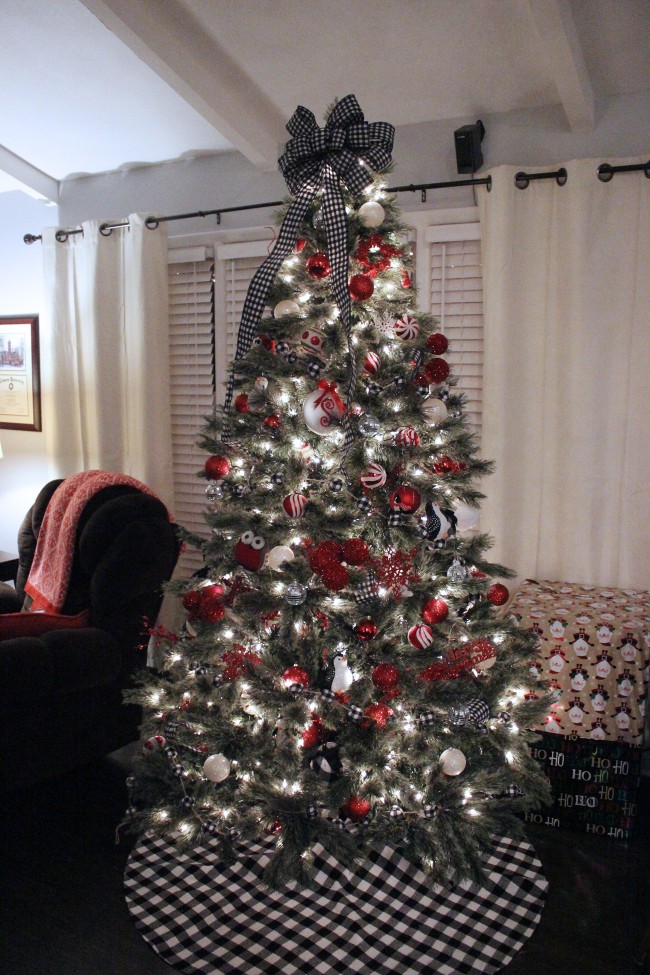 I just needed a new tree skirt but once again, had a hard time finding what I wanted. I had picked up a black and white buffalo plaid throw from Michael's on Black Friday (can't seem to find it online) but didn't have a place to use it, so I had Cory's grandmother make it in to a tree skirt for me.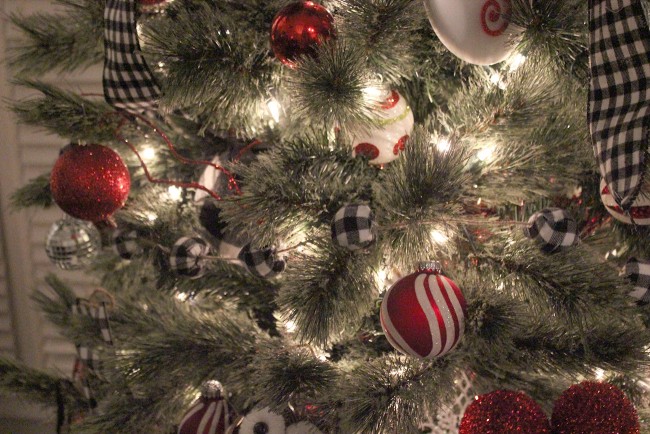 I also found this buffalo plaid garland at Kirklands and it was the perfect touch to my tree and mantel. The extra ribbon I had from my tree topper was just stuck into the tree for a few extra touches.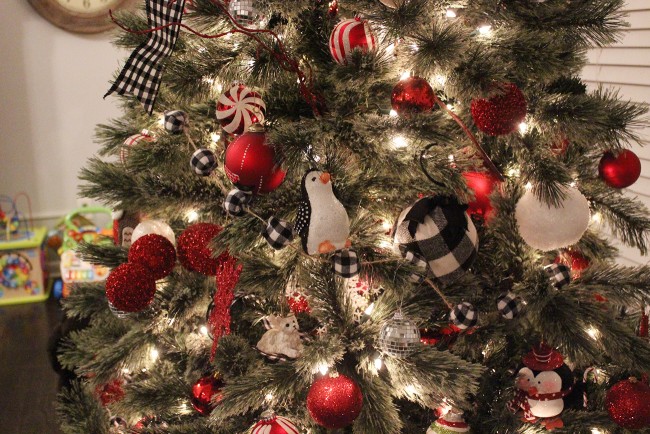 The big buffalo plaid ornaments and the buffalo plaid "S" also came from, you guessed it, Kirklands. They were seriously on their game for all things buffalo plaid this year!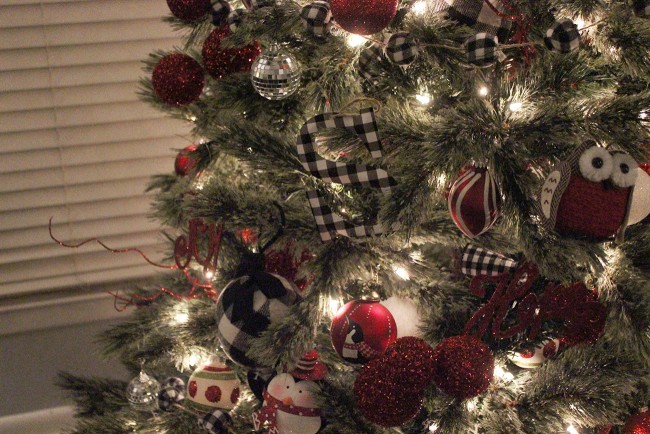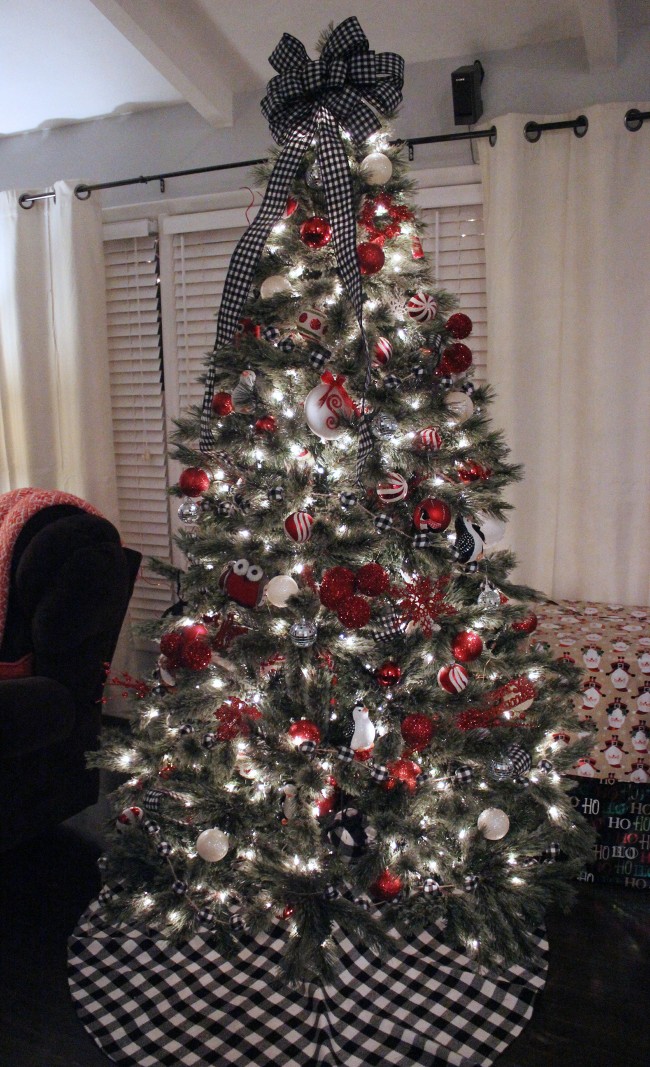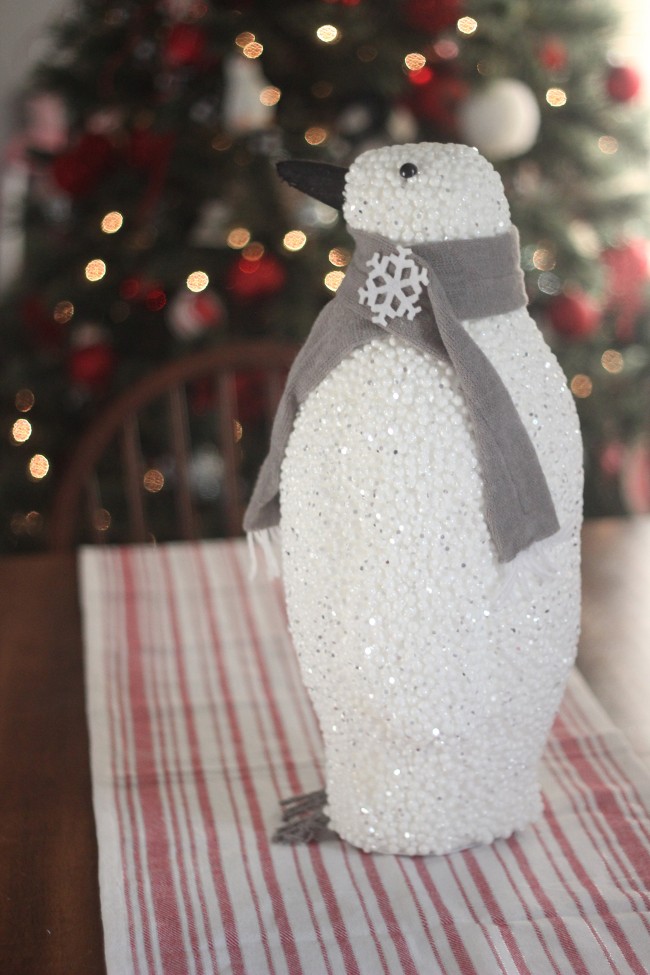 True story, I used to hate to decorate my china cabinet at Christmas until we painted it white–now it very well could be one of my favorite pieces in the whole house. I love how the red pops against the white!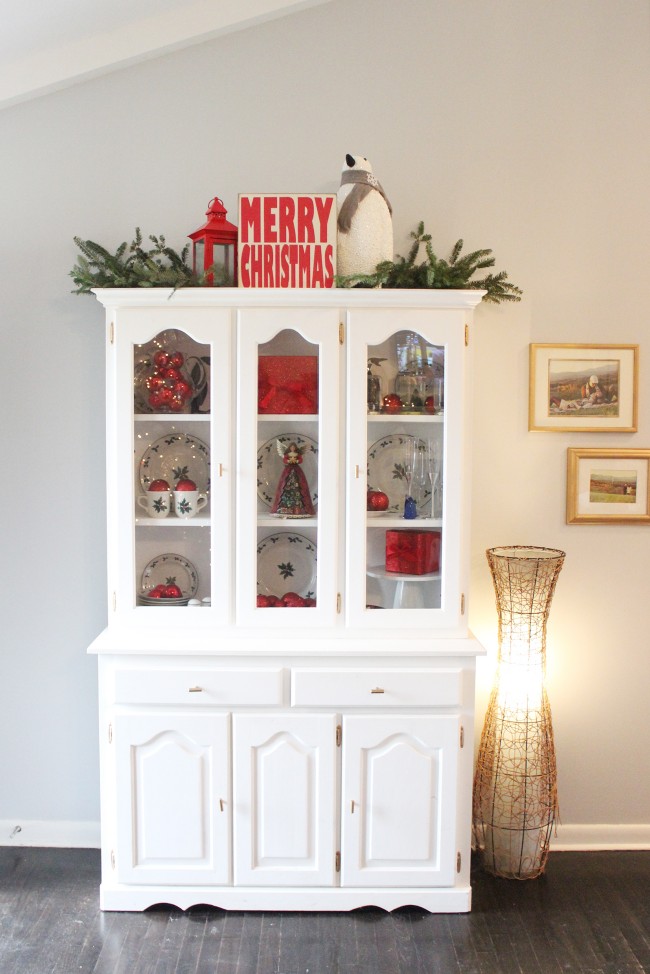 Even though we don't use a real tree (because hello 3 dogs!), I like having real clippings around my house to still bring that Christmas tree smell! The top of my china cabinet is always a great place to use these real clippings because it's out of reach of all dogs and children!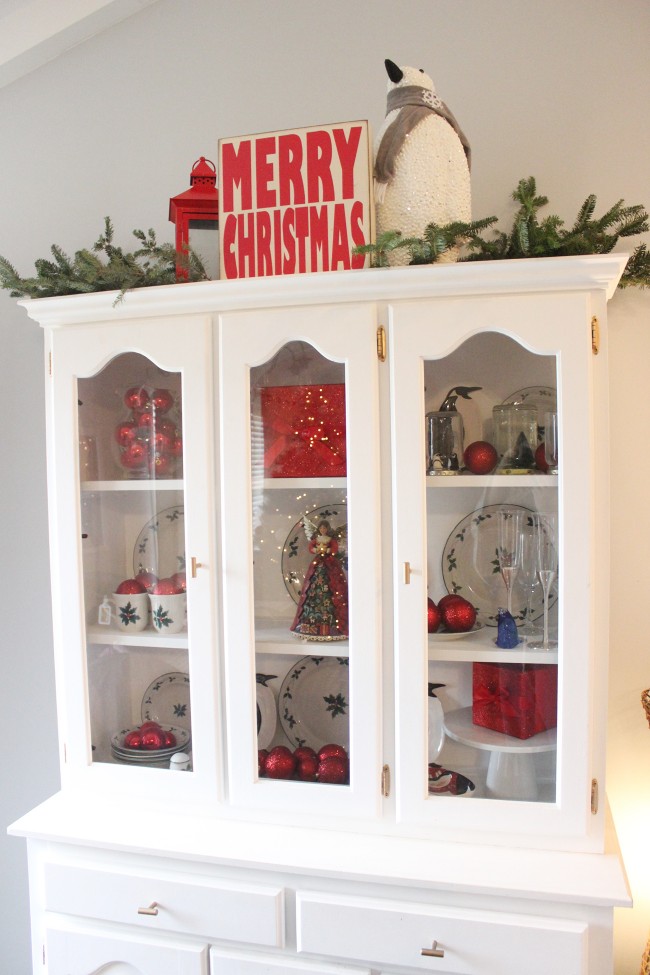 Christmas Hack: Did you know that you can go to any place that sells live trees like Lowe's or Home Depot and they typically have a big box of clippings that you can take for free?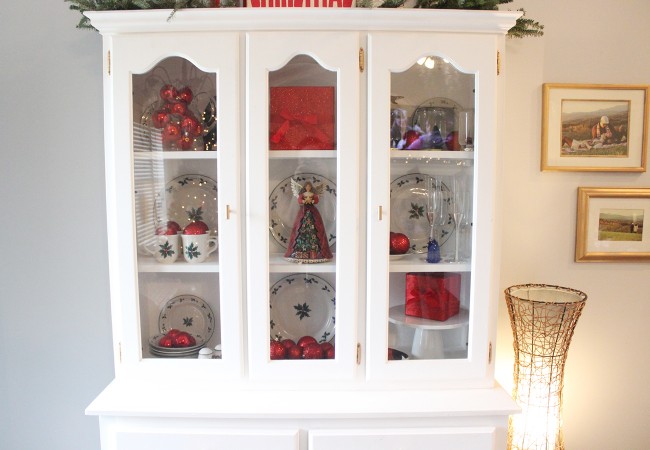 I also use my china cabinet to display some of my special breakables to guarantee that they are extra safe! A few pieces included are the Christmas china from my Nana and my angel that my dad picked out for me as a wedding gift.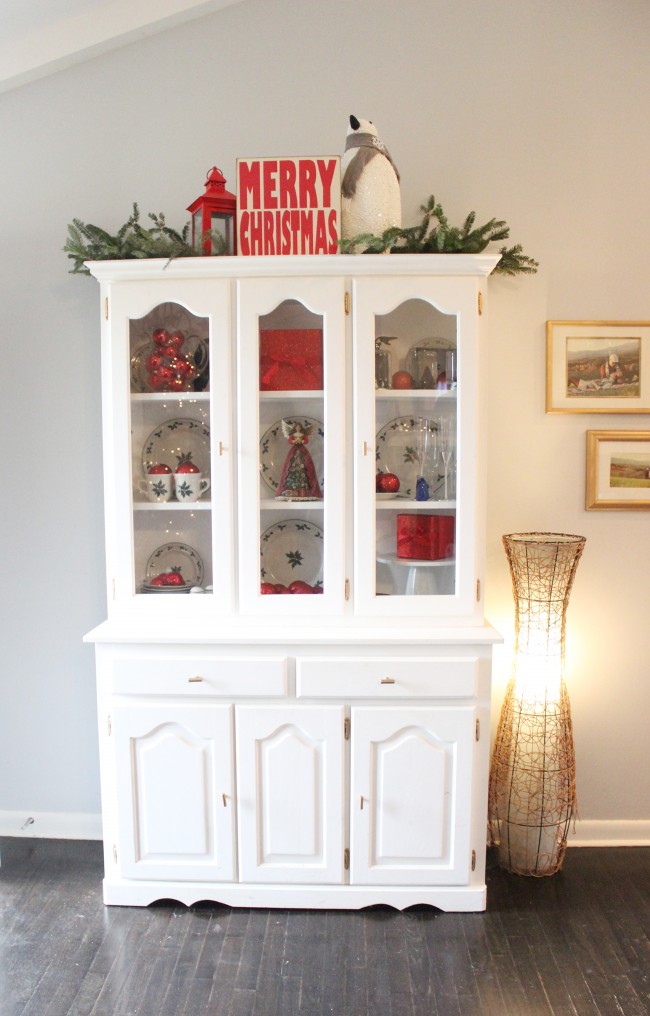 And last but not least, I just have to share the few Christmas touches that I added to Baker's nursery. Since she is just 17 months old, I kept the decorations simple.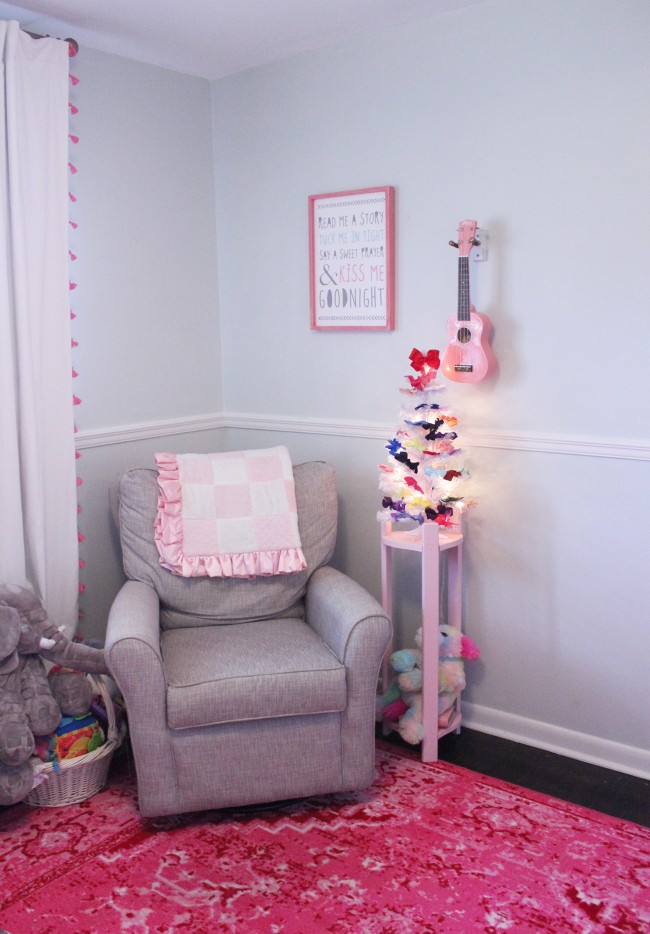 I found this tinsel tree last year and decorated it with some of her little bows. Not only is it perfectly girly but it also makes her bows very accessible. I may just leave this up all year!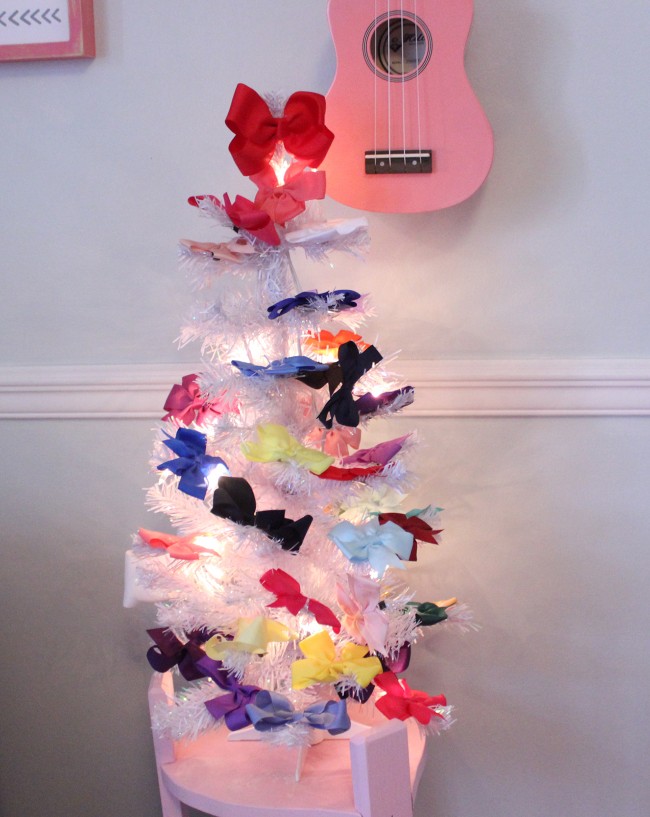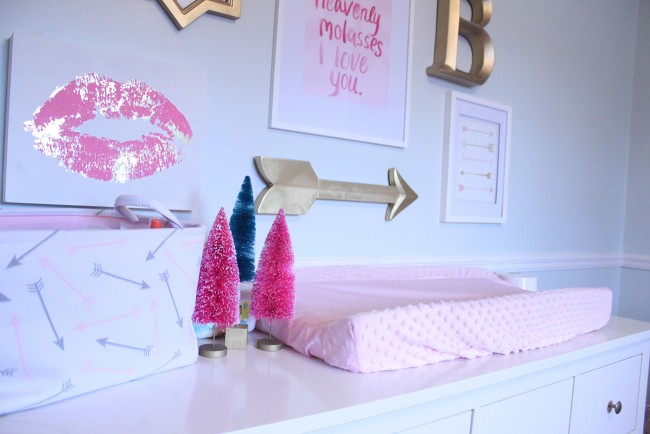 And these cute little bottle trees from Michael's topped her dresser! They rarely stayed there other than the taking of this picture, though, since Baker loved grabbing them during diaper changes and toting them all over the house!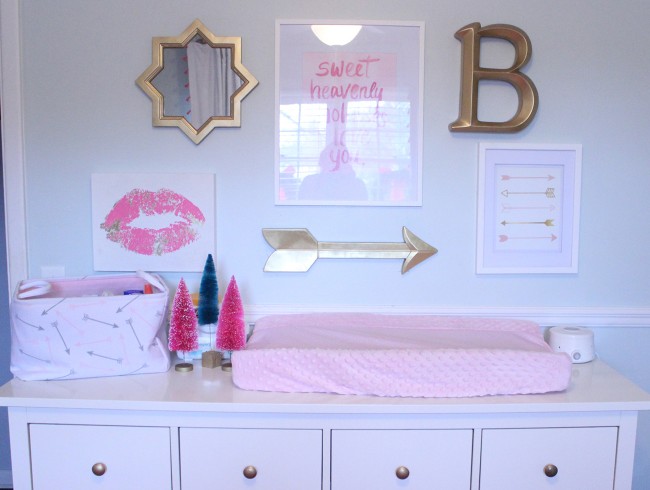 And that completes my long, late, buffalo plaid Christmas home tour! After not sharing our home last year, I had forgotten just how much I love sharing my home with you guys. Christmas decorations just bring so much joy to my life and I can't think of anything better than to share a little of that joy!
Praying you had the merriest Christmas and have a happy New Year!
SaveSaveSaveSave
SaveSaveSaveSaveSaveSaveSaveSave
SaveSave